Home » Breakaway Daily Interview with Writer & Director Bidisha Chowdhury
Breakaway Daily Interview with Writer & Director Bidisha Chowdhury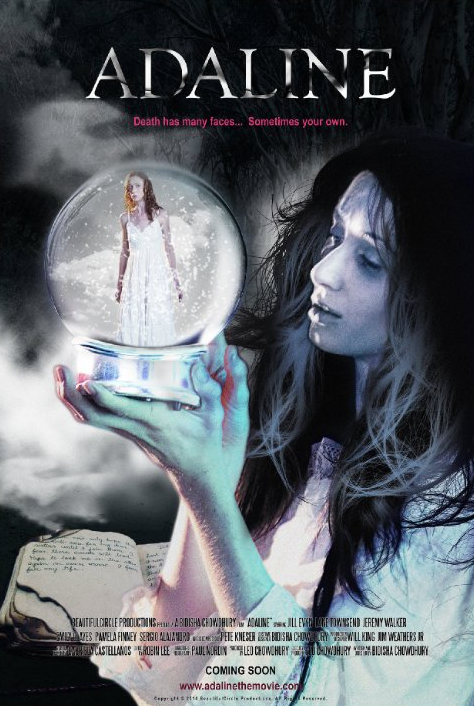 There is something wonderfully fearless about Bidisha Chowdhury who is an independent-minded film maker and who has forged a happy working relationship with film making. In 2010, Bidisha completed two short films each around 30 minutes long – Broken Mirror and Chimes Of Midnight. Her first film, Broken Mirror, set in early 1900's India, is an authentic classic about a traditional, honorable, and well respected woman and the compromises she will have to make and the treacherous path she will have to cross to ensure the survival of her heirs. 
Her films are powerful, poetic and always have a strong storyline. It is Bidisha's blend of humor, righteousness and depth that has made her a filmmaker to take notice of. Bidisha is a writer and director with an unerring eye for stories that matter. I had the opportunity to speak with this up and coming female director about her background, her influences and her upcoming films including Weeping Lilly and Adaline.
What is your personal background, did you grow up in India or the US?
Yes, I grew up in India, then lived in London for a few years before moving to the US.
Was Indian cinema a driving force in pushing you towards film?
No, even though India produces a lot of films when I was younger I never ever thought I'd be making films. It was in large part a matter of circumstance and opportunity that allowed me to even contemplate making a full length feature film.
Where did you study filmmaking, and/or where did you receive your training?
I lived in Kolkata, India, when young. I was always mesmerized by films, but when I grew up, there weren't kids' films like there are now. The films were geared towards adults. Instead, I read tons of storybooks, even hiding from my parents to do so. I amused myself by imaging the books I read in film format.
From all the books I read, I had lots of ideas for stories, but no creative outlet for them. Decades later, after moving to the US, I started writing stories into scripts. Years later, I got the opportunity to get involved with the filmmaking process, working on numerous short films.
I did quite a few classes, workshops and quite a bit of studying but my a large part of my training was mainly on the job training which started in 2006, when I worked on several sets doing different jobs. Then I decided to make my own short films. In 2010 I wrote and directed two of my own shorts in 2010, called "Broken Mirror" and "Chimes of Midnight" and one in 2012, called "Weeping Lilly". I became a part of something bigger than myself. Still, at that stage, I never thought I could ever make my own feature-length film someday.
I love the whole process of filmmaking, starting with writing the script. During the pre-production process, I love to spend hours creating props and designing costumes for the characters. I find it creates a stronger connection with the characters and allows me to tell a better story.
Who would you consider your inspiration, what filmmakers or other directors?
There are many great filmmakers who have inspired me ranging from Woody Allen, Clint Eastwood, Alfred Hitchcock, Steven Spielberg, Martin Scorsese, Francis Ford Coppola and of course the late great Nora Ephron.
There are also many great filmmakers from India who have also inspired me such as Satyajit Ray, Rituparno Ghosh, Shekher Kapoor and Mira Nair to name just a few as they can tell a story in which you can get totally absorbed. 
Story and Believable characters are important to me. I've read many stories since I was a kid and I've always liked stories based on a different time period. I based my story on three sisters, their relationships with each other and how they all died at a young age. I used that as a starting point for the rest of my story where I extended it further by making the youngest of the three sisters have psychic abilities where she could see into the future. I used this as the core theme where this psychic sister from 100 years ago foresaw an impending doom for a modern day girl who recently moved into the very same house where the three sisters used to live.
My inspiration for believable characters comes from certain interesting people I've met along the way. For example, there was an older lady who was our neighbor in India when I was growing up. She was nice but very curious about other people's business. So I wanted to incorporate that in Becky's character where I made Becky into a small town nosey lady.
A while back I met a younger guy who was very nice and sweet. He was slightly mentally challenged and talked in a very unique way. Then years later I met another guy who used to work in a shop I often went to. His mannerism, his outfit (colors didn't match and the style of clothing was not contemporary but he didn't realize it), and his body language caught my eye. So when I was writing the script I combined these two people and that's how my Marvin's character got born. 
How would you describe your directing style and what makes it unique?
It's a whole process that starts with the script writing process which allows me to really understand my characters and so this forms my vision or foundation when directing. During the script writing process I visualize in my mind as to how each scene should play out in detail including the intensity level of the acting as well as the naturalness and flow in the acting and many more variables. So when I'm directing I try to guide my actors to execute on my vision but I also allow them to have the freedom to improvise to see if we can capture something special. 
Above all, the actors need to come across very naturally and free flowing and not get too stressed trying to memorize every word in the script as I don't want them to look mechanical, though knowing your lines reasonably well is important.
What can you tell us about your history in filmmaking and entertainment? 
It started in 2006 which is when I worked on several sets doing different jobs. Later, I decided to make my own short films. In 2010, I wrote and directed two of my own shorts in 2010, called "Broken Mirror" and "Chimes of Midnight" and one in 2012, called "Weeping Lilly". I became a part of something bigger than myself. Still, at that stage, I never thought I could ever make my own feature-length film someday.
When did you create BeautifulCircle Productions, and does the title hold any significant meaning?
It was created in 2010 and concerning the name, I feel it's just has a nice sound to the name. The name doesn't have any special meaning behind it.
Your latest feature Adaline, what is it about?
It's about a young struggling artist Daniela who inherits an old house from a distant aunt who she never knew existed. Daniela moves into her Aunt's house in San Andreas and she eventually meets some of the locals. Life seems perfect.
While staying in her house, Daniela has a series of bizarre dreams. She also finds a 100 year old diary of a young woman, Adaline, who used to live in the same house with her father and two sisters during the early 1900's. Adaline also left some cryptic prophecies hidden away in the attic. 
Later Daniela finds out more about Adaline in that she had special powers and could supposedly see into the future. Her premonitions used to come true and the local people called her the village witch of San Andreas. Did Adaline see something really terrifying in Daniela's future? Is that the reason why she is trying to reach Daniela through the dreams, diary and written prophecies?
Have you always had an interest for psychological-thrillers and horror?
I have always had an interest in psychological thrillers but I have been a bit more selective over horror movies. I wanted to make a film with a believable story. My film is not a gothic, slasher, horror movie. It's basically about a psychic girl from a century ago called Adaline who has visions of a terrifying future that were going to befall a present day girl called Daniela and the attempts Adaline makes to reach out to Daniela to try to warn her even at the risk of her own life.
The intention of the movie is to keep the audience interested and surprised. The look and feel of the movie is designed to reflect this by adjusting the pace and intensity and contrasting the life of the current day girl with that of the girl from a century ago. A series of ominous events builds up which adds to the tension and uncertainty for the audience to know whether or not this current day girl will finally pay the ultimate price.
To write a project such as Adaline, how do you mentally prepare yourself; and does it affect you psychologically?
It wasn't too difficult because I have so many stories in my mind. Once I created the framework (or high level structure) for the story I then slowly filled in the details and fine-tuned it many times by doing rewrite after rewrite. Writing it didn't affect me psychologically in any way.
What is the status on the film's distribution, and when will we all be able to see it either in theatres, on demand, or dvd?
We're hoping for distribution sometime in 2015 but that all depends upon the distributers.
What does the future hold for you, and what projects do you and BeautifulCircle have in the works?
Currently I have 2 projects we're looking at potentially producing. One is a period piece called Weeping Lilly and another one is a suspense thriller with a twist.
My company was set up to produce films which have a strong story because basically we are story tellers. BeautifulCircle Productions has a great team comprising many talented individuals that complement one another. Film production is always teamwork.
We want our films to appeal to audiences of all ages and demographic as our central philosophy is simply to have a great story.
Do you have anything else you would like to share?
Now that the film has been made, the next challenge will be to get distribution. We would also like to create a buzz around the film so if any of your readers wants to help in this area they are free to email me at AdalineTheMovie@yahoo.com
Adaline: Official Website | IMDB

Breakaway Magazine
Breakaway Magazine is an international magazine & online platform. We specialize in shinning a light on independent artists, creatives, visionaries and innovators from around the world through diverse storytelling and immersive original content. Through our exclusive interviews, editorials and cover stories, we publish the world's most inspiring people, places and ideas. We believe creativity and imagination is at the root of all progress. It is responsible for kicking the door wide open to exciting possibilities with the power to shatter previously imagined limits. Breakaway Magazine features global creative talents through the editorial content we publish; allowing this talent to be fostered, recognized and emerge. "The company reaches millions, connecting with an audience interested in more than just the trend, but the deeper meaning." - JB Livingston, Founder/Editor-In-Chief. Read more on our about page.