Ron Maxwell's Civil War Film Copperhead Is A Must See!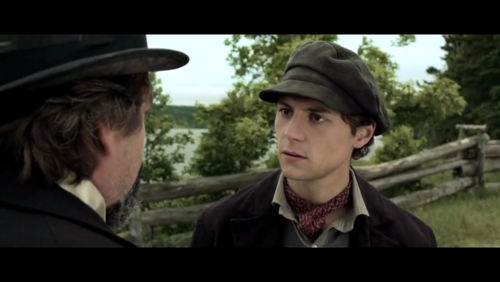 Copperhead is an extraordinary story of family and community torn apart during the Civil War. Inspired by the Harold Frederic book, The Copperhead, the film stars Billy Campbell, Angus Macfadyen, Peter Fonda, Augustus Prew, Lucy Boynton, and Francois Arnaud.
Copperhead is an important historical film with unforgettable performances that focuses on the relationships that can get ripped apart by war.
Copperhead is a film dear to my heart as it was shot on location at the Kings Landing Historical Settlement (a world-renowned Living History Museum) near Fredericton, New Brunswick in Canada last June. Being from The Maritimes it is wonderful that film makers have taken notice of the raw beauty that surrounds us here in the East Coast. I was blessed to be able to attend the very special Maritime screening and Canadian premiere of the film in Fredericton in June, where I got to chat with Director Ron Maxwell, some of the cast, and watch the film! It exceeded my expectations and the audience enjoyed it too, as it received a standing ovation! (Watch my coverage and interviews with the director and cast by clicking here!)
Copperhead is visually stunning, and unlike any other Civil War movie that has ever been made before. The scenery, sets, and costumes present a peaceful environment that stands in stark contrast to almost all other war movies.
Director and Producer Ron Maxwell has solidified himself as one of the leading cinematic visionaries of the American Civil War with his previous works of Gettysburg and Gods and Generals. With Copperhead, Maxwell looks at why good, honorable, ethical men chose not to go to war. He brings the audience not to the battlefield, but to the homefront, and looks closely at the relationships that can get ripped apart by war. Maxwell's fresh angle on the Civil War era highlights how the war affected those who remained at home when their sons, friends and lovers left to join the army.
Even if you are not a big war buff, you will enjoy this film. It puts the spotlight on many issues, not just about war, but about life. It has an interesting story, fantastic dialogue, topnotch performances and is visually exquisite. The film serves as a valuable history lesson on life in that era, and portrays the historical events from a viewpoint that is often ignored. It is a very thought provoking piece of filmmaking and should be considered an instant classic.
Far from the battlefields, Copperhead is a story full of complex characters and relationships. The story covers several months starting in the spring of 1862, as the Civil War began to be felt in upstate New York, where divided opinions about the war threaten to tear a community apart.
The film opens with six boys walking across a field and talking about a distant war. During the course of the film, two will be killed in battle, two will be disfigured, and two will survive unharmed. This first scene is narrated by an orphan named Jimmy (Josh Cruddas), who does not go off to fight and who lives with the "Copperhead" Beeches.
The father of the family, Abner Beech (Billy Campbell) is a dairy farmer and even though he detests slavery, he is also in opposition to Lincoln's war, feeling it goes against the Constitution. "We don't want our Constitution dying, and we don't want our boys dying with it," Beech declares in one scene with his neighbour Avery (two-time Academy Award Nominee Peter Fonda). Abner is disgusted at the enormous death toll that the War has brought about, and wants to keep his own sons from such a grisly death.
Avery is a Unionist and believes the war is necessary to preserve the Union. Avery asks Beech, "Doesn't the Union mean anything to you?" Beech says that the Union does means something. It means more than something. But, the Constitution, New York State, his farm, and his own family mean more to Abner. "My family means more to me than any Union." Abner says to Avery, "Even though we disagree, Avery, you mean more to me than the Union."
Even Beech's minister uses his platform to publically critize Abner. He compares Democrat politicians such as former President James Buchanan to the "blasphemous names" on the head of the biblical Great Beast of Revelation. On his way out of the church, Abner asks the preacher if "Blessed are the peace makers" is still in the Bible.
The neighbors that react negatively toward Abner's views have no idea as to his beliefs. In fact the viewer finds out Abner has been secretly part of the Underground Railroad, secretly funneling fugitive slaves to freedom in Canada. Nonetheless, he is still nicknamed a "Copperhead," likened to the venomous snake, and begins to pay a price beyond challenging questions from a neighbor, or unpleasant sermons. Shop owners and the locals stop buying his milk and his timber, wanting to make him suffer financially and personally. Abner's very politically incorrect views for his time and place set him up for hatred among his neighbors, especially Jee Hagadorn.
Jee (Angus MacFadyen) is a loyal abolitionist who supports the Republican efforts to end slavery and preserve the Union. Jee is capable of deadly violence for his ideals, and turns the entire town against Abner. The abuse Abner endures from his neighbours is in the end turns tragic in unexpected ways. Strong characters with diverse opinions on the war set fathers in conflict with their children, and pushes a community to vengeance against one of their own.
Adding more heat to the Beech/Hagadorn fire is the star-crossed love affair between Abner's son Jeff (Casey Brown) and Jee's daughter Esther (Lucy Boynton). The beliefs of this young couple in love, are as strong as their fathers', yet not always the same. His devoted daughter Esther shares her father's sentiments, even requesting that her beau stop going by his nickname "Jeff" so that she won't have to be reminded of the Confederate President Jefferson Davis. In an attempt to impress Esther and her father, Jeff joins the army, going against what his father believes in.
Cleverly, Screenwriter Bill Kauffman and Director Ron Maxwell's focus remains not on the combat on the battlefield, but the battle brewing in the small town. As the film progresses, and the war fever in the community rises between war-supporters and Copperheads. It becomes increasingly clear that dehumanizing those with whom we disagree can have deadly consequences.
Jee's war fever is so strong that he refuses to express a shred of concern when his grief-stricken daughter tearfully informs him that her beloved Tom (Jeff) has gone missing in action after the bloody Battle of Antietam. "What should I care?" is his insensitive response, adding that he would be willing for 10,000 Toms to "perish" if that would end the scourge of slavery.
Jee's sickness is also felt by his son Ni (Augustus Prew). Jee tells Ni that his refusal to join the Union army has shamed him. Ni responds that he did not know that killing was the Lord's work, and challenges his father's comparison of Beech to a snake. "Maybe I don't share his notions, maybe he's wrong, but he's a man, not a snake." Later, Ni asks what happened to the biblical command to "love thy neighbor." This final provoking speech by Ni is the high point in the film and alone makes the move worth watching.
The two main families in the film, The Hagadorns and The Beech family are opposites of one another, not just in their beliefs, but how they act. Abner (although he himself is the most outspoken Copperhead) are for the most part soft spoken, and reserved. They don't know how to communicate their feelings that well and tend to hold their emotions in. There is no scene of Abner talking to Jeff before he goes to war, and once he is gone, he doesn't want to talk about the subject or even Jeff. Abner's wife must resort to crying out her grief alone on her bed. The Hagadorns, on the other hand, say it like it is, are loud, and are strong opinionated people. They get angry, seem to say whatever they are thinking, and express themselves in varying ways. One of the first scenes in the film shows The Hagadorns in their home as Esther plays the piano while Jee and Ni sing. Even though it is a strict household, this shows a united front among them and shows their spirit.
The drastically different religious and political worldviews of the Hagadorns and the Beeches eventually collide in the end. It takes a tragedy, but the fever in the town breaks. The community that was burning with conflict, and at war with each other (like war on the battlefield) but are, in the end, able to rise from the ashes and come back as a united front. The final scene, one of reconciliation and forgiveness, touches on themes often lost after the battles are over.
In the end, Abner Beech and the movie itself are deeply rooted in the love of home; family home, country home, and state home. Feelings, emotions, and actions take dangerously different turns in which no one can really win when these things are jeopardized. Boys go off to war and return either grievously injured or in a pine box. Newspapers are searched daily to find who is missing and who is dead. Families reach out to each other in mourning. War's presence weighs on families and the people of the town, with few, if any, left untouched.
Maxwell has done an outstanding job of presenting how the damages of war stretch far beyond the battlefield. It bears out the theory that these farmers have as much to lose as the soldier on the battlefield. It begs the question if any war is worth the cost and if there is any such thing as a "civil war," an oxymoron to say the least.
Screenwriter Bill Kaufman has done a masterful job with the dialogue. Often what is not said is as important as what is. There are a few scenes where it starts to become almost a silent movie, and where the performances just take over. There are no wasted words in Copperhead, but there are many powerful lines and ideas. The film is filled with insightful quotes and moving comments, some of which I have already touched on, and others include:
"War is a fever. It makes you do things you wouldn't do if you weren't sick."
"There's the war you read about in the newspapers and there's the war as it really is."
Ron Maxwell noted at the screener that the film relies on the actors performances. The international and immensely talented cast includes members from London, France, Scotland and Canada. The portrayals by the actors were superb. Billy Campbell gives an effortless and humanistic portrayal to Abner Beech, Angus MacFadyen brings fire to his villainous and impeccable performance, and Lucy Boynton is captivating in her role as Esther as she manages to show both vulnerability and strength.
Montreal native Francois Arnaud makes his English language film debut in Copperhead. He looks right at home in this period piece where he plays a ladies' man who goes off to war as Union soldier Warner Pitts. After becoming wounded in the war, Warner gets sent home and his once arrogant character begins to get broken down as he realizes what he has just witnessed. Francois has gained a lot of fans (including myself) portraying Cesare Borgia on Showtime's The Bogias and fans will be treated, and left wanting more, to his short and sweet performance.
Newcomer and Halifax native Josh Cruddas gives an authentic and notable performance as Abner's son Jimmy. His facial expressions articulated what words couldn't say in many scenes. Mary Fay Coady, Genevieve Steele, Andrea Lee Norwood of Halifax, Ciaran MacGillivray of Cape Breton, Brian Downey of Newfoundland and Wally McKinnon of Fredericton are also Maritime talent. They all prove that they can hold their own with the veteran actors, and I am sure their stars will only continue to shine brighter.
One of the stand out performances for me was Augustus Prew who plays Jee Hagadorn's son, Ni. Augustus makes a powerful and emotional performance as he brings Ni on a journey from a youthful innocent to a hero. Ni becomes the film's moral compass and truth seeker. His deliverance of "What happened to love thy neighbor" speech will tug at your heart strings. The way in which it is delivered fits the character and moment perfectly, and will impress.
Laurent Eyquem's beautiful original score, like the film, takes you to another place. The pain of the characters is reflected in the notes you hear coming from the melancholy music that matches the mood of the film flawlessly.
This moving score along with Maxwell's spot on directing, the dialogue provided by Bill Kauffman's script, the cinematography by Kees Van Oostrum, and the brilliantly fluid editing style of Marc Pollon all bring the films artistry to life. The heartfelt acting, the picturesque King's Landing backdrop, and the extras all give the film its realism. It is so authentic at times you feel you have traveled back in time in a time machine to the 19th century! Copperhead is a visual treat, mated to a production design that conveyed a sense of what it was like to live in those days before modern conveniences, when a father would read a newspaper by lamplight to the rest of the family after dinner.
Copperhead is a poignant look at the horrible price of war, an issue that is relevant even in today's world. It is a story for our age of information and war, and touches on themes that are as relevant today as they were in 1862! Whilst the tone is somber, the story is uplifting and powerful. The film is ultimately about the right to speak, the right to live, and the right to protect one's family. Strength of character and the courage of many individuals standing up for, declaring, and acting on their values create a story and film worthy of being told and seen. It looks at not just the cost of lives lost on the battlefields, but also the destruction of families and communities back at home. Copperhead is a thoughtful movie and a must see for the whole family! If you only spend your money on one film this summer, and are the type of person who wants to come away from the theater really pondering what you've just watched, this is the film for you!

Breakaway Magazine
Breakaway Magazine is an international digital magazine & online platform. It covering arts, technology and lifestyle topics on a variety of platforms, fostering inspiring conversations about independence, empowerment, love, activism, equality, diversity and freedom. Breakaway Magazine aims to help others find their own unique voice and reach new heights. The company reaches millions, connecting with an audience interested in more than just the trend, but the deeper meaning. JB Livingston is the Editor-In-Chief of Breakaway Magazine. Since founding the online publication in 2012, JB has worked aggressively to make it a power player in the digital media industry.