Men in Black: International world premiere with Chris Hemsworth, Tessa Thompson, Kumail Nanjiani & Les Twins in NY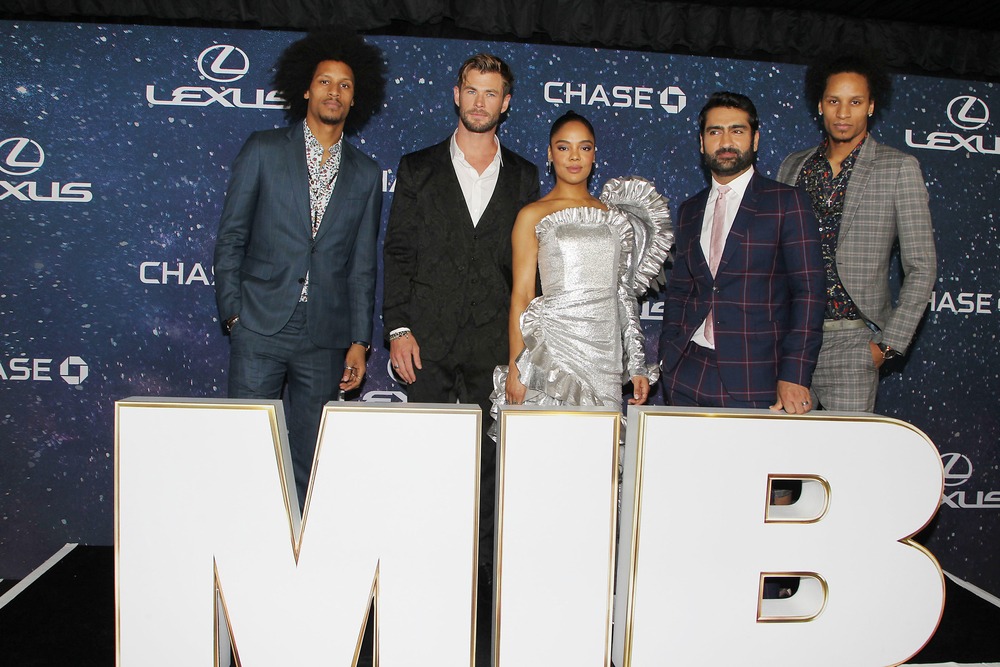 Dave Allocca / Starpix
Tessa Thompson is the new recruit for the Men in Black franchise and she is hoping the reboot will continue to push studios to make more female led films. She is proud to be donning the iconic suit and shades as Agent M, the first main female agent in the Men In Black franchise.
Tessa walked the black carpet for the world premiere of Men in Black: International at AMC Lincoln Square in New York City on Tuesday. She was joined by her co-stars Chris Hemsworth, Kumail Nanjiani, Rafe Spall and Les Twins. We couldn't be prouder of Les Twins (Laurent Bourgeois & Larry Bourgeois) on making their feature film debut!
"We're the villains," said Laurent.
"We're the villains," replied Larry. "The amazing, sexiest aliens in the world!" He went on to add what this moment means to them. "To be in front of the big screen, I have no words."
Les Twins were joined by special guests including their mother and sister who attended from their homeland of Paris, France.
The Men in Black have always protected the Earth from the scum of the universe. In this new adventure, they tackle their biggest, most global threat to date: a mole in the Men in Black organization.
Tessa leads with her Thor: Ragnarok and Avengers: Endgame co-star Chris Hemsworth in the new film that is the fourth movie in the franchise, first launched in 1997 starring Will Smith and Tommy Lee Jones.
In an interview on the black carpet, Tessa said the significance of the role isn't lost on her. "So many women and men too have asked me what does it mean that a whole generation of of young girls can see themselves in this film and that's significant," she says. "I got out of my car and the first person I saw was a little girl in a black suit and said how much the movie meant to her."
Tessa said she hopes the film will have a more inclusive name in the future. "I think we can change the name at some point," she said. "I hope we can get to the space where it's not noteworthy when women topline these films, and I think a film like this helps us get there."
She cited her co-star Emma Thompson, who reprises her role in the series, as a voice of reason when it comes to gender representation and equality.
"She said something great, like 'I've had the conversation, it takes time.' I think what she's speaking to is the fact that sometimes change happens quicker than we have language to describe it," Tessa explained.
"I think the film is fresh because it's made in this time with a more modern sensibility," Tessa said. "Obviously there's always been women inside the organization, but there's never been a female protagonist inside of one of these films. I think that's really new and original."

Breakaway Magazine
Breakaway Magazine is an international digital magazine & online platform. It covering arts, technology and lifestyle topics on a variety of platforms, fostering inspiring conversations about independence, empowerment, love, activism, equality, diversity and freedom. Breakaway Magazine aims to help others find their own unique voice and reach new heights. The company reaches millions, connecting with an audience interested in more than just the trend, but the deeper meaning. JB Livingston is the Editor-In-Chief of Breakaway Magazine. Since founding the online publication in 2012, JB has worked aggressively to make it a power player in the digital media industry.