Move better, feel better, live better: Breakaway Daily interview with Chris Kalisz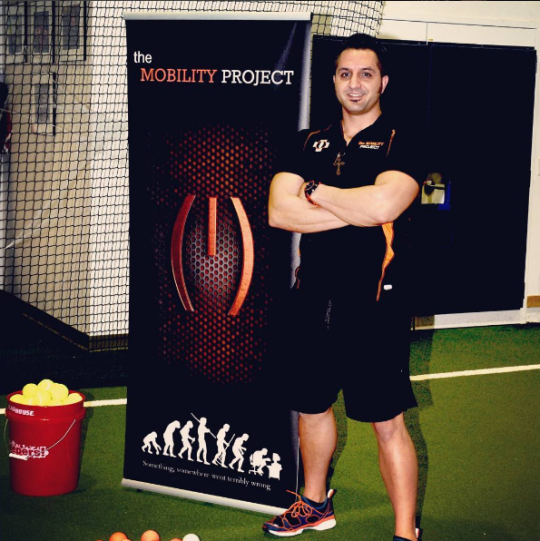 Nutrition + movement + sleep = health, wellness, and vitality.

"The body is the most sophisticated piece of machinery we have. It heals itself when you get injured." 
Chris Kalisz is a professional wrestler, bodybuilder, fitness/nutrition expert, movement therapist and founder of the Mobility Project. Chris's fitness program infuses aspects from physical therapy, massage, chiropractic care, primal movement, yoga, dance, martial arts and gymnastics. Decrease your pain, unlock your body, and improve your performance through movement therapy. Chris shares with Breakaway Daily how to applying easy techniques to understand and improve your body's health.
BREAKAWAY DAILY: What do you see as the biggest mistakes people are making when it comes to health Chris?
CHRIS: The number one biggest mistake is being under-educated on your own piece of equipment. There is a basic knowledge that most people have when it comes to computers, phones, finances, politics, and even their cars. However, the majority of people literally have no clue about their own body, at all. At all! To the point that it is absolutely ridiculous. So being under-educated, and the second would be there is too much specificity. People do what they like to do, and then they do way too much of it without ever re-balancing their systems. The body is the most sophisticated piece of machinery we have. It heals itself when you get injured. It will compensate to protect or allow you to do something. It even has the ability for regeneration! It will be good at doing what you do, or don't do. So when you aren't balancing out your systems with maintenance work, like stretching, massage, tissue work, joint mobilizations, trigger point release, and other things, than your body will be very good at being tight, sore, and immobile. The only person you have to blame is yourself for not taking accountability for your own machinery!
BREAKAWAY DAILY:
What tips can you share to help people to start getting healthy today?
CHRIS:
On a nutrition piece, the best thing I can offer is to literally stop eating false sugars. Whether you want to be healthy, feel better, have more energy, or lose weight, cutting the amount of sugar from your diet will result in all of these things. It's not a complicated formula, but people want to try to fit in their own numbers to make it work.
Learning to know a little more about your own body, and the ability to unlock your triggerpoints to begin improving movement is your responsibility.
BREAKAWAY DAILY:
Can you talk about your fitness program the Mobility Project?
CHRIS:
The Mobility Project came about from my own personal issues with my body breaking down. I had been a Professional wrestler for eleven years and I had started suffering some bad injuries including cervical compression to my neck, a torn PCL in my knee, and a really bad sprained ankle. Always wanting to learn more, I shifted my focus to movement and corrective exercise, as I began to rehab myself. Looking at my own personal limitations and restrictions due to years of abuse, over-training, overcompensation, and weak muscles I realized that if I was having trouble performing some of these extremely generalized movements, being an athlete, then I knew that the average population wouldn't have a the ability for this either.
BREAKAWAY DAILY:
How did develop the Mobility Project?
CHRIS:
The Mobility Project was born after using various movements and tools in order to help restore balance back to my body. The concept of my teachings have been broken down into a series of three workshops consisting of Trigger Point release techniques (teaching people how to identify and begin unlocking their own bodies), Joint Distraction (techniques to create more space in the joint capsules, thus creating more efficient movement by mobilizing the joints), and my Active Restorative Movements (consisting of an infusion of Yoga, Martial Arts, Dance, and Gymnastics). 
BREAKAWAY DAILY:
Why did you want to create a program like this?
CHRIS:
The purpose of creating this program is simple. Most people understand how to use computers, ipods, cellphones, and ipads, on top of all kinds of other technology, but when it comes to their own bodies, or their own piece of equipment, they just lack any type of understanding about themselves. This means that there is no accountability and user manual for these people, and they don't understand what's going on when they begin breaking down, or why it's happening. My goal is to provide a basic understanding for each person that uses the Mobility Project. As free speech is our god given birthright, so too is the ability to take care and maintain your own body from almost 80% of what people suffer from. The health care system is in shambles, and rather than addressing the actual problems people are complaining about, they are given injections or pills to help the symptoms. This will never work simply because the foundation of the issues are not being addressed.
BREAKAWAY DAILY:
How does your fitness program differ from other exercise programs out there? 
CHRIS:
My program differs from other programs as it encompasses Pre-Habilitation and maintenance work. It's not about weight-loss or bodybuilding. It's not about building muscles and getting lean, but about restoring balance to your own body. No matter what form of fitness you choose, whether it is yoga, weight lifting, cycling, or tennis there is always over-use of certain muscles and under-utilization of other muscles. The body functions optimally when it's in balance. Think about your car being in alignment. If you were always driving out of alignment, you would be replacing your tires and brakes more often, because they would be worn down quicker than they should. The body works the same way. We break down quicker and quicker the more out of balance we become. Unfortunately, most people don't care about this until they've already broken down, rather than starting to take care of the issues before it gets to the break down point. I always say that when your gas tank hits empty, if you don't put gas in it the only option it has is to shut down. If you don't charge your phone when the battery hits empty, it's only option is to shut down. The body is exactly the same way, if you aren't preventing and cleaning out the viruses as you accumulate them, it will have no other option but to start shutting down, and this comes in the form of torn muscles, arthritis, and surgery.
The Mobility Project provides various techniques for relieving and eliminating your body's own pain.
BREAKAWAY DAILY:
You also recently published your autobiography titled Controversy: Everything You Never Knew, About Being a WWE Wresleter. Why did you want to share your story? 

CHRIS:
The book follows my ten year journey from a seventeen year old kid with a dream and a goal of wrestling with the largest wrestling company in the world, the WWE, through all of my obstacles and trials both in the real world of Chris Kalisz and the bizarre wrestling world of Kristian Frost (wrestling persona). Ultimately it is my tell all from my personal experiences, both good and bad, on how I went about accomplishing my goal. About ultimately working on and off with the WWE for two years, before I suffered my injuries. It is my personal story about passion, motivation, heart break, suffering, uncertainty, happiness, depression, and enlightenment. It's literally everything the fans, wrestlers, and friends and family members never knew about me or the things I've gone through. I want it to encourage anyone who ever has a dream.

BREAKAWAY DAILY:
What are the biggest lessons that being a professional wrestler has taught you?
CHRIS:
The biggest lesson that Pro wrestling has taught me would have to be that anything you can mentally conceive, you have the ability to physically achieve. Now I know this may sound cliché, but wrestling has helped me in every other aspect of my life. It has taught me the value of working hard for what you're passion about. It has taught me self-confidence, motivation, drive, respect, appreciation, jealousy, envy, desire, professionalism, and so much more. Being a wrestler has helped me to better be comfortable with who I am as a person, while helping me to better connect with strangers. I have had the opportunity to impact so many people's lives just by doing what I loved to do. Just getting in a ring and wrestling caused kids to follow their dreams, it caused adults to thank me, it provided entertainment and it brought pleasure to peoples lives. I am truly touched to have done everything I have in the wrestling world, and to be able to say that I achieved the one main goal I had for myself as a seventeen year old boy, to wrestle for the WWE.
BREAKAWAY DAILY:
How have you been able to bring your background and training to help others?

CHRIS:
I've been able to bring my background and training as a wrestler and a fitness expert mainstream to help others by providing a quality service that is not just a material or a fly by night offer. I have lived my own story, suffered my own injuries, repaired my own issues, and continue to lead by example. People resonate with someone who has walked the walked and not just talked the talked. In my opinion there is a big difference between someone who might study fitness for ten years, but hasn't ever been to a gym, or applied any of their knowledge in the real world, to themselves, and someone who maybe has only studied a little bit, but they've lived what they teach. They've first-hand experience. Not only am I able to educate them, I am able to reach their friends, coworkers, and family members as well through them simply learning about themselves.
Chris recently launched a 24/7 video channel with a goal to be a one-stop shop for all of your self-care and self-maintenance needs on one channel.
BREAKAWAY DAILY: One of the best ways you are offering people to start moving more is your 24/7 video channel through Vimeo. Can you talk a bit about what the videos offer?

CHRIS:
Currently it has a video library of over fifty-five videos covering all kinds of techniques for the average person to begin applying and start reducing their own pain, by unlocking their own body. 80% of issues that people suffer from can easily be taken care of by themselves, if you have a basic understanding of your body. The Mobility Project 24/7 channel is designed for just that. 24/7 anywhere, anytime. You can access on your computer or your phone, at the office on your lunch break, the gym, on a cruise, literally anywhere you go. It's so simple that all you need to do is 5-10 minutes per day, two or three videos as you begin experiencing symptoms of pain and problem areas. It's packed with the knowledge you need to get started taking back your life. It contains my active restorative movement series, and is still being compiled to contain a lot more. It will provide the proper explanations, education and form to the movements that everyone should be capable of, pending specific surgeries or injuries to the skeletal system. But, in general this is the easiest way. Subscribe and take it with you anywhere. Mark it on your calendar for thirty minutes a day, and hold yourself accountable to that goal. 
For more information on mobilizing your body visit Chris's website. 
Chris's book Controversy: Everything You Never Knew about Being a WWE Wrestler is available from Amazon. 

Breakaway Magazine
Breakaway Magazine is an international magazine & online platform. We specialize in shining a light on independent artists, creatives, visionaries and innovators from around the world through diverse storytelling and immersive original content. Breakaway Magazine features global creative talents through the editorial content we publish; allowing this talent to be fostered, recognized and emerge. "The company reaches millions, connecting with an audience interested in more than just the trend, but the deeper meaning." - JB Livingston, Founder/Editor-In-Chief. Read more on our about page.