Hellraiser by Pamela Hilton thematically embodies how women are often villainized
Pamela Hilton channels Gotham City botanist Poison Ivy AKA Pamela Isley for Breakaway Magazine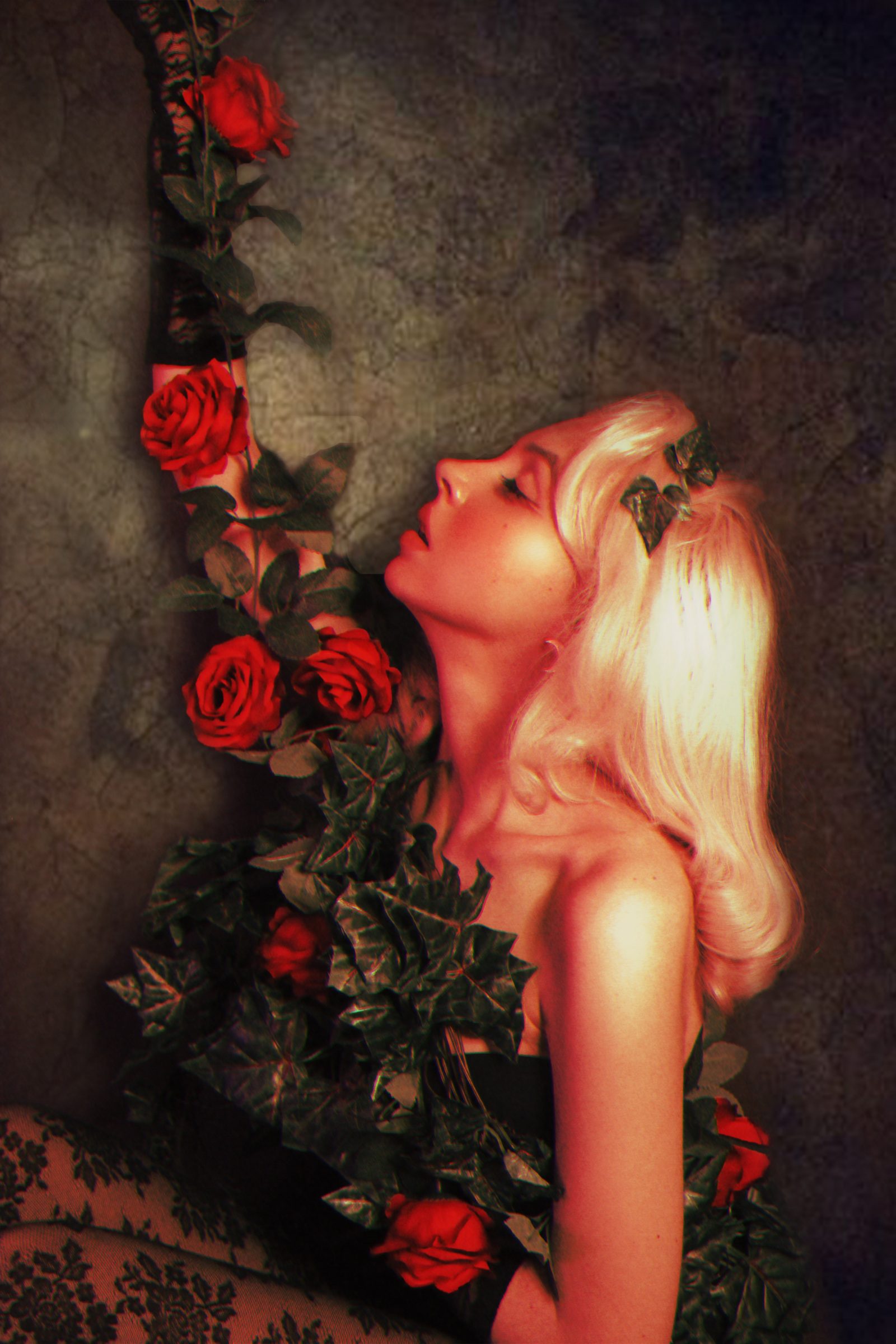 Breakaway Magazine
In her debut self-written EP entitled Hellraiser, alternative artist Pamela Hilton creates an imaginary hideout for her villain alter-ego, where she escapes from everyday life. The lyrics and the visual concept of the album were influenced by the dazzling old Hollywood film noirs mixed with comic villains. As a feminist and part of LGBTQ+ community, it also combines a powerful message of female empowerment.
Born in Europe, Pamela grew up in a religious family with a passion for songwriting running through her veins from an early age. She started attending vocal classes as a child, following her therapist's advice as one of the recommended treatments for her stuttering. She soon discovered singing to be her true passion and a way to break free from her speech disease.
"I've been fighting my stuttering since I was two. It's a speech disorder, and it affects me every single day. When I sing, I don't stutter at all, so music is truly my escape. I love creating music because it makes me feel free."
With two singles included in the EP, Pamela wants to give us a glimpse of her personality and all the things that energized her to start a career as a songwriter. Her music is inspired by film noir along with classical pieces, incorporating a dark cinematic vibe. Her fervent and sparkling melodies expose a truly sensitive artist whose soul-shattering lyrics have the power to provoke a profound response.
In the title track "Hellraiser," Pamela reflects on a perspective of how culture continually villainizes women for the same things men are rewarded and praised. She's telling about the hardships of strong females who often play the role of the antagonist, while men can do whatever they want and are perceived as the hero.
"I wanted to merge your typical female comic villain like Poison Ivy and put her in The Lady from Shanghai or Gilda. Or take a Hitchcock blonde like Eve Kendall from North by Northwest and put her in Gotham City. I specifically included songs with such strong messages on this EP. I often feel that strong, determined, independent and success-oriented women are demonized."
Women should not have to hide their superhuman strengths. Women must remember their power and their capabilities. The second track equally exudes a powerful message. The sarcastic "Whatever Happens Don't Call Me" shows how important it is to know your self-worth. It conveys a message to be proud and always put yourself first, especially when it comes to dealing with toxic people.
"Sometimes it's better to cut off toxic people from the start before you get under their influence. I hope that this song will inspire my audience, especially the younger listeners, to be more in control of their life."
Pamela Hilton has been a fan of Paris Hilton for many years and pays homage to her through her stage name.
"I started with just a fan account because I wanted to support Paris and show her my love and gratitude, but over time she noticed me and somehow we formed a bond. Unlike my family, she's been supporting me through the years and she's always been there for me, so I consider her my family. She has the biggest heart."
Paris Hilton, along with Britney Spears, Marilyn Monroe and classic old Hollywood are among the songstress' biggest influences. They allured her, shaped her and undeniably affected her musical style. It also informed her interest in the societal villainization of women. The recent release of Paris Hilton's brave documentary This Is Paris and The New York Times' Framing Britney Spears examines the person behind the headlines. They delve into how tabloid culture preyed on the downfall of young powerful women that was based on vilification and invasions of privacy.
"Originally, I wrote Hellraiser when I was reading all these articles about how people are finally realizing what the media was doing to female celebrities in the 2000s. Back then, the media were portraying successful women like Paris and Britney as villains when the villains were actually the media. Through my music I want to empower women to stay strong and never let anyone put them down."
A distorted siren that is alarming and full of suspense is a constant haunting element in Hellraiser. It pairs with Pamela's hypnotic voice that has the same breathy sound of classic mid-century female singers. Choonshiki, who produced both tracks, opens up that he specifically took his inspiration from vintage musical themes in order to create a "sexy tempo" and avoided modern sounds almost on purpose. Lush velvety vocals are paired with cinematic Bernard Hermann-like arrangements and sublime lyrics. Sonically, it sounds like it could be off the original soundtrack from the vintage Batman animated series mixed with Jessica Rabbit's seductive theme with instrumentals that add a hint of contemporary flair.
"I would describe my music as sinister and dark, but at the same time lavish and sumptuous. I see music as art and treat mine like I am creating detailed visions with my lyrics. I love making music because with my songs I can tell any story; it's like a movie to me."
The Hellraiser EP is now available for streaming across all music platforms, listen here. For more information on Pamela Hilton visit her official website.
Love our content? We hope you will support us on this continuing journey of bringing you the best in quality journalism. Please subscribe or become a Patreon of Breakaway Magazine.

Breakaway Magazine
Breakaway Magazine is an international, independently published magazine and online platform for the mind, body and soul. Through diverse voices we feature inspirational people and their stories. Topics include wellness, mental health, social psychology, personal development, spiritual growth, mindfulness, mindset, self love, self care, the higher self, empowerment, nature-based healing and more. Breakaway Magazine features global creative talents through the editorial content we publish; allowing this talent to be fostered, recognized and emerge. "The company reaches millions, connecting with an audience interested in more than just the trend, but the deeper meaning." - JB Livingston, Founder/Editor-In-Chief. Read more on our about page.