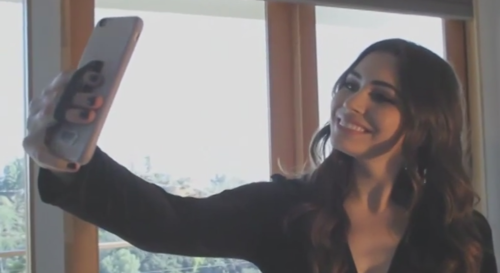 Breakaway Daily Exclusive: Sophie Tweed-Simmons & Women's Image Network Promote Self Confidence & Empowerment with "Seek Your Selfie"
Youth, passion and fashion join the sixteenth WIN (Women's Image Network) Awards ceremony to advance its mission: gender equality. Today this grass-roots charity remains the only charitable organization honoring men and women who promote dimensional film and television images to help girls and women live more self-expressed lives.
Actress, model, singer, fashion designer and philanthropist, Sophie Tweed-Simmons (Gene Simmons Family Jewels) created a unique video to promote self-confidence. Also a WIN Awards show presenter, Sophie co-created WIN's first Seek Your Selfie social media campaign by promoting fashion that empowers women to feel more confident and empowered.
Lately Sophie has been taking a stand and been featured significantly in in the news talking about feminism, fashion, body image and photoshopping.
Since social media is changing the face of both entertainment and audience engagement, Sophie's video combines fashion with body positivity and will place a virtual audience at the center of the trending body shaming, anti-photoshopping conversation.  Watch Sophie showcasing her design design talent in her Seek Your Selfie video below where she promotes self-expression and confidence.
Sophie serves as Brand Ambassador and Style Consultant for The Style Club and following the huge success of her Fall 2014 collection (which sold out within the first 72 hours), Sophie just unveiled her New Year's Eve inspired dress collection that features a line of party dresses for all women size 00-18, eliminating the term 'plus size'.
Sophie says she is "thrilled to release this new line that I hope will complement all women. I hate the term 'plus size'. My dream is to create affordable, empowering and flattering clothing for women of all sizes without labeling them. Why ruin a good thing by labeling it. A beautiful woman does not need to be categorized."
[Sophie modeling the Carrie dress from her fashion line.]
Sophie is currently gearing up to film season 2 of Shannon and Sophie on Canada's W Network. Sophie has also worked with Cosmopolitan.com and WorldLifestyle.com on the topic of body image. Sophie is also the founder and owner of Sophie's Place, a charitable organized based in Vancouver which provides a place of sanctuary, support and resources (legal and otherwise) for abused children. For more information about Sophie, her clothing line, and her charities visit SophieTSimmons.com and follower her on Twitter.
At the end of her short video, Sophie takes a selfie of her essence and WIN encourages viewers to do the same. WIN wants others who Seek Their Selfie to submit an online "essence selfie" for a chance to win free tickets to attend The WIN Awards, December 14, 2014 in Beverly Hills, California!
The WIN Awards 2014 presenters, performers, hosts and guests include: Melissa Rivers, T.J. Miller (Silicon Valley), Sophie Simmons (Gene Simmons Family Jewels), Haley Ramm (Into The Wild, X-Men),Teri Polo, (Meet The Parents), Lauren Paul, Molly Thompson, Michelle Trachtenberg, (Buffy The Vampire Slayer), Alexis Martin Woodall, (American Horror Story), Melanie Mayron, (The Babysitter's Club), Ruth Vitale, (The Wedding Planner), Caitlin O'Connor (Chelsea Settles), Sophie Stern, (Sophie and The Bom Boms), Terry Moore, (Come Back Little Sheba),) and Brittany Furlan, (Facebook Is Not Your Friend). Radha Mitchell, Beverly Todd and Erica Ash present to honoree Daphna Edwards Ziman.Host: Gary Shapiro (Real Time with Bill Maher).
To learn more visit TheWinAwards.com