The Path Season 1: Episode 1 "What the Fire Throws" & Episode 2 "The Era of the Ladder" TV Review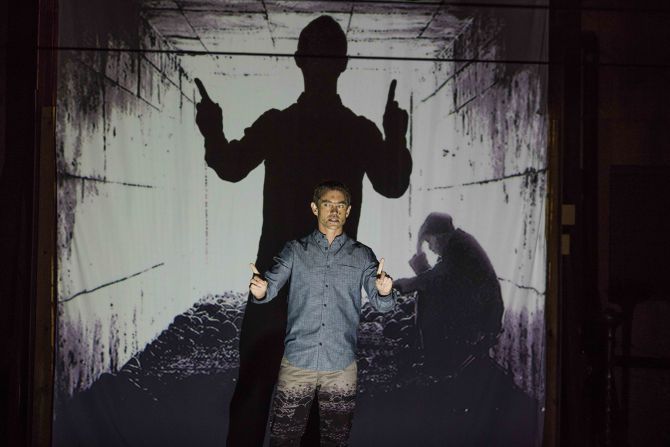 Hugh Dancy wants us to drink the Kool-Aid. And Aaron Paul just needs a hug.
Hulu's new ten episode "cult" drama The Path looks at darkness that can be found in enlightenment. It is executive produced by Friday Night Lights' Jason Katims and Jessica Goldberg. The series explores the communal lives and faith of the committed Meyerists; a fictional religion.
It follows the Lanes (no pun intended), an upstate New York family consisting of Eddie (Aaron Paul), Sarah (Michelle Monaghan) and Hawk (Kyle Allen) who are members of Meyerism, currently led by Cal Robertson (Hugh Dancy).
The series begins with Cal and a team of Meyerists helping a town after a tornado hits. Mary Cox (Shameless's Emma Greenwell) is an addict who's been saved by Cal and is now freed from a life of abuse. She becomes infatuated with Cal and decides to devote herself entirely to The Movement AKA Meyerism.
Eddie, on the other hand, is starting to have what he as come to accept as truth become challenged.
Hawk, Eddie and Sarah's devoted fifty year old son (that is a dead ringer for a young Heath Ledger), wants nothing more than to drop out of high school and join The Movement full time. His plan and ideals are then altered when a popular classmate reaches out to him for help.
"You must believe to belong" is one of the taglines of the show. But it is hard to get behind what the show wants us to believe due to that belief system the characters are battling over being so vague. But I suppose that could also be intentional, since so many religions are also ambiguous.
In the current TV landscape, where the competition is steep and there are more TV paths than ever to follow, new shows have to offer us something we haven't seen before. Although The Path features intriguing subject matter and a talented ensemble cast, it can sometimes feel like you're stuck on the compound too. Maybe that's the point.
Does it capture your interest enough to make you want to stick around and keep following The Path?
Also recommended: The Leftovers.

Breakaway Magazine
Breakaway Magazine is an international digital magazine & online platform. It covering arts, technology and lifestyle topics on a variety of platforms, fostering inspiring conversations about independence, empowerment, love, activism, equality, diversity and freedom. Breakaway Magazine aims to help others find their own unique voice and reach new heights. The company reaches millions, connecting with an audience interested in more than just the trend, but the deeper meaning. JB Livingston is the Editor-In-Chief of Breakaway Magazine. Since founding the online publication in 2012, JB has worked aggressively to make it a power player in the digital media industry.