Home » Tokio Hotel release music video for "Feel It All" as homage to films The Basket Diaries, Christiane F, and Kids
Tokio Hotel release music video for "Feel It All" as homage to films The Basket Diaries, Christiane F, and Kids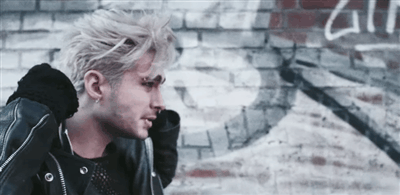 My favorite German rock band Tokio Hotel have released their cinematic and utterly heart wrenching new music video for "Feel It All." The Mattias Erik Johansson directed clip is a series of dreary yet vibrant visuals for the song written by the Kaulitz twins off 2014's "Kings Of Suburbia." Although the song is titled Feel It All, Bill Kaulitz stars in the video and does anything but that. Inspired by such films as The Basketball Diaries, Christiane F, and Kids the documentary style video shows the dark and lonely spiral of numbing through drug abuse.
This video was a dream project for lead singer Bill Kaulitz, dedicated to his favorite movie Kids. 
Andrew Brawl designed the single cover for Feel It All that follows the theme that the Kids film cover has. 
Bill Kaulitz on the films & the video:
I was always fascinated by Kids, same as Christiane F. – Wir Kinder vom Bahnhof Zoo and The Basketball Diaries. These were my kind of movies when I was super young. Every time when I was watching these movies I saw myself there, because I grew up in a small village with these kinds of people.
"When I was 13, we always had older friends and we were all just trying to get away from where we lived. We wanted to be free. That rebellious kid inside of me was always there and I understood those people. We had amazing videos, but this time we wanted to make something different!"
I said, lets just make a video about that topic, maybe about me getting lost. For me Feel It All is really about feeling every aspect of life. Life has downsides and darkness, light and dreams, hate and freedom and that rebellious side. I wanted to show all of that and I always wanted to play a role of a lost soul.
Watch how Bill went into this dark role in the official music video for "Feel It All." 
See how the video was made below:
The single for Feel It All will be released on April 3rd and will feature five tracks:1. FIA – Main version – 2. FIA – Live New Years Version – 3. FIA – Pioneer Remix – 4.LWLYB – Pioneer Remix – 5. LWLYB – Cazzette Remix. 
Read Breakaway Daily's review of Kings of Suburbia here. 
Further viewing:

Breakaway Magazine
Breakaway Magazine is an international magazine & online platform. We specialize in shining a light on independent artists, creatives, visionaries and innovators from around the world through diverse storytelling and immersive original content. Breakaway Magazine features global creative talents through the editorial content we publish; allowing this talent to be fostered, recognized and emerge. "The company reaches millions, connecting with an audience interested in more than just the trend, but the deeper meaning." - JB Livingston, Founder/Editor-In-Chief. Read more on our about page.