Breakaway Magazine
is an international magazine and online platform. We specialize in shinning a light on independent artists, creatives, visionaries and innovators from around the world through diverse storytelling and immersive original content. We celebrate those that are breaking through, breaking free, breaking gender stereotypes and breaking barriers. Through our exclusive interviews, editorials and cover stories, we publish the world's most inspiring people, places and ideas. We believe creativity and imagination is at the root of all progress. It is responsible for kicking the door wide open to exciting possibilities with the power to shatter previously imagined limits. Breakaway Magazine features global creative talents through the editorial content we publish; allowing this talent to be fostered, recognized and emerge. With readers that spread the globe, Breakaway Magazine has worked aggressively to become a power player in the digital media field. As part of its daily content offerings,
Breakaway Magazine
covering arts, technology and lifestyle topics on a variety of platforms. Our publication has tied a range of partnerships across the globe, making it an exciting destination for its rapidly expanding demographic. Fostering conversations about independence, love, activism, equality, diversity and freedom is at the core of what we do and we aspire to expand your worldview and thinking. Considered one of the most widely respected media outlets, we are known for our creative presence and deep media penetration of our leading edge culture communications.
---
We have a substantial online community. Through our platform, subscribers, newsletter and social media following we are reaching over 1 million people and that number keeps on rising.
---
Breakaway Magazine aims to help others find their own unique voice and reach new heights. Our journalism connects with an audience interested in more than just the trend; but the deeper meaning. Our catalogue of information features selected international, independent, unknown, unsigned, underrated, unexpected and must-know recommendations. We pride ourself on covering a vast array of subjects across arts, lifestyle and technology. Breakaway Magazine believes that information has the power to shape the world. Breakaway Magazine takes you behind the scenes through our up close and personal conversations. We have been honored to speak with people from all over the world including artists, dancers, app developers, entrepreneurs, designers, actors, directors, musicians, authors, entrepreneurs, activists, humanitarians, photographers and more.
---
Founder & Editor-In-Chief JB Livingston explains that: "We feature insightful content focusing on creativity, culture and collaboration. We are dedicated to empowering people with inspiring stories through our unique blend of original multi-platform content, interview and thought-provoking articles."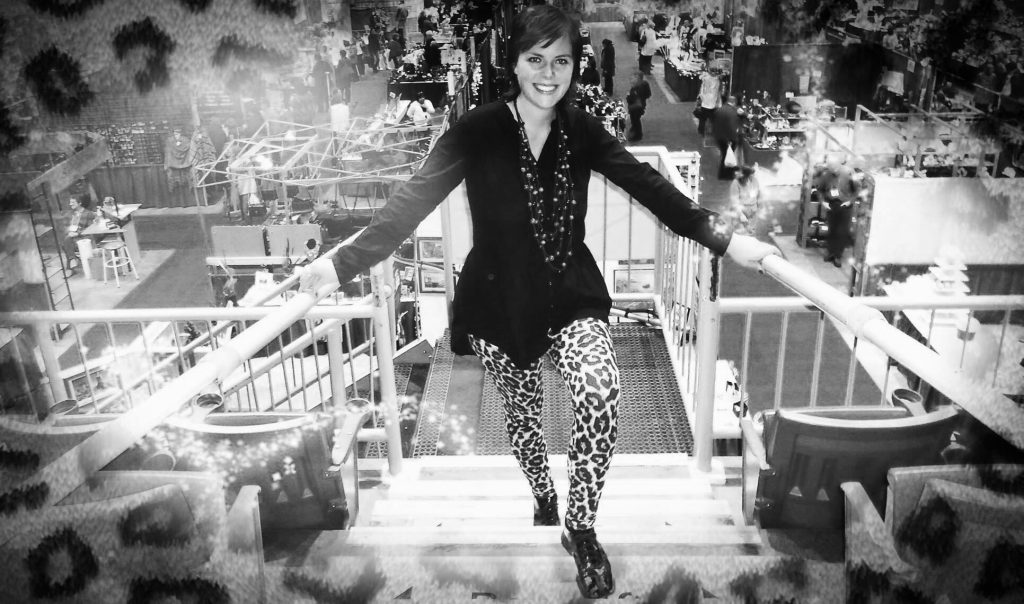 JB Livingston
Founder | Editor-In-Chief | Creative Director
JB Livingston's passion for helping others paired with her expertise in journalism led her to establish Breakaway Magazine over ten years ago. JB's educational background includes holding master degrees in Information & Communication Studies, Sociology and Computer Science. Her vast experience and working knowledge of arts, lifestyle and technology topics has earned her invaluable professional relationships making her a leader in her field.
The World Is Our Office
Since establishing Breakaway Magazine, JB has built a rockstar team of international writers, columnists, reporters, producers and designers located all over the world. The world is our office. With our headquarters in Atlantic Canada, we cater to an global audience, striving to create exceptional content both at home and abroad.
---
Full Service Creative Agency
Breakaway Magazine does more than you think. In our in-house content studio we aid in the promotion and exposure of up and coming creatives. Comprised of it own in-house creative agency, Breakaway Magazine aims to help others find their own unique voice. We have worked with some of the world's best brands and artists to reach their goals. We have engaged their customers and fans through the content we create and the commerce we drive. Whatever you are looking for, we can help! We strive to help you improve your online visibility by creating and growing your internet presence through digital arts and media fields through web development, design, social media, marketing, communications, branding, consulting, producing, public relations, publicity and beyond. Breakaway Magazine is a trusted digital jack-of-all-trades for their clients. We have experience working with many professionals in different fields including academic institutions, business, fashion, travel and the entertainment industry who want to help their projects and talent gain an increased online presence. We are dedicated to exceeding expectations and achieving continuously outstanding results for every project and client. We have effectively worked with film studios, record companies, directors, producers, artists, app developers, authors, photographers, entrepreneurs, fashion designers and more. See how our skills add up to create long-lasting brand recognition. We look forward to telling the story of you and working on any of your digital needs. "JB is a remarkable in her profession, she makes every effort to make your work stand out and that's why her magazine is professional, she puts meaning to the word "promotion." – Eli Darzi
---
Making Headlines
Breakaway Magazine has been featured in thousands of different media outlets including online websites, radio stations, newspapers and magazines. Notable press has included the following. Click for each feature or list of features.
---
Media Partner
Breakaway Magazine is proud to be a media & publishing partner with World of Dance, Artemis Women in Action Film Festival, The Women's Image Network and the annual Prince Celebration at Paisley Park.
World of Dance
is the world's largest dance entertainment enterprise. What began in 2008 as a single event is now a continent-spanning, tour de force of human spirit and sick dance moves, encompassing a #1 TV show, a #1 YouTube network, and two live worldwide tours. The World of Dance Championship Series attracts YouTube stars, industry icons, and tens of thousands of fans to events in more than 30 countries, spanning the U.S., Europe, South America, and Asia. The inspiring performance videos captured from these events have driven more than one billion views online. No language barriers. No animosity. Just pure, awe-inspiring movement. Their hit dance competition series on NBC,
World of Dance
, is led by a judging team of extraordinary dance superstars – Jennifer Lopez (who also serves as an executive producer), Derek Hough and NE-YO. The series from Universal Television Alternative Studio and Nuyorican Productions gives dancers the platform to showcase their talents and the opportunity to receive a life-altering grand prize of $1 million.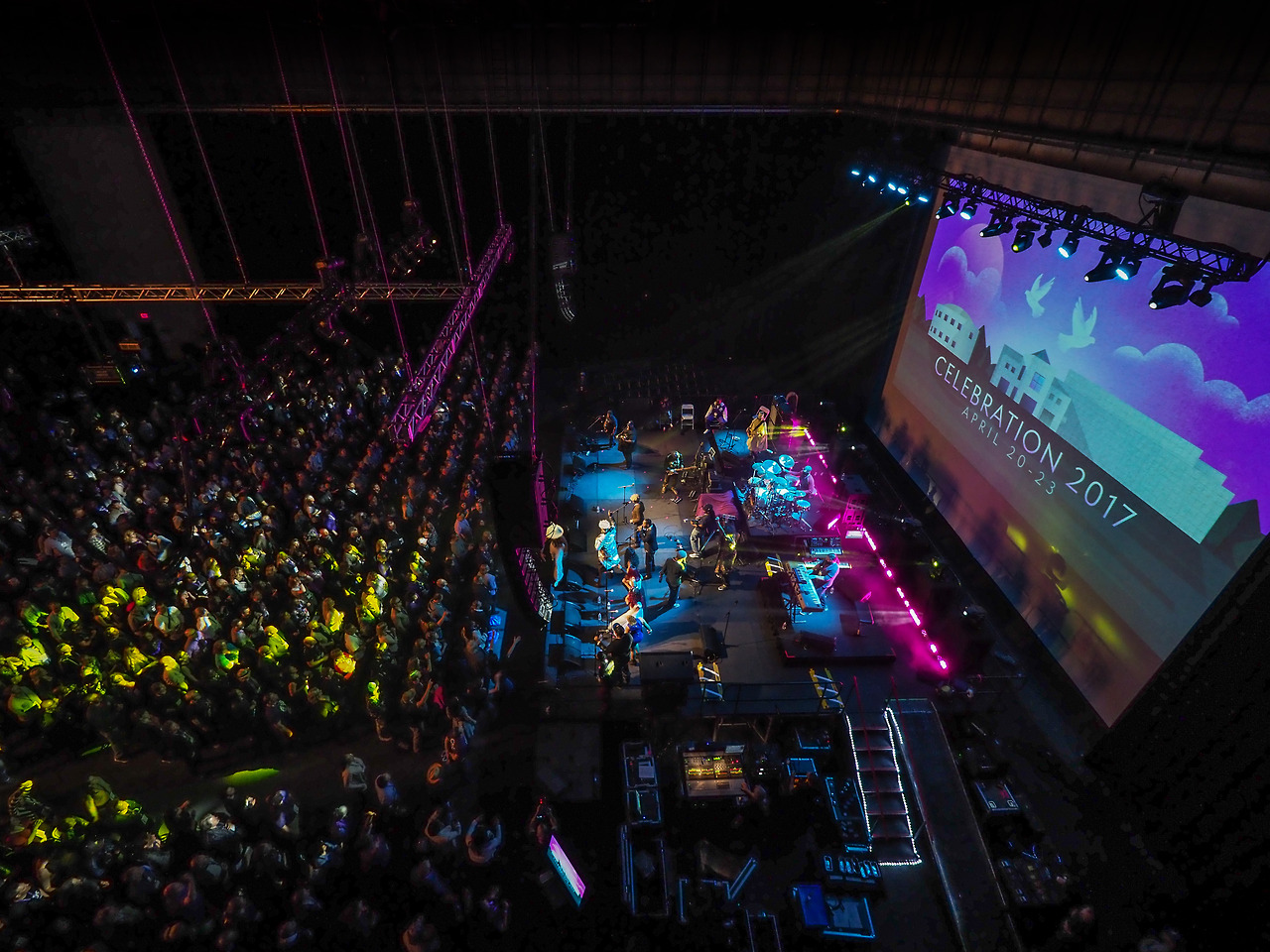 Since 2016, fans, friends and family have marked the anniversary of Prince's passing with an epic four-day celebration at Prince's Paisley Park in Chanhassen, Minnesota. Thousands of Prince fans from around the world gather April 20th to 23rd to enjoyed live performances, panel discussions, exclusive concert screenings and guided tours during
Celebration
. The historic event held at Prince's private estate, production compound and recording sanctuary outside Minneapolis highlighted his tremendous talent, influence, and importance as a composer, musician, producer, live performer, and filmmaker. Taking place every year since 2015 in Los Angeles,
The Artemis Women in Action Film Festival
is dedicated to honoring female-driven action films. CarrieFisher, Rosie O'Donnell, Patricia Arquette, and Paul Feig are among its high-profile supporters. Artemis Motion Pictures celebrates the first film festival dedicated to honoring female action, empowerment and powerful women taking action on the silver screen. From female action heroes to female activists, Artemis shines a spotlight on females in narrative and documentary films who are fearless, fierce, and revolutionary. Every year Artemis honors kick-ass honorees and trailblazers. Past award winners have included Melissa McCarthy, Tom Cruise and Yancy butler, Jessie Graff, Linda Hamilton and Cynthia Rothrock. "Our film festival seeks to redefine the image of women, not just on screen, but in culture as well," emphasized festival Founder Melanie Wise. "Our official hashtag is #WomenKickAss and we try to convey that sensibility in everything that we do."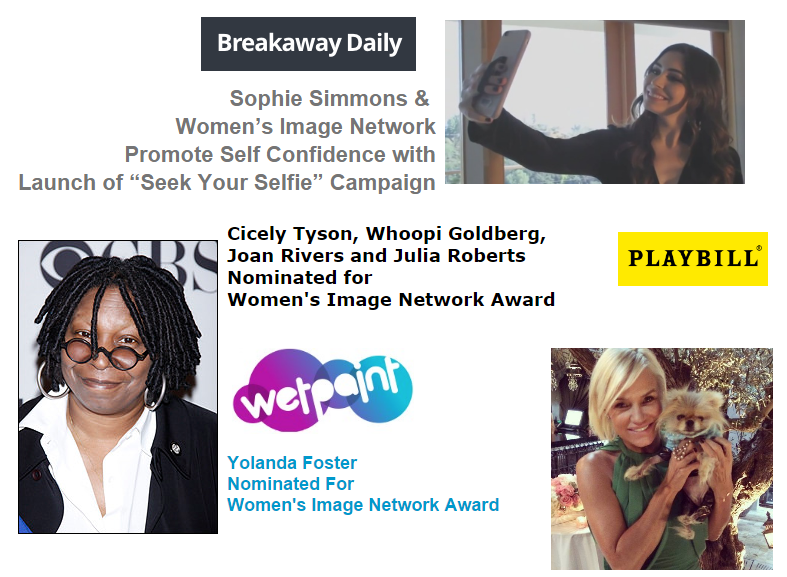 Breakaway Magazine partnered with
The WIN Awards
for an exclusive campaign with Sophie Tweed-Simmons, daughter of Gene Simmons from rock legend Kiss to promote self-confidence and empowerment with Seek Your Selfie Campaign. WIN is a grass-roots charity with a mission for gender equality. They remain the only charitable organization honoring men and women who promote dimensional film and television images to help girls and women live more self-expressed lives. Actress, model, singer, fashion designer and philanthropist, Sophie Tweed-Simmons co-created a WIN's first Seek Your Selfie social media campaign by promoting fashion that empowers women to feel more confident and empowered. Since social media is changing the face of both entertainment and audience engagement, the campaign combines fashion with body positivity and will place a virtual audience at the center of the trending body shaming, anti-photoshopping conversation.
Contact us at hello@breakawaydaily.com
Download our press kit.