Growing Up: Tower Garden is changing the future of food for healthy living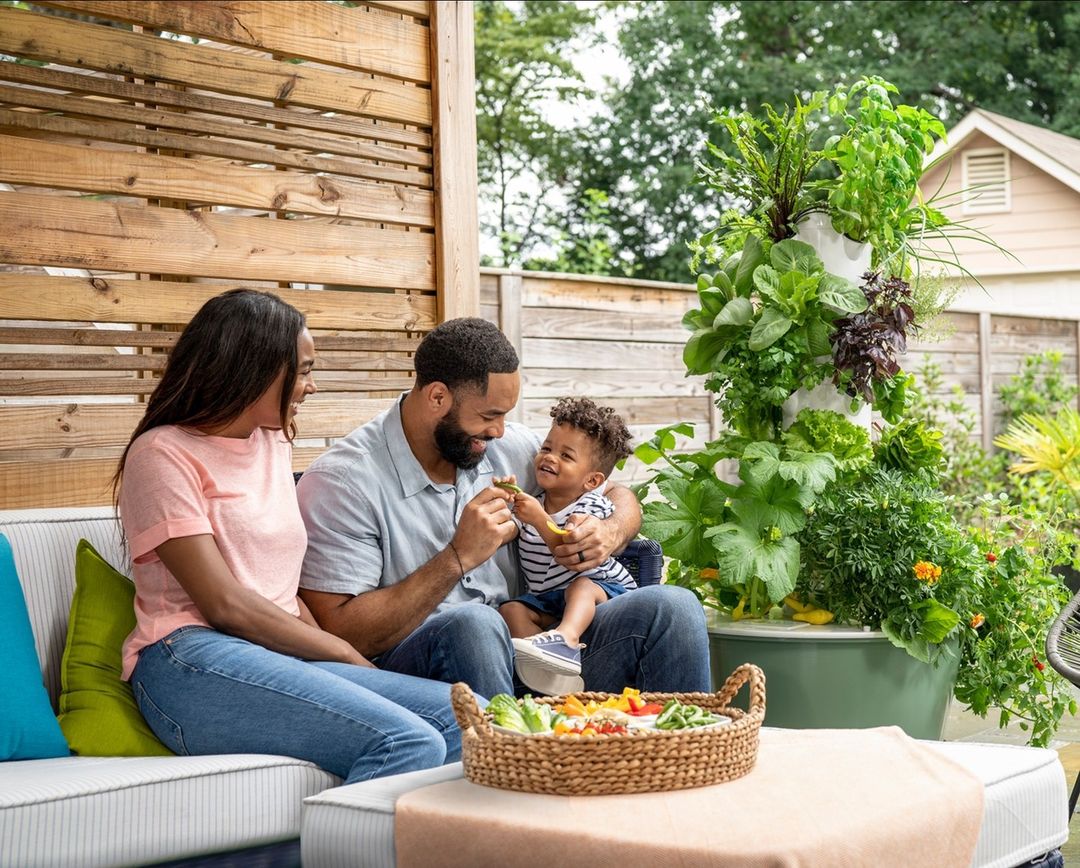 Modern times require modern thinking. There has been huge environmental costs of trying to feed the seven billion people on the planet. If you look at the facts, growing in soil is no longer a sustainable way to grow food. For an in depth understanding of the crisis at hand, we recommend The Vertical Farm: Feeding the World in the 21st Century by Dickson Despommier who is considered the father of the vertical farming movement. After reading the book, you'll envision a world where skyscrapers feed cities. Giving more people everywhere access to healthier food, the urban farming movement is improving lives by literally changing the way people eat. Using Tower Garden, growing a forward-thinking future is at hand.
As a convenient vertical growing system, Tower Garden provides an easy way to grow fresh, nutrient-rich fruits, vegetables and herbs at home. Grow delicious produce easily, indoors or out, year-round without soil. Tower Garden simplifies gardening by using aeroponics, the process of growing plants in an air or mist environment rather than soil. An advanced form of hydroponics, aeroponics is the latest development in hydroponic growing as the roots are not constantly submerged in water. A timer water-drip system allows for the roots to be periodically exposed to water and then air increasing the rate of growth.
For more information on this modern garden system we turned to Tower Garden representative Erlinda Bostwick. Married with four adult children and retired from the banking industry. She had been looking for ways to eat healthier since being hospitalized for seven days and having to have surgery to remove her gallbladder as well be treated for a liver infection. During her post-surgery appointment, her doctor informed her that my liver enzymes were still very high. She had to change her lifestyle and eating habits.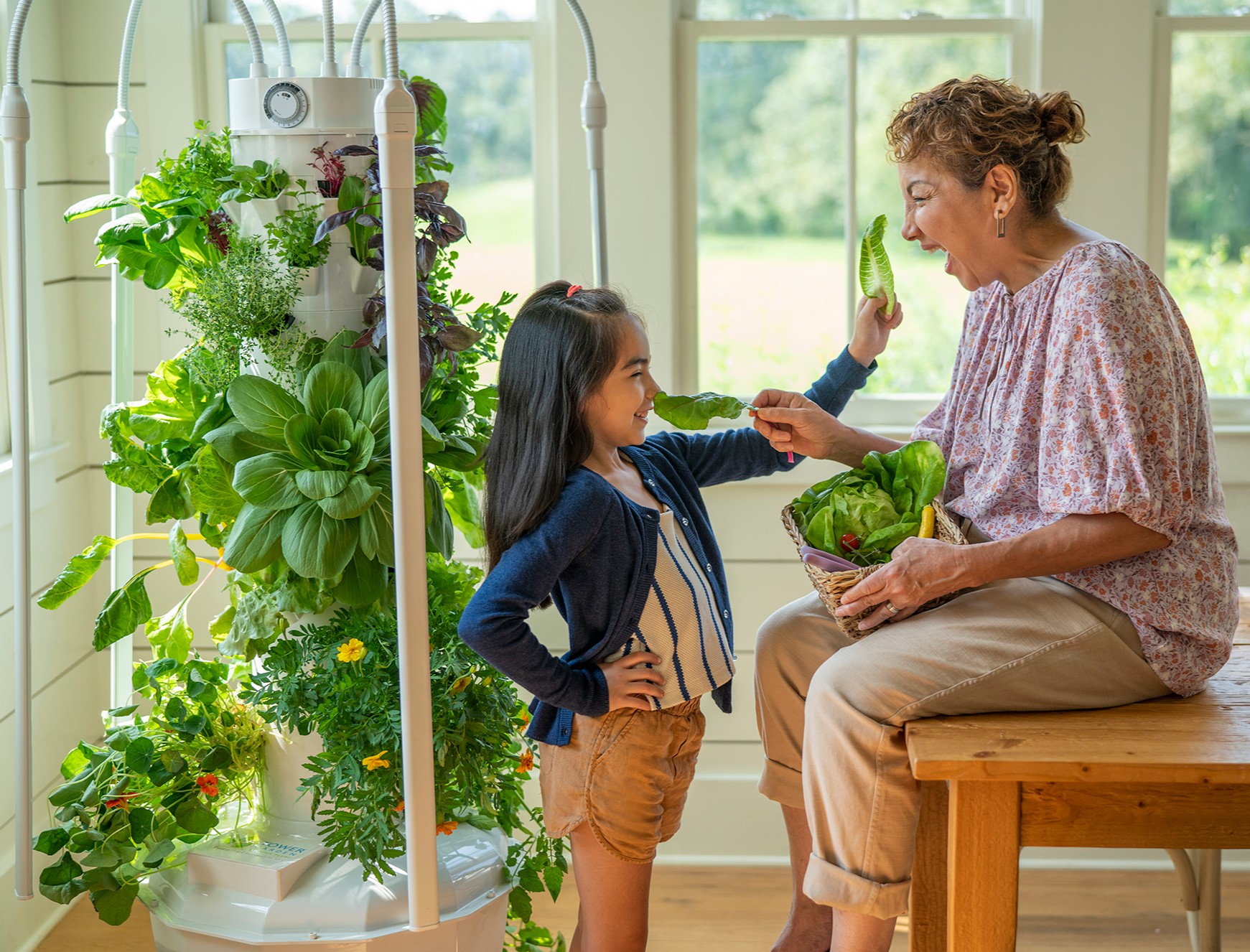 "The first time Tower Garden was introduced to me I became obsessed with it. My husband tried to talk me out of purchasing one since we are in the middle of building our retirement dream home. He didn't want another thing to have to move to our new house. Besides, our new house is being built in a three acres property so there is plenty of room for any type of gardening. Somehow, I managed to convince my husband that Tower Garden is a totally different type of gardening." The very next day after Erlinda's system arrived, she assembled the Tower Garden and planted the seeds that came with the system. Ever since she has been enjoying growing and eating from her Tower Garden. She has grown cucumber, eggplant, bok choy, tomatoes, green pepper, celery, parsley, bib lettuce and romaine lettuce. "My health improved drastically. I was being given another chance. I feel empowered that I am doing something to improve my health and want to share my story with as many people as possible."
Good health starts with good habits, like eating wholesome foods. Consuming more fresh fruits and vegetables is one of the most important things you can do to support your health. And there's nothing fresher than the fruits and veggies you grow yourself. Unfortunately not everyone has the space or the ideal outdoor growing conditions. "This garden system allows you to grow your own produce without the learning curve or time commitment of traditional gardening or endless produce shopping. So it's the perfect companion in your journey toward healthy living or to support your healthy lifestyle."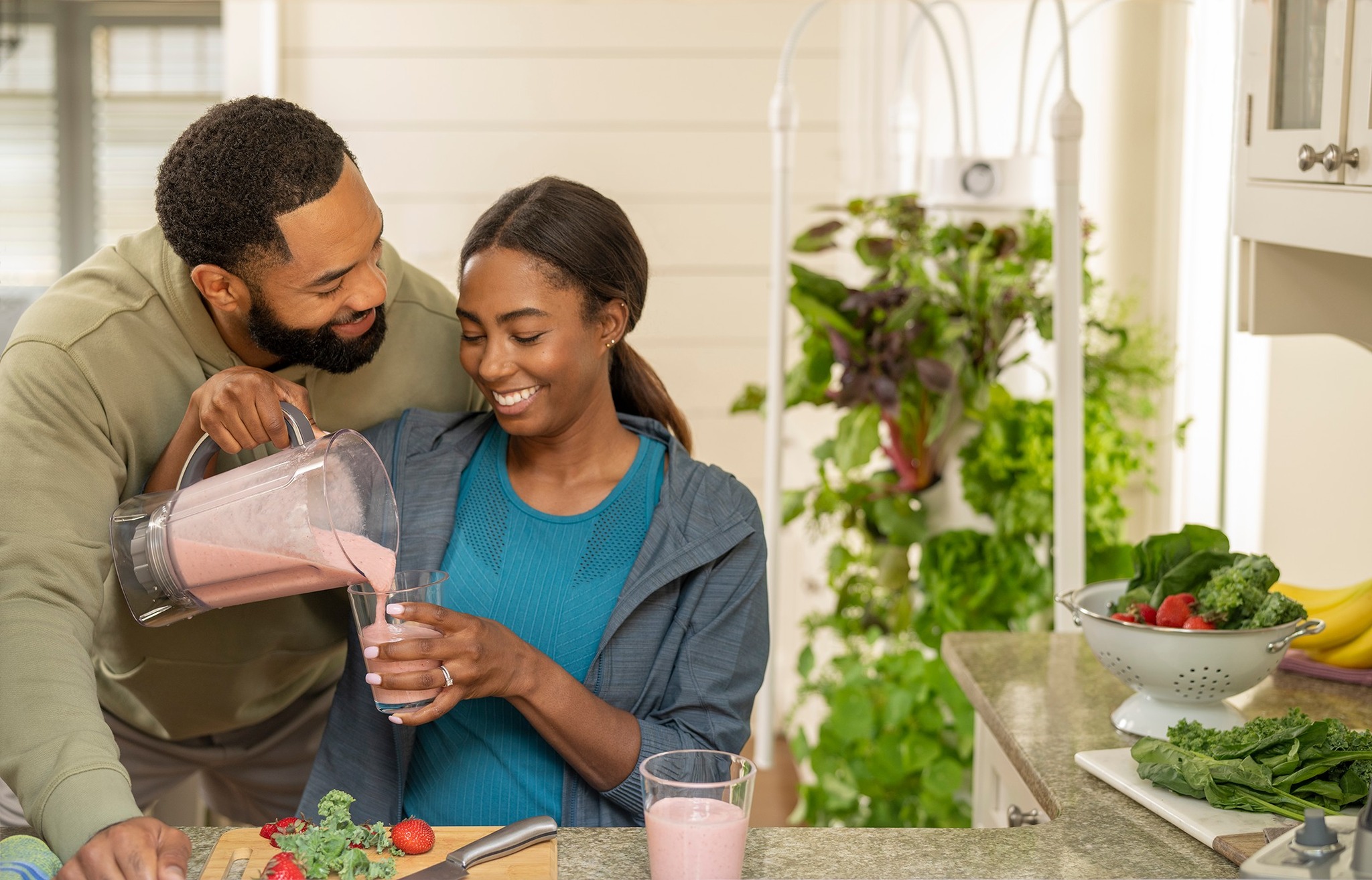 Eating lots of fruits and vegetables is good for you. The problem is keeping a refrigerator stocked with fresh produce can be both costly and inconvenient. While it's possible to buy organic at the grocery store, it does cost more. But with your garden, you can grow organic produce at a fraction of the price. "With the ability to have clean, living produce —produce you grew yourself— just steps away from your kitchen, it's a game changer to be able to eat what you grow."
When you buy produce from a grocery store, the food was picked days, weeks or even months before you bought it. Often food is harvested before it's fully ripe because it's easier to transport under-ripe produces as it's more firm. But with this comes a big sacrifice of taste, flavours and nutrients. When you grow your own food at home you can pick it when it's fully ripe and even minutes before you are going to eat it. Buying produce and growing your own at home does not have to be costly. Growing your own healthy food at home is also healthier for the environment. Discover all the benefits of growing your own food, no green thumb required!
Live well while conserving water and space. Tower Garden comes with everything you need to begin growing your own food. Enjoy abundant, nutritious harvests just weeks after planting. A garden that you can start growing instantly no matter what time of the year it is. Erlinda explains that there are one hundred and fifty types of plants that are ideal for growing in the Tower Garden. "Easily grow almost any vegetable, herb, flower and even many fruits at home with 90% less space and water and in a fraction of the time compared to conventional gardening. All you will need to add is water. Tap water or rainwater works great."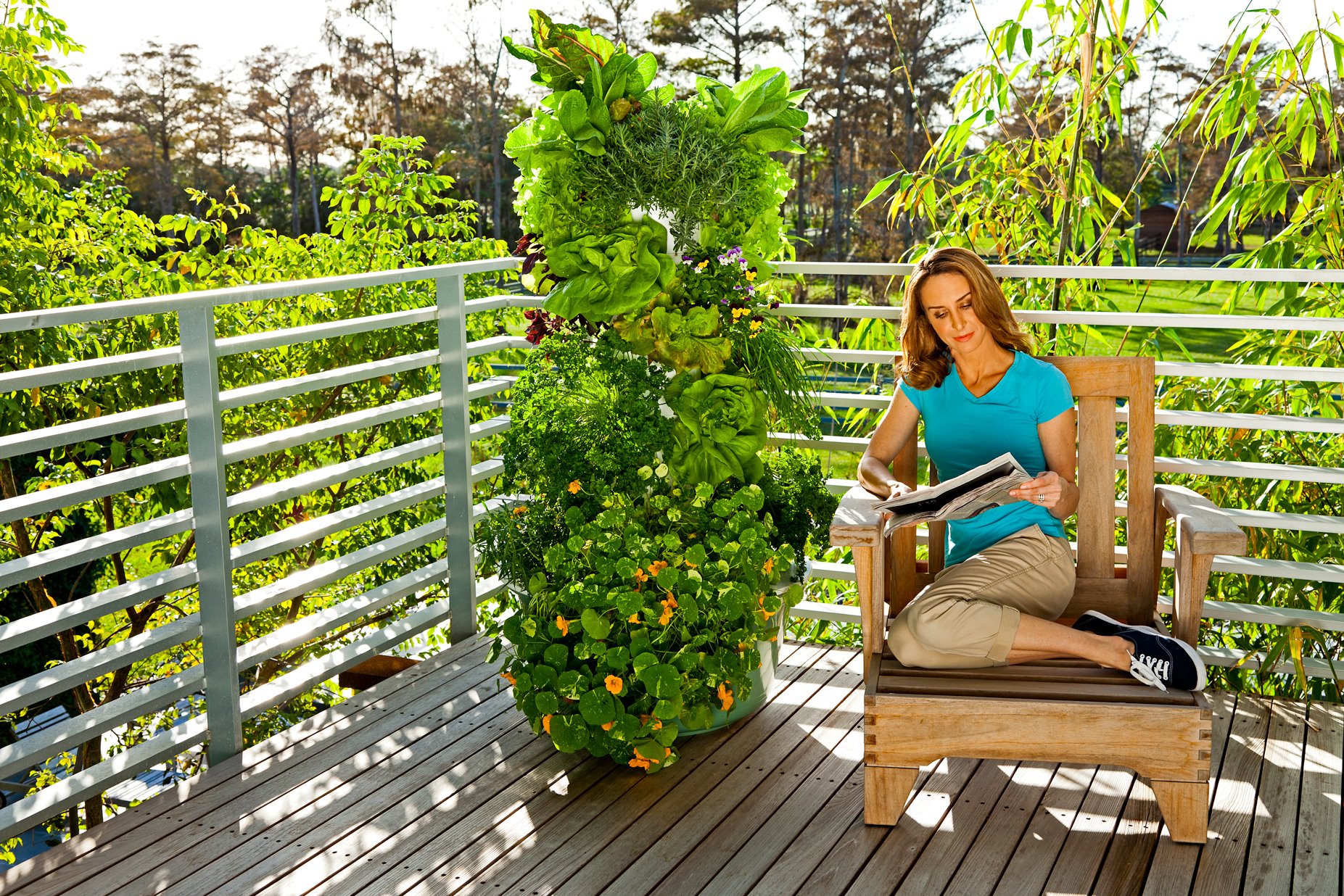 Tower Garden has a vertical, compact design and closed-loop system technology, so it requires as little as 10% of the space and water you'd use with traditional growing. Because of the design, you can grow a lot of food in a small indoor or outdoor space vertically. "Gardening in northern climates is highly seasonal. With LED grow lights the Tower can be used all through the winter so you can take advantage of abundant, fresh vegetables all year. It's also perfect for urban settings including rooftops, patios, balconies, terraces or just about any relatively sunny place outside.
"Tower Garden allows you to grow up to thirty-two plants in less than three square feet. It is a self-watering system. You'll fill the reservoir at the base of your Tower Garden with a mixture of Tower Garden Mineral Blend that comes with the system and water. The solution cascades down the Tower Garden, nourishing plants. A low-wattage, submersible pump that comes with the system which is placed in the reservoir pushes the nutrient solution to the top of the Tower Garden through a small central pipe. The nutrient solution then drips down the inside of the Tower Garden, evenly cascading over the exposed plant roots. A timer ensures this process repeats continuously—usually in 15-minute increments—to deliver the ideal amount of oxygen, water, and nutrients to plants at the perfect time. Your Tower Garden comes with instructions on how to assemble the system. Don't worry it is very easy to assemble. It is part of the fun."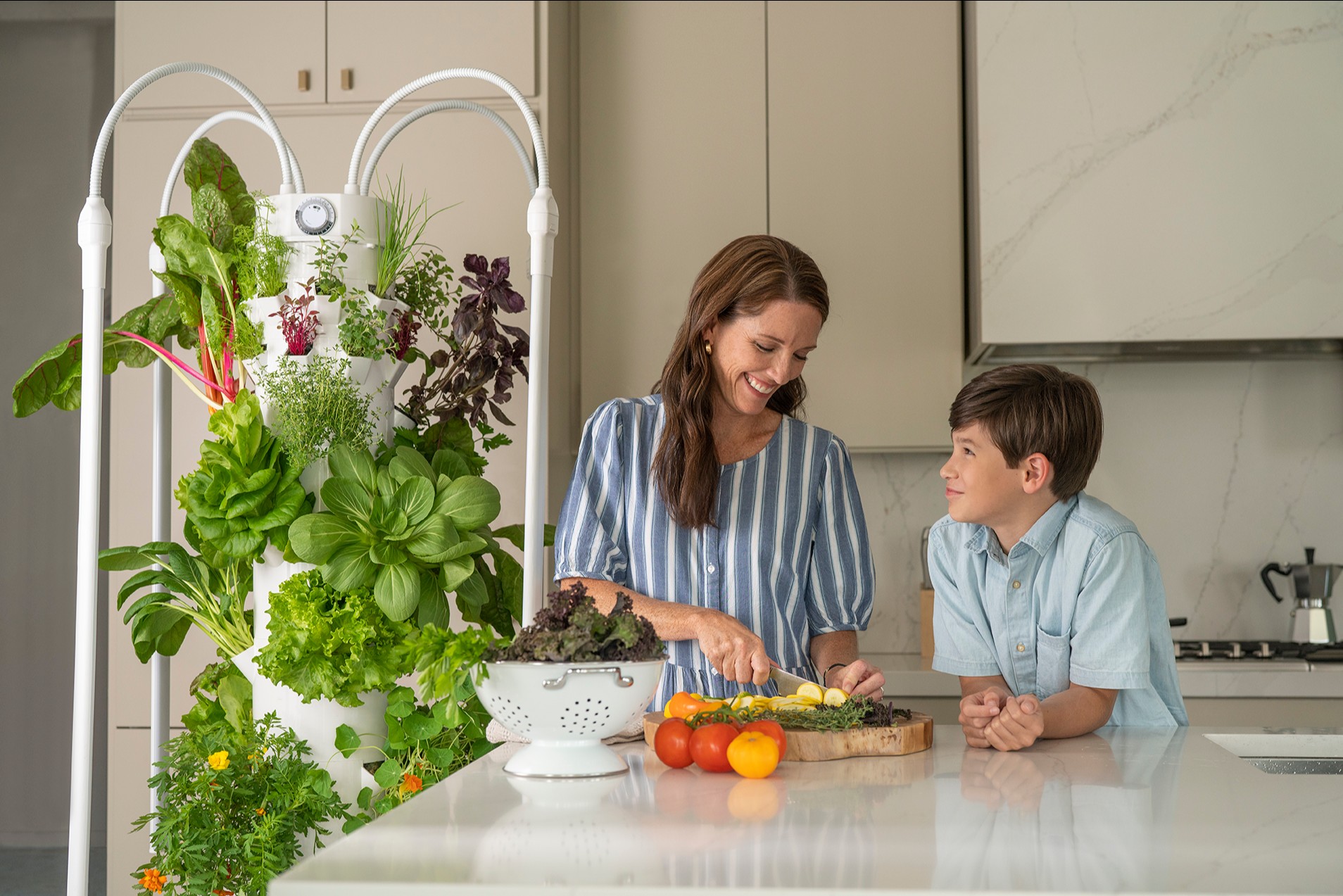 "There are so many benefits to this kind of gardening. Because you are growing vertically you don't have to get down on the ground as you do with a normal garden. This is so helpful if you have back, hip or knee problems that can make caring for your garden painful. When you are growing with a tower garden you also don't have to worry about weeds as much. Garden towers also often have fewer pest problems then gardens grown on the ground too. It's harder for many pests to get at the plants and the vegetables are being cared for very well so they are healthy and not sending out signals for pest to move in."
The Tower Garden™ is a precision growing system. Much like owning a high quality blender or food processor, the Tower Garden cannot be made reliably and even sustainably with clay or earthen material. It is a step above the typical hydroponic systems which use styrofoam or non-food-grade plastic. The Tower Garden is made from high-quality, BPA free, UV-stabilized polycarbonate (food-grade plastic). It is the best USDA approved plastic that you can buy.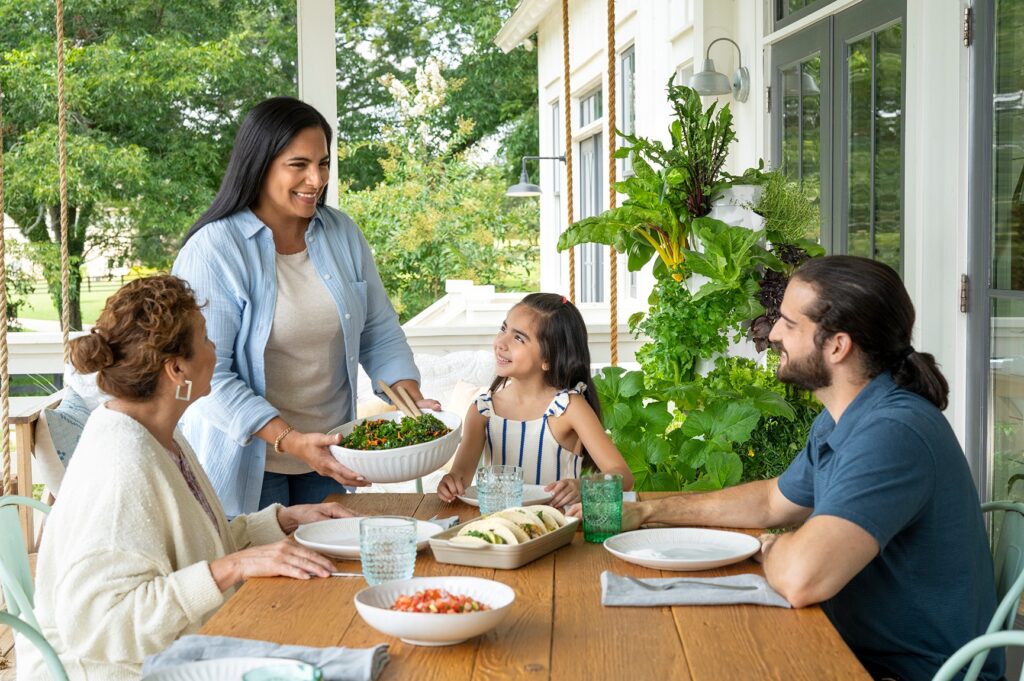 Using NASA-grade growing technology, Tower Garden can produce as much as thirty percent greater yields up to three times faster compared to conventional methods. That means that, under the right conditions, you can expect your vegetables to be harvest-ready in as little as five weeks after starting seeds. And since you're able to grow so many plants at once you'll have a steady supply of fresh, premium ingredients.
Tower Gardens are popping up everywhere and inspiring community gardens. For more than a decade, Tower Garden has played a big role in urban farming, empowering communities, entrepreneurs, and agents of social change to easily and sustainably grow nutritious produce. There has been Tower Garden setups at green-thinking grocery stores, restaurants, warehouses, rooftops and in classrooms. Because real food shouldn't be a luxury enjoyed by few. It should be available to everyone in order to grow a better world.
Tower Garden is available in USA, Canada, UK, Germany, France, Austria, Switzerland, Finland, Belgium, Luxembourg, Denmark, Italy, Norway, Spain, Poland, and the Netherlands.
If you are interested in investing in your health and growing your own fresh produce in an aeroponic Tower Garden system, you can order it here. For further questions you may have you can contact Erlinda with any questions you may have here or call her at (321) 482-4542

Breakaway Magazine
Breakaway Magazine is an international, independently published magazine and online platform featuring inspiring and empowering stories from around the world. Through diverse voices from all walks of life we feature inspirational people and their stories. Every story shines a light on barrier-breaking entrepreneurs, artists, creatives, visionaries, innovators, humanitarians and ordinary people who achieve the extraordinary. "The magazine reaches millions, connecting with an audience interested in more than just the trend, but the deeper meaning." - JB Livingston, Founder/Editor-In-Chief. Read more on our about page.