Breakaway Daily Interview with Katja Glieson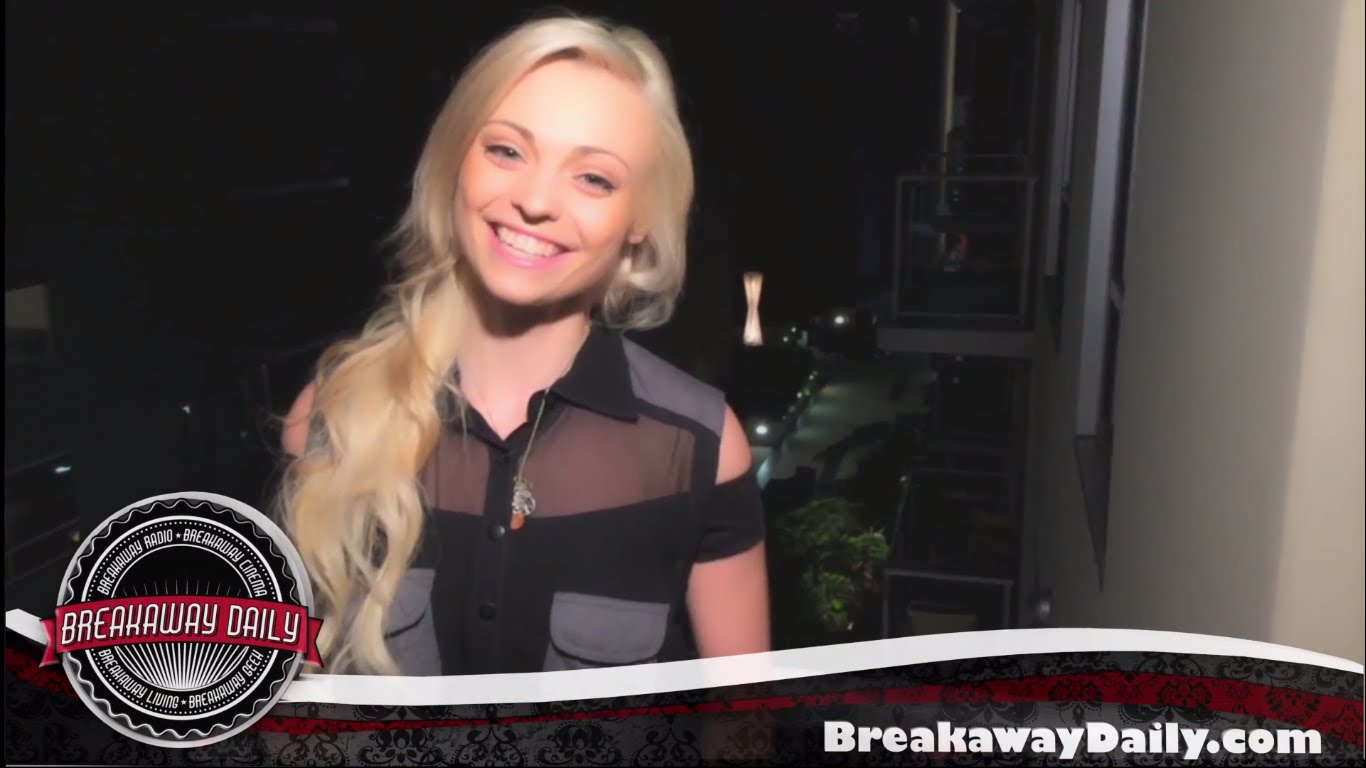 Katja talks about music, performing live, overcoming bullying, and the special place she has in her heart for the LGBT community.
Katja Glieson is an award winning Australian artist who writes her own songs and music video concepts. Most recently, Katja starred in the Princess Rap Battle viral video where she rapped as Elsa from Frozen. The video has received over 100 million combined views on YouTube & Facebook with press coverage by Perez Hilton, Cosmopolitan,Huffington Post, Smosh, Elite Daily, MTV, Pop Crunch, Daily Motion, The Disney Blog, and Breakaway Daily! The viral smash has also inspired countless cover versions, been voluntarily translated into adozen languages, been watched in 232 countries and become a culturalphenomenon leading to additional Princess Rap Battles. Katja has overcome obesity, abuse, and bullying to make it where she is today. She continues to bring an awareness to these issues and is a proud supporter of the LGBT community.
BREAKAWAY DAILY: How did your music career start?
KATJA: I think, much to my mothers dismay, that my passion for music started before I could talk! I remember her always saying I was singing before I could talk. Unfortunately, it took me a long time to gather the courage to follow the passion and begin my career. I didn't start singing in front of people until high school when I joined a Girl Band and began doing musicals. But once I let that little singer out, there was no stopping me!
BREAKAWAY DAILY: What is your favorite part about performing live? Do you do anything special before you hit the stage?
KATJA: The absolute best thing about performing live is creating an experience and sharing it with the audience. I know from being in the audience of an awesome live show, how wonderful the experience can be, and I love being the facilitator of that. Before I go on stage, the dancers and I kind of do a team huddle. It's really important to make sure we are all in the right space, working together and supporting each other to give the best show possible.
BREAKAWAY DAILY:You got to perform at LA Pride and Capital Pride. Can you talk a little bit about why the LGBT community is close to your heart and share the story of your aunty?
KATJA: It is such a special experience performing at PRIDE events. The people there are so awesome. I mean what an amazing event to celebrate love!
Unfortunately in Australia, where I was born, those in power aren't really discussing the topic of gay marriage. It's particularly important to me because it has seriously affected my family. My Aunt's partner, whom I knew as my Aunty Vick, passed away suddenly of a brain aneurysm. If losing the love of your life of 35 years isn't traumatic enough, my Aunty Vick's family wouldn't acknowledge their love and union. At her funeral, my Aunt couldn't even give a eulogy. The family just 'made up' an identity of my Aunty Vick. An identity that they wanted to believe. Something that wasn't true. It was as if I was attending the funeral of a complete stranger! A week later, my Aunt lost her house, her holiday house and her belongings. Aunty Vick's family took everything! If only marriage were legal, this may not have happened. The family would have had to accept who my Aunty Vick really was and respect the love between them. They wouldn't have legally been able to pull my Aunt's life apart.
I just hope I can continue to give my voice to the LGBT community. To me, it's incomprehensible that marriage equality is not already the norm. Love is love.
Breakaway Daily: You have overcome obesity at fourteen and also bullying. What motivated you to make these changes?
KATJA: I certainly have overcome obesity! That was a long and difficult road. Unfortunately, the bullying still continues. The important thing is I don't let it stop me from being who I am. In terms of obesity, I was extremely unhealthy. I was in a horrible cycle where I was unmotivated and in pain from being teased and lonely. So I would sit on the couch, watch TV and eat junk. It all changed when I wanted to follow doing music. When I made that conscious decision to follow my dream, I knew I couldn't be in this destructive cycle. I began to study health. I became vegan and started to exercise for the first time in my life! It was so scary at first, but once you begin to feel the benefits of healthy living, it slowly gets easier.
BREAKAWAY DAILY:For people who are struggling with body issues or bullying, what advice can you give them?
KATJA: What people need to realize, is that bullies are in more pain than anyone. If you break down why someone is bullying you, you realize it has nothing to do with the victim. It's all about the bully. Their anger, their sadness, their fears. They have a need to project their negative emotions onto someone else. Once you realize if you're being bullied that it's not about you, it can't hurt you. If anything, you can feel empathy for the bully.
I thought for a long time, the reason why I was bullied was because I was obese. But as soon as I lost the weight, I realized that wasn't true. The same people just found other things to say about me. I took a moment to imagine how my bullies must be feeling, I put myself in their shoes. I could understand why they were in so much pain. Or why me going for my dreams and bettering myself can trigger someones anger and fear that they perhaps don't feel like they can follow their passion. The best thing to do is always to focus on yourself. Be a good, loving person and don't give energy or attention to the negative. Always enforce the positive and give your energy to those who deserve it.
BREAKAWAY DAILY:When you are traveling and performing, what is it about Australia that you miss the most?
KATJA: I actually live in LA now. I made the decision to move myself closer to where my producers and team are. I knew that I always wanted to live in LA, I just didn't realize how hard it would be. Firstly, I had to save up for a long time. I worked so many random jobs and would always take on extra responsibilities to be able to save more. I definitely miss my close friends and family. I think the one thing I miss most is the family Christmas. I do call them and get passed around the table, but I miss my mums traditional German potato salad and knödel (bread dumplings) the most. I wouldn't change it though. I am more fulfilled than ever.
BREAKAWAY DAILY: Your latest music video is a cover of Iggy Azalea's "Black Widow." Does it give you inspiration seeing a fellow Aussie at the top of the charts right now?
KATJA: I loved being able to cover "Black Widow" – it's really cool when fans request I do a song, and I can put my own flavor to it. I was so lucky I had the gorgeous Sarah Vee playing guitar in the acoustic intro and Ash Fizz choreographing and dancing with me.
It is absolutely exciting to see how international the charts are. There are so many people not only from Australia, but England, New Zealand, Canada and many others in the charts. I completely believe that's how the world should be. I love that music can be at the forefront of bringing people from different countries together and not making it a "thing." It's just music, that we are all enjoying.
BREAKAWAY DAILY:What are your hopes and dreams for the future?
KATJA: In the near future, it would be an absolute dream to have a track charting and on terrestrial radio. I would love to tour nationally and internationally supporting one of my favorite artists. Even though I've done a lot of touring and live shows already, I really think I could learn so much doing a support tour with a high profile artist. I would love the opportunity to release my music to as many people as possible.
BREAKAWAY DAILY:What does music mean to you?
KATJA: Music is a universal language. It's something that speaks to our soul. Some of the most memorable moments of my life are links to certain songs. There are some songs that remind me of both difficult and amazing times. There are other songs that lift my spirit when I am down. Being a part of the magic of music is one of the greatest honors and responsibilities any artist can take on.
BREAKAWAY DAILY:What's up next for you?
KATJA:
I am currently working on a couple of new cover videos. This time I am trying to do some collaborations. It is always a bit of a challenge coordinating videos and music that involves others, but I think it's important to work with others.
I am also about halfway through recording my first album! It is so much fun and such an experience being able to piece together a large project. We already have some really great tracks. I can't wait to make more.
I already have some PRIDE shows and other performances booked, so I'll be in the dance studio very soon to piece together a bigger and better show than last year.
BREAKAWAY DAILY:
Thank you Katja for giving us a glimpse of your beautiful soul and best of luck with everything!
KATJA: Thank you so much for the amazing questions! I hope to meet you in the very near future. Love Katja xxx
Follow Katja: Official Website | Twitter | Facebook | YouTube | Instagram

Breakaway Magazine
Breakaway Magazine is an international, independently published magazine and online platform for the mind, body and soul. Through diverse voices we feature inspirational people and their stories. Breakaway Magazine features global creative talents through the editorial content we publish; allowing this talent to be fostered, recognized and emerge. "The company reaches millions, connecting with an audience interested in more than just the trend, but the deeper meaning." - JB Livingston, Founder/Editor-In-Chief. Read more on our about page.