Prince Celebration 2018: Exclusive coverage from Paisley Park in Minnesota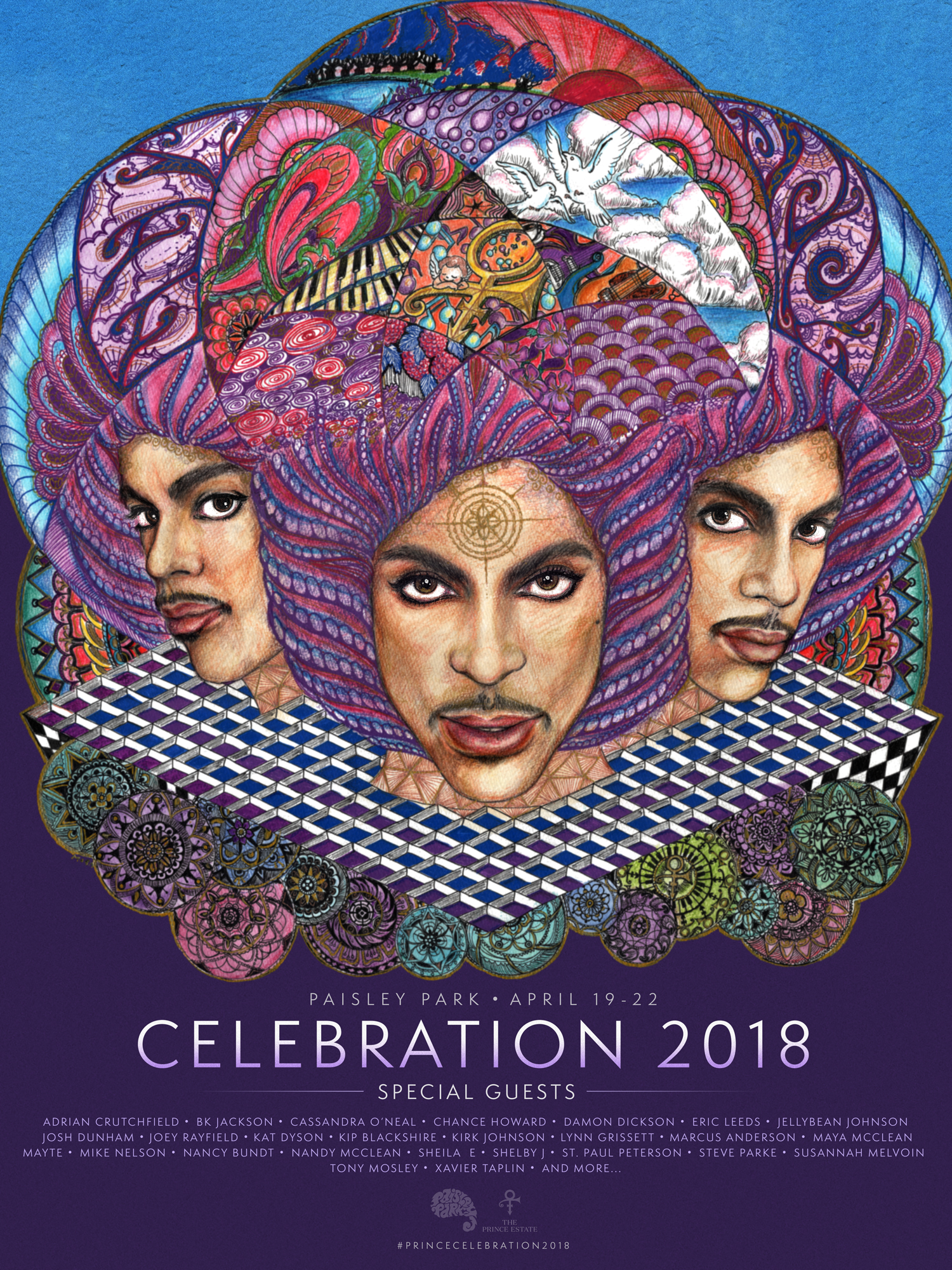 Fans, friends and family marked the second anniversary of Prince's passing with a four-day celebration at Prince's Paisley Park in Chanhassen, Minnesota. Celebration 2018 honored the unique life and legacy of the prodigiously talented cultural icon Prince Rogers Nelson. In its second year, the four-day special event took place between April 19th and 22nd at Prince's historic home and recording sanctuary outside Minneapolis at Paisley Park.  Celebration 2018 has brought together fans from 30 different countries and 5 continents as well as Prince's closest associates and musical collaborators.The event welcomed fans from around the world into an inspired environment of live music, panel discussions and special presentations highlighting Prince's tremendous talent, influence and importance as a composer, musician, producer, live performer and filmmaker.
Musical guests that performed at Paisley Park during Celebration 2018 included internationally acclaimed artist and long-time Prince collaborator and friend Sheila E, fDeluxe (formerly known as The Family) which features past bandmates and friends Susannah Melvoin, Eric Leeds, Jellybean Johnson and St. Paul Peterson; and a new group of Paisley Park and New Power Generation musical alumni, The Funk Soldiers, who made their collective debut at the event.
In addition to featured musical guests, special guest speakers took part in exclusive panel discussions including close creative collaborators and friends spanning five decades in Prince's life. Celebration 2018 special guest speakers included: The Revolution members Bobby Z, Dez Dickersonand Matt Fink, former manager and Paisley Park head Gilbert Davison, musician Gayle Chapman, musician and dancer Wally Safford, arranger Brent Fischer, photographers Allen Beaulieuand Terry Gydesen and dancer Tomasina Tate, Adrian Crutchfield, BK Jackson, Cassandra O'Neal, Chance Howard, Damon Dickson, Eric Leeds, Jellybean Johnson, Josh Dunham, Joey Rayfield, Kat Dyson, Kip Blackshire, Kirk Johnson, Lynn Grissett, Marcus Anderson, Maya McClean, Mayte, Mike Nelson, Nancy Bundt, Nandy McClean, Sheila E, Shelby J, St. Paul Peterson, Steve Parke, Susannah Melvoin, Tony Mosley, and Xavier Taplin.
Included in the Celebration 2018 ticket was an exclusive off-site concert event titled Prince: Live on the Big Screen, held Saturday April 21 at the Target Center in Minneapolis. The concert featured newly remastered and never-before-released audio and video of Prince accompanied live on the Target Center stage by an all-star ensemble of musicians who performed alongside him  throughout his career. The live Target Center experience will showcased Prince in his own inimitable sound and style, highlighting the incendiary energy he brought to each performance.
In addition to Paisley Park, Several Minneapolis-St. Paul area landmarks were also bathed in purple light after sundown including U.S. Bank Stadium, IDS Center, Interstate 35W Bridge, Hennepin County Lowry Avenue Bridge, and Target Field. A Prince4Ever Tribute Fence, built in the interior grounds of Paisley Park along the grass adjacent to the north parking lot, now displays archived fan-donated memorial messages and artifacts originally attached to the exterior perimeter fence in the weeks following Prince's passing in 2016. 
For more information about Paisley Park, visit OfficialPaisleyPark.com.
Explore our Prince section directly at BreakawayDaily.com/Prince
Photos by Steve Parke / Paisley Park Studios.

Breakaway Magazine
Breakaway Magazine writes thought-provoking stories that transcend boundaries, providing transformative viewpoints on breaking barriers. Through an international readership of millions, every story empowers readers interested in gaining a wider outlook on life through diverse voices. "The magazine reaches millions, connecting with an audience interested in more than just the trend, but the deeper meaning." - Jamee Livingston, Founder/Editor-In-Chief. Read more on our about page.