TVA, Quebecor Content and Fair-Play are proud to welcome the amazing French dance duo Les Twins to Révolution, Quebec's largest TV dance competition. With millions of social media followers, these hip-hop phenomenons will become masters on Révolution this fall on TVA, alongside Lydia Bouchard and Jean-Marc Généreux.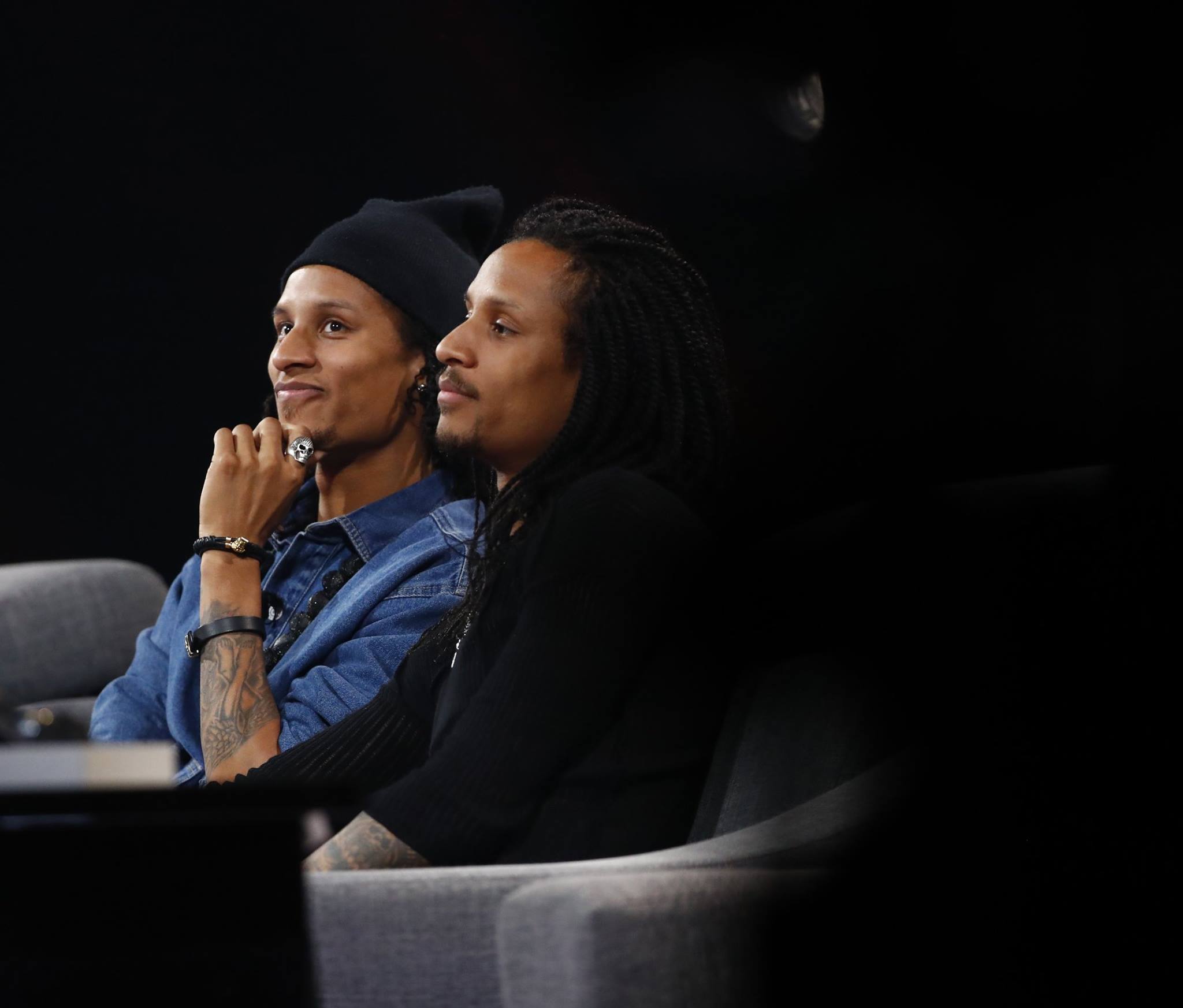 From Beyoncé to Révolution
Born in Sarcelles, north of Paris, identical twins Larry and Laurent Bourgeois started on their path to stardom 10 years ago. Born in a working-class family of 9 children, these self-taught dancers have gone from suburban street corners to the world's most prestigious stages. One day, while dancing on the sidewalks of the Champs-Élysées to earn a bit of money, Laurent attracted the attention of Alicia Keys, who was performing in Paris. She was so impressed that the very next day, she invited to duo to join her on stage at the Zénith.
After winning several competitions and becoming YouTube sensations, the brothers started performing with the likes of Cirque du Soleil, Missy Elliott, Beyoncé and Jay-Z.
As part-time models, Les Twins have also stepped on the catwalk for big names like Jean-Paul Gaultier and Chanel. Last summer, these new-style pros blew away Jennifer Lopez and went on to win the first edition of NBC's World of Dance in front of millions of TV viewers. The show also aired on TVA this winter. The hip-hop mavens are also inspired choreographers, who travel the world to share their passion through dance workshops.
"We're delighted to join 'Révolution' alongside Lydia Bouchard and Jean-Marc Généreux. This will be a great opportunity for us to reconnect with Quebec and discover its talent. See you this fall for this revolutionary show!!"
Larry & Laurent Bourgeois
"Quebecor Content is extremely proud to welcome Les Twins to its Révolution team. After winning World of Dance and collaborating with some of the biggest international stars, they've clearly demonstrated their phenomenal talent. As former TV dance competition champions, they're uniquely poised to give our contestants insightful advice and understand what they're going through. Art knows no boundaries, and we are simply delighted to bring them on board with Lydia Bouchard and Jean-Marc Généreux."
Ginette Viens, Vice President, Brands & Content, Quebecor Content
"What better way to complete the Révolution masters panel than with the world's best urban dancers! I'm absolutely thrilled to announce that Les Twins will be joining Jean-Marc Généreux and Lydia Bouchard to help discover local talent. There's no doubt that they're already inspiring an entire generation of dancers, and having them join our team is a testament to the international scope of the Révolution format."
Guy Villeneuve, Executive Producer, Fair-Play
RÉVOLUTION is an original concept developed by Fair-Play and Quebecor Content to shine a spotlight on Quebec's best dancers. Over 3,000 of them – people of all ages performing in all styles of dancing – auditioned for the show this winter in the hopes of qualifying for this exceptional TV dance competition, for a chance to win the $100,000 grand prize. Muse Sarah-Jeanne Labrosse had the opportunity to meet many of these talented dancers and she's now working tirelessly in preparation for the fall launch of this major new variety show, taping this summer.
For more information visit RevolutionDanse.com
About TVA Group
TVA Group Inc., a subsidiary of Quebecor Media Inc., is a communications company engaged in the broadcasting, film and audiovisual production, and magazine publishing industries. TVA Group Inc. is North America's largest broadcaster of French-language entertainment, information and public affairs programming and one of the largest private-sector producers of French-language content. It is also the largest publisher of French-language magazines and publishes some of the most popular English-language titles in Canada. The Corporation's Class B shares are listed on the Toronto Stock Exchange under the ticker symbol TVA.B.
About Quebecor Content
Quebecor Content, a wholly owned business unit of Quebecor Media Inc., creates, develops, acquires, distributes and exports distinctive, high-quality audio-visual content, providing consumers with a multi-platform experience via Videotron and TVA Group services and promoting Quebec artists at home and abroad.
About Fair-Play
Fair-Play is a production house that is well established in the field of audiovisual production and has extensive experience in practically every kind of production, including variety, magazine, fiction, humour, documentary, and digital. Groupe Fair-Play has achieved its success by providing a flexible, pleasant, respectful environment for work and creation, so as to get the best from its talented, passionate production teams. Fair-Play is the producer of Les Enfants de la télé, Conversation secrète, and the Québec version of Saturday Night Live. It has collaborated on television programs with many stars, including Stéphane Rousseau, Rachid Badouri, Louis-José Houde and Marc Labrèche, and has developed dozens of original concepts. Fair-Play is one of the most enviable, successful production houses in Canada. At Fair-Play, it's not just the result that counts, but also how we get there together. Thus Fair-Play is not just the company's name, but also its philosophy.
LES TWINS À RÉVOLUTION
Les stars mondiales de la danse urbaine parmi les maîtres de la compétition!
TVA, Québecor Contenu et Fair-Play sont fiers d'annoncer l'arrivée de l'impressionnant duo de danseurs français Les Twins dans la famille de RÉVOLUTION, la plus grande compétition de danse télévisée au Québec! Suivis par des millions de fans sur leurs réseaux sociaux, ces sommités de la danse hip-hop deviendront maîtres de RÉVOLUTION l'automne prochain à TVA, aux côtés de Lydia Bouchard et Jean-Marc Généreux.
De Beyoncé à RÉVOLUTION
Natifs de Sarcelles, au nord de Paris, les jumeaux identiques Larry et Laurent Bourgeois connaissent depuis 10 ans une ascension fulgurante. Nés dans une famille modeste de neuf enfants, ces autodidactes sont passés des rues de la banlieue aux plus grandes scènes de la planète! Alors qu'il dansait sur le trottoir des Champs-Élysées, pour gagner un peu d'argent, Laurent attire un jour l'attention d'Alicia Keys, en tournée à Paris. Elle est si impressionnée que dès le lendemain, les jumeaux la rejoignent sur la scène du Zénith!
Vainqueurs de nombreuses compétitions et véritables sensations de YouTube, les frères ont fait partie des spectacles du Cirque du Soleil, de Missy Elliott, de Beyoncé et de Jay-Z.
Mannequins à leurs heures, Les Twins ont également défilé pour de grands noms comme Jean-Paul Gaultier et Chanel. L'été dernier, ces stars du New-Style ont renversé Jennifer Lopez en remportant la première édition de World of Dance, sur les ondes de NBC, devant des millions de téléspectateurs; une émission diffusée à TVA cet hiver. Chorégraphes inspirés, ces références du hip-hop parcourent le monde pour présenter leurs ateliers de danse et transmettre leur passion.
Les Twins s'arrêtent maintenant chez nous, enthousiastes d'être au cœur d'une RÉVOLUTION québécoise!
« Nous sommes très heureux de participer à Révolution aux côté de Lydia Bouchard et Jean-Marc Généreux. Ce sera l'occasion pour nous de retrouver le Québec et de découvrir ses talents ! Rendez-vous à l'automne pour ce show révolutionnaire !! »
Larry et Laurent Bourgeois
« C'est une grande fierté pour Québecor Contenu de compléter l'équipe de Révolution avec Les Twins. En remportant World of Dance et en travaillant avec les plus grands à travers le monde, ils ont démontré à quel point leur talent est phénoménal! Comme ils ont eux-mêmes vécu une compétition de danse télévisée, ils sont très bien placés pour donner d'excellents conseils aux participants et pour comprendre ce qu'ils vivent. L'art n'a pas de frontières et c'est un immense bonheur de les accueillir aux côtés de Lydia Bouchard et de Jean-Marc Généreux!»
Ginette Viens, vice-présidente Marques et contenus, Québecor Contenu
« Pour compléter le panel de Maîtres de Révolution, nous sommes allés chercher les meilleurs danseurs urbains au monde, rien de moins! Je suis vraiment très heureux d'annoncer que les Twins se joignent à Jean-Marc Généreux et Lydia Bouchard pour découvrir le talent du Québec. Je peux vous affirmer qu'ils inspirent toute une génération de danseurs. Les accueillir au sein de l'équipe est une démonstration de l'envergure internationale du format qu'est Révolution. »
Guy Villeneuve, producteur exécutif, Fair-Play.
Rappelons que RÉVOLUTION est un concept original développé par Fair-Play etQuébecor Contenu, qui fera briller les meilleurs danseurs du Québec. Plus de 3000 d'entre eux, de tous les âges et de tous les styles, se sont d'ailleurs présentés aux auditions cet hiver, dans l'espoir de participer à ce spectacle de danse télévisé exceptionnel et remporter le grand prix de 100 000 $! L'égérie Sarah-Jeanne Labrossea eu la chance de rencontrer plusieurs de ces talents et elle travaille d'arrache-pied en préparation du coup d'envoi de ce nouveau variété d'envergure, qui sera tourné cet été.