Luka Milacic-Perusina and Jenalyn Saraza-Pacheco, popularly known as Luka & Jenalyn, are cabaret ballroom dancers from Toronto, Canada. The dynamic duo have mesmerized audiences with their unique and innovative spin on cabaret; a combination of ballroom dancing, cabaret, cirque and theatre arts.
"Being dancers is our passion and our dream," says the duo. "We are so happy to be able to live it out. We cannot imagine doing anything other than dancing as our profession. We live and breathe dance."
Luka & Jenalyn are currently Vice Champions and the youngest ever three time professional cabaret ballroom finalists in the history of the prestigious Blackpool Dance Festival in England, the first & oldest ballroom dance competition in the world.
One standout of Luka & Jenalyn's dance routines commented on regularly by judges of the various competitions they've participated in is the duo's energy and athleticism they bring to their dance style. Considering their background, however, this is not surprising. Luka had been involved in sports prior to discovering a love of cabaret ballroom after observing a local dance coach who was the Canadian cabaret champion.
"I felt drawn to this uncommon dance style," Luka explains. "It brings such great harmony between athletic tricks and lifts. Artistically, you have the freedom to be able to express yourself with any choreography," he further added. "It is a limitless dance style with almost no boundaries on how you want to express yourself."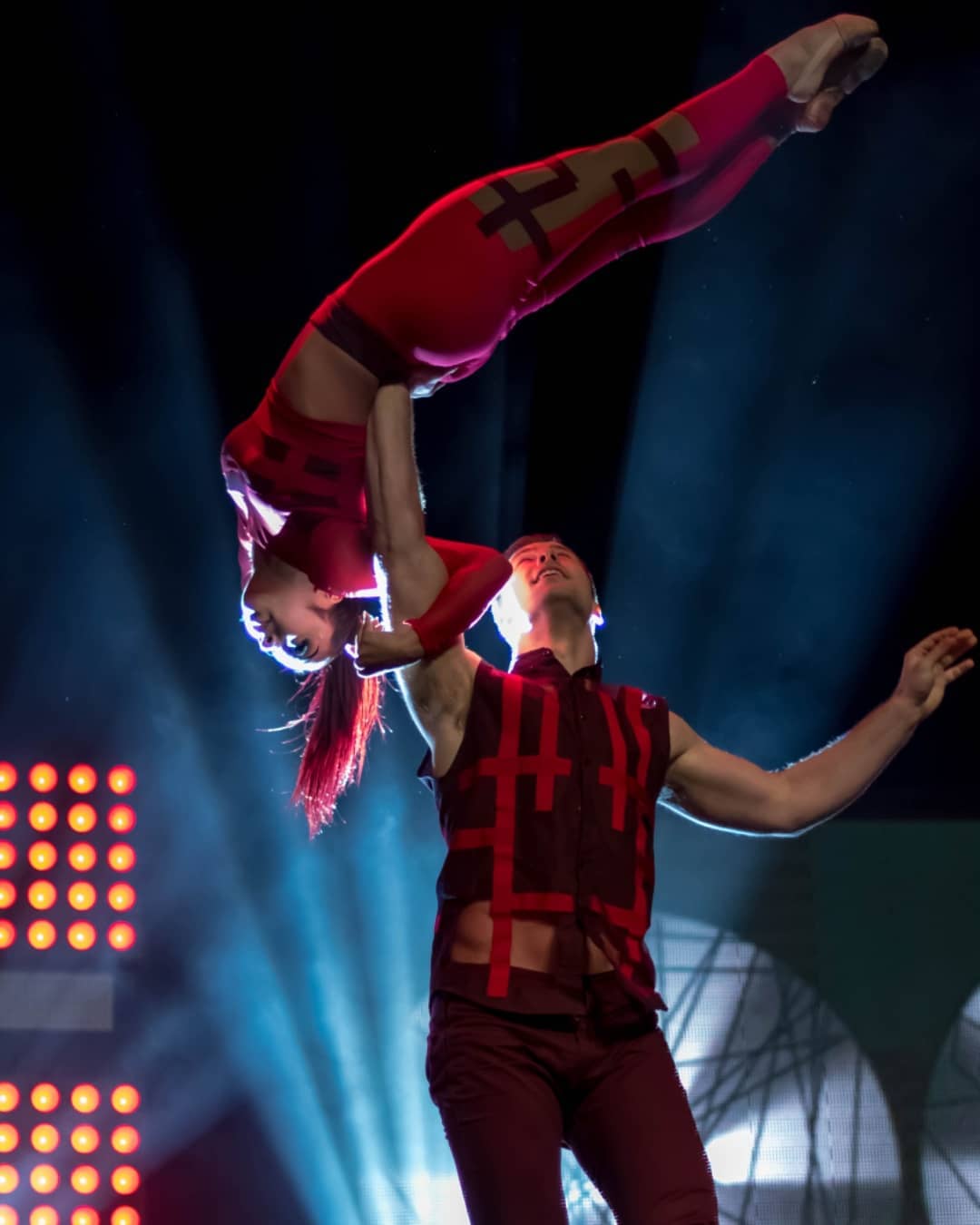 Jenalyn, on the other hand, had been a dancer from the age of two, and was already recognized locally as a future star. She had a number of titles in various dance competitions and by the age of twelve had three World Salsa Championship titles with her brother, Raymond. An unfortunate leg injury for Raymond before a critical performance in Beijing, had Jenalyn without a dance partner for six months. Her prowess landed her training with a local cabaret dancing coach, which inevitably led to her meeting Luka in 2013.
Their coach saw the potential in pairing up Jenalyn's champion salsa skills with Luka's football, rugby, and basketball backdrop and accomplished ballroom training. The two started putting together routines showing acrobatic and balance moves. In 2014, their very first year of cabaret dancing, the duo won first prize at the Dutch Open, and in 2015, they won at the Paris Worlds after dancing together for only one year. Their prodigious skill and ability led to victories in almost all the amateur competitions they entered. The accolades received prompted them to challenge themselves in 2016 and turn professional. They proved that this was not a mistake as the duo won at the US Professional Cabaret Competition and the Chicago Crystal Ball competition against seasoned dancers.
You do the best show possible, no limits, no rules, no matter what.
Luka & Jenalyn realized they had the potential to be the best in the world. They knew that in order to differentiate themselves from the competition they would have to follow their own path and go beyond their training in the way that only they could. Luka & Jenalyn always felt they didn't fit into the traditional ballroom mold and professional cabaret ballroom was a less restrictive category, with no limits outside of a four minute time restraint, and plenty of opportunities to sidestep the traditional moves and music often seen in the genre.
They video-auditioned for World of Dance after Jenalyn's mother, Myra, found the casting call online.
"World of Dance was a platform that we felt would allow us to grow and use own flavour of cabaret dance to music we listened to," said the duo.
NBC's World of Dance bills itself as the "biggest dance competition in the world." The show features the top dancers and teams of all ages, styles, and backgrounds from all over the world competing for $1 million prize. The judges on the show include Jennifer Lopez, Derek Hough, and Ne-Yo. During the course of the competition, the duo wowed audiences with their style, agility, and athleticism. Luka & Jenalyn came up with dances that defied their relative youth, and sometimes even gravity. These electric performances, their unique spin on cabaret ballroom dancing, and their obvious on-stage chemistry, rocketed them to the top, left the judges awestruck and earned them standing ovations.
Luka & Jenalyn placed fourth overall in the first season of World of Dance in the prestigious upper division, behind legends Les Twins and Keone & Mari, and narrowly being beaten out by Fik-Shun. They humbly accepted the offer to return for season two of the successful dance series and showed the world what else they were capable of and where else they could take cabaret ballroom.
"One of the highlights of competing in two seasons was getting to know and dance with people that share the same passion for this art form that you do," says Jenalyn. "Behind the scenes we had so much fun with the contestants. It was the friendships we made that was the richest part of the experience," adds Luka.
Luka and Jenalyn have only begun flexing their dance and storytelling muscles. Their determination to dance outside of the ballroom box mixed with their own brand of death defying moves has proven to the ballroom world that they are a force to be reckoned with. This is only the beginning for Luka & Jenalyn, who are already off to a breathtaking, groundbreaking, and record-breaking start.