Prince Celebration 2017: Exclusive coverage from Paisley Park in Minnesota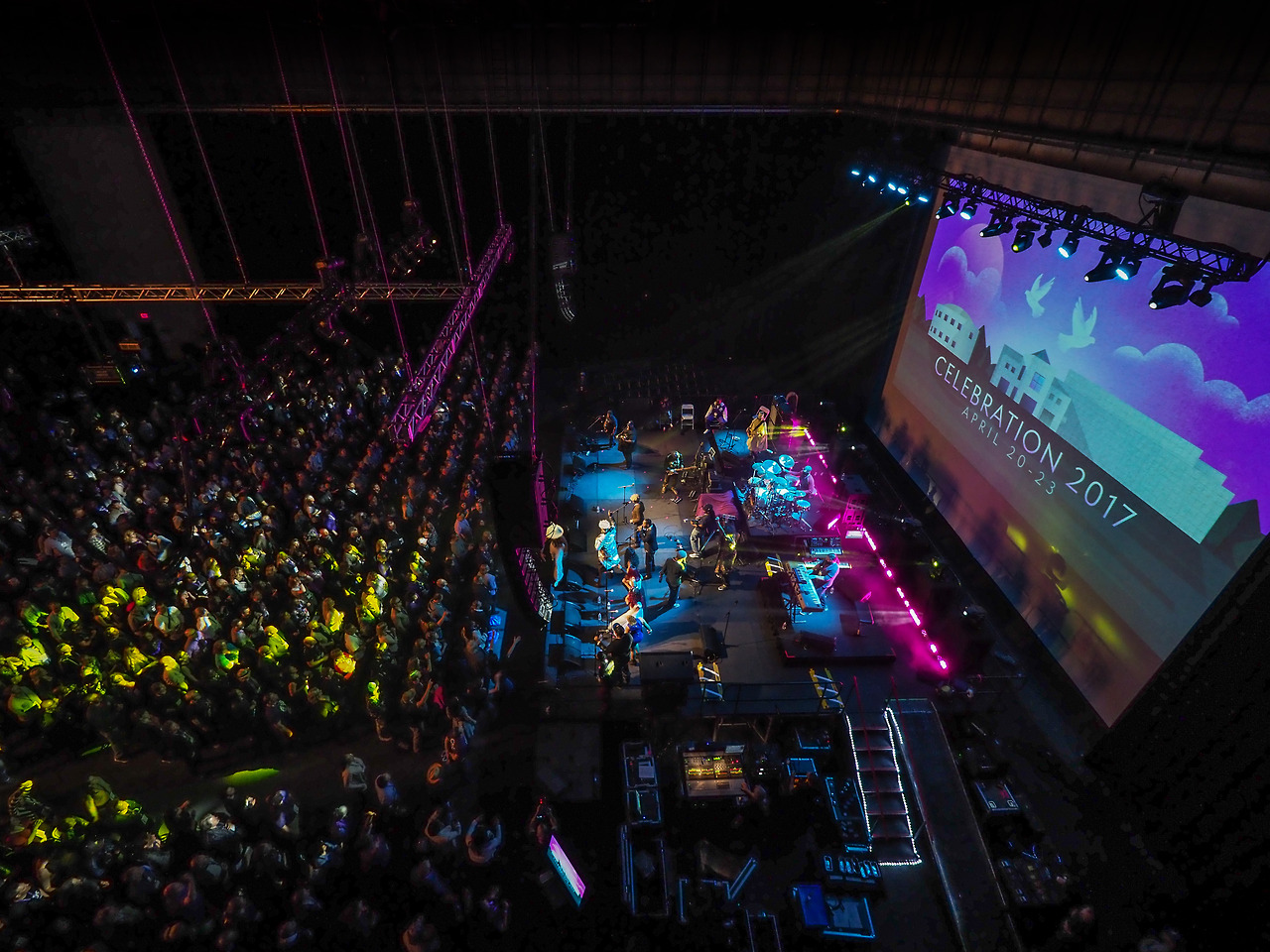 Fans, friends and family marked the first anniversary of Prince's passing with an epic four-day celebration at Prince's Paisley Park in Chanhassen, Minnesota. Two thousand Prince fans from around the world gathered April 20th to 23rd to enjoyed live performances, panel discussions, exclusive concert screenings and guided tours during Celebration 2017. The historic event held at Prince's private estate, production compound and recording sanctuary outside Minneapolis highlighted his tremendous talent, influence, and importance as a composer, musician, producer, live performer, and filmmaker.
WATCH EXCLUSIVE VIDEO FROM CELEBRATION 2017
Prince was born in Minneapolis and resided in the Minneapolis area throughout his life. The Rock and Roll Hall of Fame legend sold over one hundred million records worldwide, making him one of the best-selling artists of all time. He won seven GRAMMY® Awards, a Golden Globe Award, and an Academy Award® for the film Purple Rain, all of which are displayed at Paisley Park.
Celebration 2017 was a time to gather and honor the purple one. Fans quickly snatching up tickets starting at $550 for the four-day event (double the price of what Prince charged for a seven day event back in the early 2000′s.) The community that attended Celebration 2017 spanned all age groups, ethnicity and countries. Individuals came from across the globe including the UK, South Africa, Japan, Sweden, Germany, Spain, Norway, Netherlands, Australia, Thailand, France, Canada, and throughout the USA.
Celebration 2017 made history in bringing to Paisley Park musicians crossing all four decades of Prince's performing career including The Time, The Revolution, New Power Generation (NPG) and 3RDEYEGIRL.
The event also brought together those who worked closest with Prince and who knew him best. Close creative collaborators, designers, engineers, technicians, special guests and friends spanning five decades in Prince's life – from his childhood in North Minneapolis through to his stratospheric success in the 80s, his groundbreaking and chameleon-like artistic development in the 90s and 2000s, and his creative output through recent years.
Prince was an entertainer, but what resonated the most from the people who worked throughout his career with him is the love and respect they have for him as a human being.
Paisley Park offers fans the unprecedented opportunity to tour the legendary, 65,000-square-foot complex that served as the center of Prince's creative universe all year round. The tour features thousands of artifacts from Prince's personal archives, including iconic concert wardrobe, awards, musical instruments and concert memorabilia.
Operated by P Park Management, guided tours take visitors throughout the extensive main floor of Paisley Park, including recording and mixing studios where Prince recorded, produced and mixed most of his biggest hits, exhibit spaces that chronicle his films, Prince's private NPG Music Club, concert hall and soundstage.
In addition to guided tours of Paisley Park, Celebration 2017 featured up to five hours of event programming that took place in Paisley Park's multi-purpose soundstage each day. The massive soundstage is where Prince filmed countless music videos, held private events, as well as rehearsed and performed for concert tours. The soundstage was also the site for the filming of the Sign O' The Times concert movie and Prince's Rave Un2 the Year 2000 New Year's special. It has also hosted countless untold late-night jams with musicians including Miles Davis, Maceo Parker, George Clinton, Larry Graham, Lenny Kravitz, and Alicia Keys, to name just a few.
At Paisley Park, Prince constructed and inhabited a creative reality that was wholly unique, allowing him to fluidly develop music and artistic works spontaneously and without limitation.
Prince collaborated with a wide array of musicians, recording engineers, graphic designers, photographers, video producers, stylists, clothing designers, production and business personnel. The unique panel discussions for Celebration 2017 brought together many of the people who shared this time with Prince at Paisley Park and who worked with him to actualize his creative visions including recording, performing and shifting culture as an inimitable icon.
Celebration 2017 reflected the spirit of the inaugural Prince: A Celebration event, hosted by Prince and held at Paisley Park June 7th to June 13th in 2000. This event welcomed fans into an immersive Prince experience that showcased Paisley Park, many of Prince's rarely seen stage outfits and instruments, alongside special events and exclusive music performances.
In subsequent years, Prince hosted similar immersive fan experiences at Paisley Park including Prince: A Celebration "The Rainbow Children" in 2001 and in 2002 with Xenophobia. Celebration 2017 carried on in this spirit of community and connection, welcoming global Prince fans into a truly unique and celebratory experience highlighting the life, creative works, unique achievements and enduring legacy of Prince.
"Be proud that your love for Prince is greater than your sorrow." – Damaris Lewis
As Prince's grand shinning symbol watched over the impressive soundstage during Celebration 2017, we took comfort that he was somehow watching over us. That symbol came to represent the love and spirit he wished on humanity, as people rejoiced in the honor and privilege of his works.
Celebration goers were welcomed by NPG dancer and model Damaris Lewis and encouraged to be fully present during the weekend. "It's up to you to continue his legacy," and noted "If you are a fan of Prince, you are a part of his legacy."
The day kicked off with a screening of the HITnRUN Tour with Prince and 3RDEYEGIRL from May 25, 2014 at the Ziggo Dome in Amsterdam.
The day's panel discussion featured New Power Generation members including moderator Jim McGuinn from The Current, Levi Seacer, Morris Hayes, Tony Mosley, and Damon Dickson focusing on their years with Prince from 1989-2000.
During breaks, music videos from Prince and his protégés were shown in the food tent. Prince's sister Tyka Nelson also mingled with fans and thanked them for coming to Paisley Park to honor her brother's memory.
Prince's longtime friend and collaborator, George Clinton with Parliament Funkadelic brought the house down as the surprise guest for the weekend's first concert. George Clinton revolutionized R&B during the '70s, twisting soul music into funk. He also appeared in Prince's 1990 film Graffiti Bridge, and on the same very stage back in 2000 for the Rave Un2 The Year 2000 televised concert.
Further highlights of the day included a panel on Prince's iconic guitars. Dave Russo, creator of the Cloud guitar from Purple Rain, said that the guitar was made from scratch in three weeks. His former guitar tech Takumi Suetsugu revealed a long debated about mystery of what happened to Prince's "disappearing" guitar he threw into the air during his out of this world 2004 Rock and Roll Hall of Fame guitar solo. Takumi said that Prince had given him specific instructions; he was to catch the guitar after Prince threw it into the air and then run out into the audience and give it to Oprah! [Watch the performance here.]
On April 21st, the anniversary of Prince's transcendence, family members Alfred Jackson, Joel Weinshanker, Norrine Nelson, Sharon Nelson, Tyka Nelson joined the crowd in a minute of silence followed by a minute of applause.
The concert footage Friday would amplify the emotions of the day. Prince's Piano and a Microphone Gala footage from the first show at Paisley Park on January 21st, 2016 was screened. The concert took place on the very stage that the audience were now seated in front of. Many in the audience shed tears because the performance was so heartfelt and touching.
Friday's programming featured a panel and performance by Prince's original backing band The Revolution featuring Matt Fink, Brown Mark, Bobby Z, Wendy Melvoin and Lisa Coleman. The Revolution also appeared in the Oscar winning film Purple Rain, as well as performed on the best-selling album of the same name. This marked the first time The Revolution had ever performed a concert at Paisley Park.
"When you're nervous like that, use that feeling."
Wendy shared with the audience the best advice that Prince had once given her.
"Cut your body and mind in half and you'll play right on or behind the beat, that's where the funk is."
The Revolution also shared how Prince didn't go to the acting or dance class the rest of the band members had to go to during Purple Rain filming. They mentioned they found it strange to see him riding a motorcycle in the film since it wasn't really his thing. The 1985 album Around the World in a Day was completed before the Purple Rain Tour and during this period, Prince didn't like turning cars off. He left cars running for hours and encouraged others to do the same, saying that he'd pay for the wasted gas! Another neat tidbit that was shared was that Prince enjoyed fried egg sandwiches made by Lisa!
A panel on Prince's iconography also took place on Friday with photographers Afshin Shahidi, Randee St Nicholas and
Steve Parke. Steve Parke was one of the main photographers for Celebration 2017 and took many of the photographs featured here. Both Steve and Afshin are publishing books featuring rare never before seen images of Prince. Randee followed Prince around during the 21 Nights residency in London and shot him every night between 2 a.m. and 9 a.m. for three weeks straight, most of the images she captured were pictures of Prince being Prince.
Saturday began with footage from the final Purple Rain Tour stop on April 7, 1985 in Miami. Audio of that performance has floated around for years, but most fans in attendance agreed that this was the first time they had ever seen video footage of the show.
Prince's fashion and personal style were the topic of the first panel with Kim Berry, Stacia Lang, Debbie McGuan and Arturo Padilla.
Next was the recording & engineering panel featuring insight into his studio process with recording engineers Susan Rogers, Dylan Dresdow and Chris James (who was nominated for a Best Engineered Album Grammy in 2017 for his work on Prince's HITnRUN Phase 2.)
The concert on Saturday evening was a performance by Morris Day and The Time, the Minneapolis based band that Prince formed and produced in the 1980s. The Time also appeared in Purple Rain and Graffiti Bridge.
Morris Day invited several audience members to join the group on stage in an epic dance off.
On Sunday, the final day of Celebration 2017, Prince's presence was once again felt as a rainbow appeared over Paisley Park (view photo on Pinterest). In true magic, "Rainbow Children" played as guests walked inside.
The final concert screening was Prince's electrifying Nude Tour from Tokyo in 1990. The day also featured panel discussions and performances from Andre Symone, 3RDEYEGIRL, Shelby J, Liv Warfield and members of the NPG. Panel discussions on Prince's early days at the famed Minneapolis music club, First Avenue was also highlighted.
Celebration 2017 came to an emotional end when video footage of Prince performing a heartfelt "Purple Rain" during his Welcome 2 America Tour was unexpectedly screened on the soundstage while the NPG played. It was gut-wrenching. The nineteen person supergroup backing up their leader in a poignant tribute culminated Celebration 2017. Tears began to flow in earnest for many in the audience because it became even more apparent that we had lost a talent that will never be duplicated.
"This what had been missing from every single Prince tribute this past year," Prince's designer Stacia Lang said on her Instagram. "Prince himself lit the stage on fire and spoke to every single one of us, in code, gifting us with everything we needed to hear to go on."
While live music and special events took place at Paisley Park, there were also nearly two dozen other events around the Twin Cities tied into Friday's one-year anniversary. There was a street party Saturday night outside First Avenue, Record Store Day at Electric Fetus, The Time's guitarist Jesse Johnson playing at Bunker's, a Textile Center's exhibit of Prince quilts, and other related tributes.
In addition to Paisley Park, Several Minneapolis-St. Paul area landmarks were also bathed in purple light after sundown including U.S. Bank Stadium, IDS Center, Interstate 35W Bridge, Hennepin County Lowry Avenue Bridge, and Target Field. Fans were encouraged to wear purple on April 21st and to share pictures via social media using #PaisleyPark and #Celebration2017.
A Prince4Ever Tribute Fence, built in the interior grounds of Paisley Park along the grass adjacent to the north parking lot, now displays archived fan-donated memorial messages and artifacts originally attached to the exterior perimeter fence in the weeks following Prince's passing last year. Visitors who purchased tickets to Celebration 2017 and scheduled tours throughout April have the opportunity to view the Prince4Ever fence and add personal tribute messages as part of their overall Paisley Park tour experience.
For more information about Paisley Park, visit OfficialPaisleyPark.com and follow their social media platforms on Facebook, Instagram, and Twitter.

Breakaway Magazine
Breakaway Magazine writes thought-provoking stories that transcend boundaries, providing transformative viewpoints on breaking barriers. Through an international readership of millions, every story empowers readers interested in gaining a wider outlook on life through diverse voices. "The magazine reaches millions, connecting with an audience interested in more than just the trend, but the deeper meaning." - Jamee Livingston, Founder/Editor-In-Chief. Read more on our about page.