Life coaches come from backgrounds as varied as the patients who come to them. After all, no two people are the same and no two people are looking to address the same issues in their life. It takes a certain kind of person to become a life coach, and people who decide on it as a profession do so for a variety of reasons. Some are called to this field because they simply love helping people, and some because they've been lucky enough to rise above bad situations. For a rare few, their 'why' comes from first-hand experiences of the harshest cards life can deal. Amongst this eclectic scheme of things, Tanisha Denise Manning comes from an unexpected place unique from most in her field. T. Denise doesn't fit into any kind of mold. Instead, she was built to break the mold and help others do the same.
Raised in the impoverished area of South Stockton, California, T. Denise had an inside view of gang violence and witnessed a plague that also affects these poverty-stricken areas; lack of opportunity and career crime. She's observed the people of her town spiral downwards, never to land back on their feet, and decided long ago to follow a much different path. Due to these circumstances, she's focused on turning the pain of the strenuous daily norm from these struggling urban environments into a hub for healing. She is the face of resilience and a shining example of someone who changed their life through sheer willpower and the force of personality.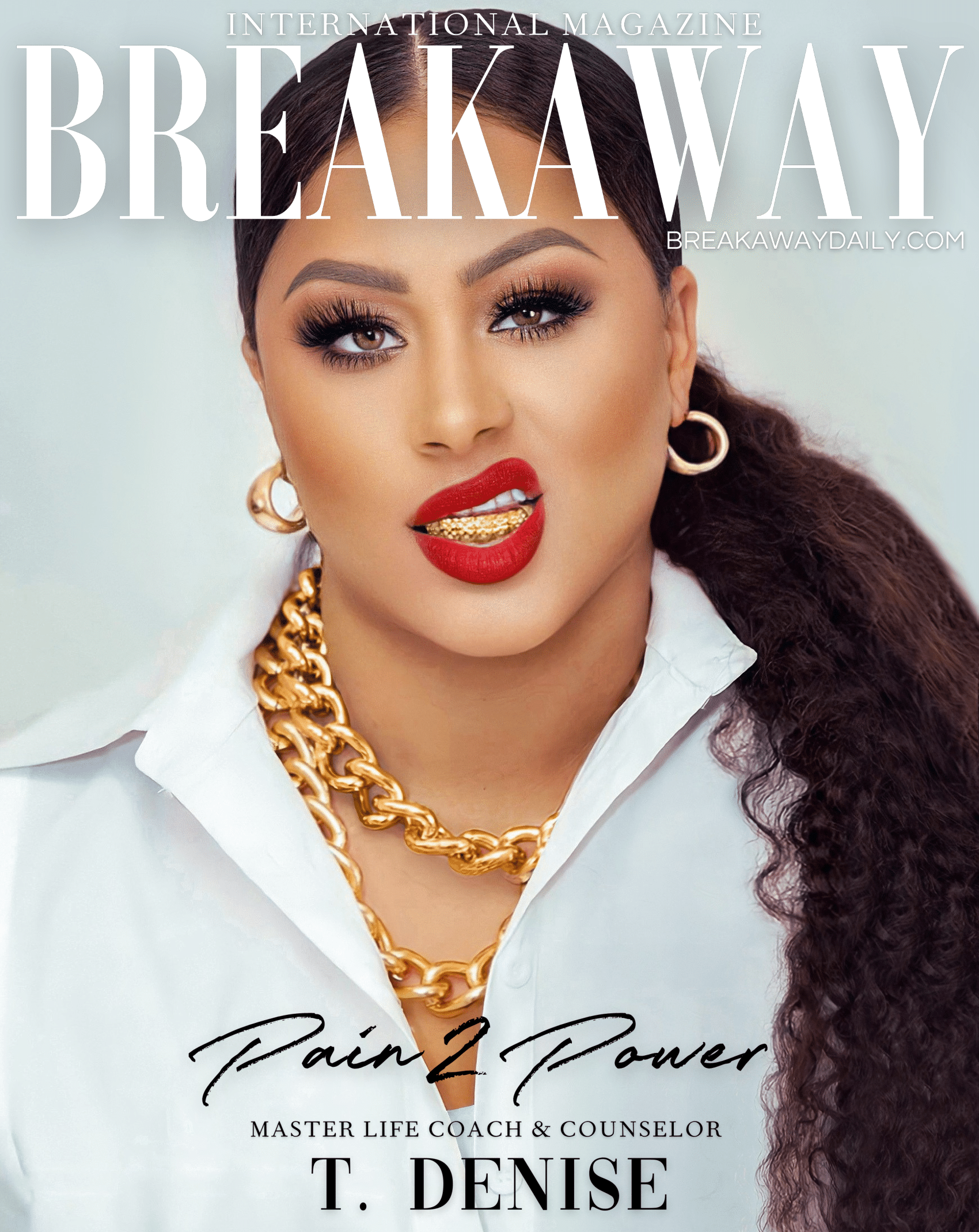 As a Master Life Coach and Counselor with nearly twenty years of healing experience T. Denise is a highly trained Holistic Health Practitioner who takes wellness seriously. When looking at her extra-long list of accomplishments, awards and certificates all while balancing being a wife and mother, it's easy to see why T. Denise is often referred to as 'Wonder Woman.' She is a warrior life coach, thirteen-year combat veteran and author of various self-help books. She also currently works as a Forensic Program Therapist specializing in sexual offender treatment.
T. Denise stands as a beacon of light for those with little hope of changing their circumstances. She is living proof that the situations you are born into does not define you or decide your life. Quite obviously, she's a hard-core advocate for positive change. Given the circumstances that she was raised in, she has turned much of her attention to healing the hurt that is part of day-to-day life in the poorer urban environments that she is all too familiar with.
Some may wonder where all of this courage and conviction comes from, and as complex as it may seem, T. Denise's passion and drive stem from a specific element — nurture. During her difficult upbringing, she could have benefitted from a mentor or programs set up to help and heal. Put plainly, she needed an individual who knows what it's like to be born into circumstances that seem near impossible to change. So, she did the unthinkable. She put her own needs aside, and became the person she needed when she was young. "To anyone that was told they weren't good enough or ever felt that they wouldn't accomplish their dreams because of what someone said, never give up on whatever it is you hope for. Tap into your thoughts and control them. Realize that you have a power inside of you that has authority to thrive."
Though she comes from a tough place and background, T. Denise is proud of her roots. In our cover story photoshoot, she dons blue bandana patterned high-heeled boots, gold grill and holds her graduation cap from her second master's degree, all while she holds up a "W" hand gesture deliberately revealing a more urban, street-wise image that is wonderfully metaphorical. The mouthpiece is more than just a fashion statement. Grills represented the cutting edge of hip-hop culture. To Black women, grills represent the reclamation of power. The "W" hand gesture is a homage to her hometown symbolizing solidarity and respect to the West Coast. T. Denise sits on a vintage car with a license plate that reads 1922, to represent her sorority year. The graduation cap is a testament to tell people that it's possible to accomplish the highest degrees even though you've experienced a rough upbringing or difficult life.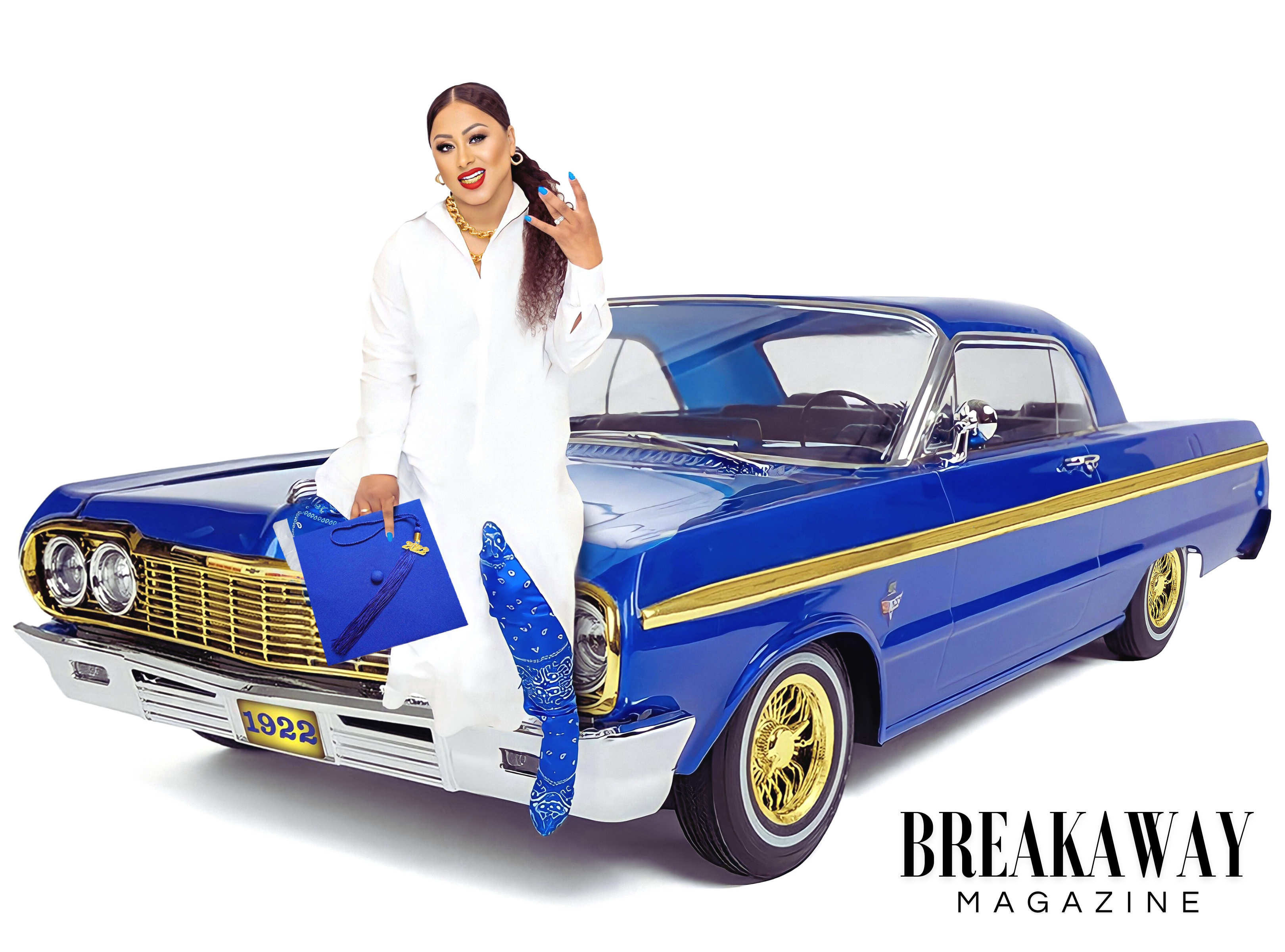 The idea was to take the stigma out of the more gangster-inspired look that surrounded her in her youth. T. Denise believes whole heartedly in the power of education. She was the first female life coach to be employed by a HBCU (Historically Black College & University) coaching students with short, and long-term, everyday life issues. She has completed two master's programs, added several certificates and a plethora of healing modalities to an impressive resume. What can be more gangster than getting an education and doing things your own way, of not following the rules but then using that rebellion to plant altruistic seeds in communities similar to those that you were raised in. "My patients come from hard places. They need to know that being rough around the edges doesn't limit a person to one type of lifestyle. I want to show that a woman like myself can have many sides and you can accomplish anything despite the long road it takes to get there."
The discrimination of mental health isn't new to communities of color. Perhaps the biggest reluctance to seek mental health is the lack of affordable healthcare, access to it and cultural awareness from mental health professionals. Black culture often has its own separate values that many therapists often do not identify with or who lack the cultural understanding. This leads many to suffer in silence and grapple with their own pain. Black men specifically have not been given the chance to be vulnerable, heard and understood. "So often in our community we hear 'man up' or 'toughen up.' It leads to depression or taking their own life."
Everyone needs to speak openly about mental health. A safe and supportive environment for everyone to talk or receive therapy has to continue to be a priority. Through her work, T. Denise tackles trauma, anxiety, stress, grief, self-esteem, family and relationship issues. As a Reiki master and expert in meditation and yoga she utilizes these modalities and nature-based healing in therapy to assist emotional and mental wellness. A crucial part of recreational therapy is a practice she has developed called a venting session™ which allows patients to get anything they want off their chest.
The slight detachment from talking to someone other than friends or family often prompts a person to speak more openly and freely. Venting throws out judgment second-guessing and makes for a more productive session so the person can delve further into identifying obstacles to happiness. "It is a practice that helps them address, overcome and move forward from underlying issues. It's critical that they have a safe environment where they feel heard and understood." With this knowledge, she has purposefully worked to create a place where they feel confident to share their deepest thoughts and anxieties. Doing it this way allows the identification of the tie that binds from leading a fuller, more prosperous, more enjoyable life.
T. Denise's background in criminal justice as a former Deputy Sheriff and Juvenile Justice Advocate has shown to play a critical role in assisting minority youth in all mental health capacities. She has been involved in implementing programs aimed at high-risk youth helping them transition out of the foster care system. These programs then led her to become passionately involved in coaching programs with state departments of juvenile justice, with local city governments and juvenile detention centers and at federal correctional facilities for women. Additionally, her work with the Department of Juvenile Justice resulted in establishing their first-ever re-entry and mentoring program in Tallahassee. Along with the mentoring program came creative writing and poetry classes for young offenders within the criminal justice system in various states across the country.
In 2015 she opened Pretty Lady Boutique which provides many services for women including housing and non-profit mentoring program for teenage girls. She then facilitated Pretty Lady Sisterhood, a mentoring program that rolled out to school districts to help at-risk teenage girls. She also advocates for Black women on their maternity journeys. After going through the birthing experience herself, she understood how important it was for women to have support systems during this time. After experiencing an alarming amount of injustices as a working mother, she found herself being called to work as a childbirth doula. "I wanted to educate Black women about how incredible they are, the amazing things their bodies are capable of and how to utilize their rights as mothers in the workplace."
T. Denise is nothing short of heroic. She was born into a hard life, in a difficult place through no fault of her own. However, somewhere along the line, T. Denise realized a hard truth: there is always a choice. From that realization, she was able to accomplish amazing things with grit and fearlessness. From that 'ah ha' moment, she forged a path for herself and pursued the dream of sharing her truth with the people who need it most. She did what most people can't. She turned her pain into power and is helping others do the same — what a force!