Tokio Hotel Are Back to Claim Their Thrown with "Kings of Suburbia" Album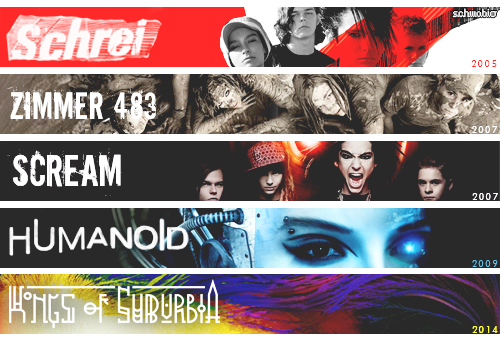 It is the band's first album in nearly five years and with Kings of Suburbia the guys from Magdeburg, Germany are back to claim their rightful thrown at the top of the charts.
I have been a fan of Tokio Hotel since 2008, and even started a fan radio called 483 Radio. It was around this time that Bill, Tom, George, and Gustav were the biggest band in Europe and preparing to take North America by storm. There was something so fresh, different and magnetic about them, and even today that is what separates them from everyone else in the music business.
Fast-forward to a few years later when the band would go on a hiatus to escape the limelight, find themselves and establish their new sound.
During those years, the world did not hear much from Germany's biggest band. A Tokio Hotel Best Of came out in the end of 2010, the band toured in Russia and Japan in 2011, Bill collaborated with Far East Movement on the song If I Die Tomorrow and recently the band joined the inspirational and motivational I Am song project with Wyclef Jean, David Correy and Rock Mafia.
But Kings of Suburbia has proven to be well worth the wait. It is a cinematic and haunting album, one that really stays with you. It has a very retro yet modern feel to it. It is definitely energizing, and an album that just makes you want to dance with tracks like Love Who Loves You Back.
The band has replaced some of its iconic rock anthems for a more electronic sound, but has still managed to keep the songs messages inspiring and positive. Lyrics such as "shine on," "a new day is coming," "the time is now," and "we'll be alright," highlight some of the reasons why so many fans around the world love this band.
Also on this album are love songs and break up songs, and a maturity in how they are delivered. There is a greater focus on club and electronic beats that the band started to experiment with in their last album Humanoid.
The album is greatly influenced by twins Bill and Tom Kaulitz new home of Los Angeles. The brothers have been living there and soaking up their new surroundings the last few years, and it comes through evidently in their new music.
You can also hear some of their musical influences coming through with songs like Feel It All, that is one of my personal favorites, but where the opening also sounds extremely similar to Alex Clare's Too Close. Never Let You Go sounds like a David Guetta track and Girl Got a Gun sounds reminiscent of the guitar riffs used in their own song Break Away from their Scream album. Despite these minor shortcomings, Kings of Suburbia is a solid album that is worthy to be at the top of the charts.
I get the feeling with this album, that the band are in a happy place and not yearning for the escapism their first few albums Schrei, Scream and Zimmer 483 seemed to demonstrate and that laid the foundation for their success. Will their new sound continue to keep their massive fan-base? That is unsure, but one thing is certain; they still have a lifelong fan with me.
Purchase the album from Amazon.
Feel It All
Masquerade
Kings of Suburbia
Great Day
Invaded

Breakaway Magazine
Breakaway Magazine is an international, independently published magazine and online platform for the mind, body and soul. Through diverse voices we feature inspirational people and their stories. Topics include wellness, mental health, social psychology, personal development, spiritual growth, mindfulness, mindset, self love, self care, the higher self, empowerment, nature-based healing and more. Breakaway Magazine features global creative talents through the editorial content we publish; allowing this talent to be fostered, recognized and emerge. "The company reaches millions, connecting with an audience interested in more than just the trend, but the deeper meaning." - JB Livingston, Founder/Editor-In-Chief. Read more on our about page.