Herstory: Denise White on tackling the game of life
Playa Vista, California
Photography by Peter Yang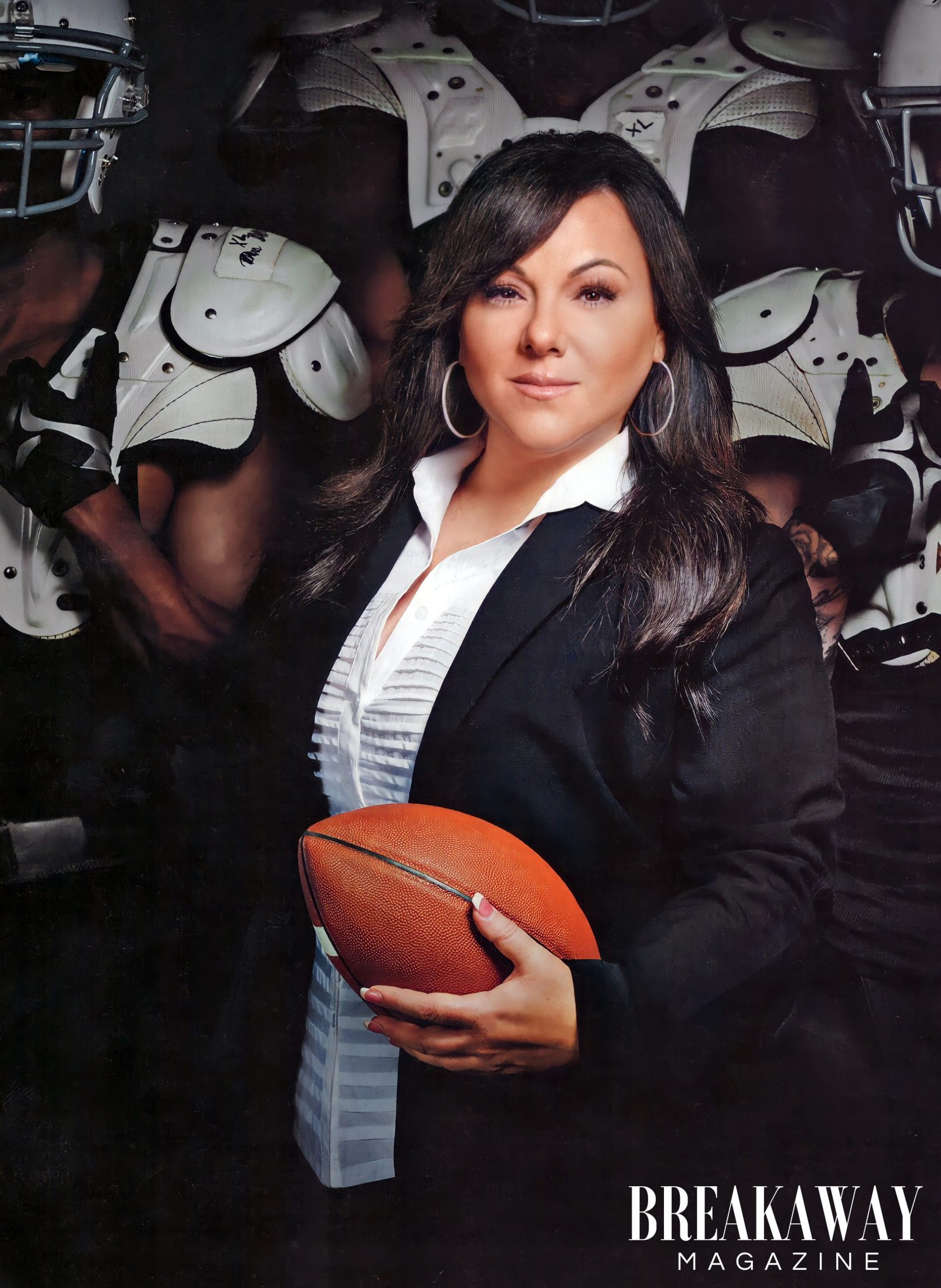 Denise White has learned how to jump over the hurdles life has put in her path. She has broken through the glass ceiling in an undeniably male-dominated profession, determined to continue to stand up for equality, diversity and inclusion. Even Hollywood has been inspired by this legendary sports crisis strategist and founder of EAG Sports Management. Her incredible life and career will be chronicled in an upcoming television series due for production in 2022 for Netflix, with the series showcasing the adversity Denise faced due to gender discrimination and learning how to conquer obstacles in your way.
"You can't change how you start out in life, but you can change the trajectory of where you want your life to go. I can't change the past. I can't change that my mom had a mental illness. I can't change being separated from my twin sister. What I can change is the ending of my story."
By recounting her painful childhood, Denise hopes to expand the conversation around mental health. She hopes her story will enforce more conversations around complex family issues, the broken foster system and how much more support foster children need. "When you have to survive at a young age, you learn how to be resilient and thrive. That's something I have carried with me throughout my life." Denise's fighter mentality helped to shape her destiny of becoming a trailblazer.
Growing up in California, Denise and her twin sister Diane were thrust into foster care as a result of her mother's neglect due to mental illness. When Denise and Diane were eight, the state split them up, placing Denise in her grandmother's care in nearby Escondido, and Diane with a family thirty miles east in Miramar. "My strength, fight and drive comes from my grandmother Lois. It was just the two of us living on her farm. When I was a child, grandparents had no legal rights and she fought for me. I get my fighter spirit from her. I see so much of her in the woman I have become. I think she would be very proud of me today."
Failed by the system, Denise and Diane were separated for over ten years, forbidden by the court to get in touch with one another. Miraculously, at age nineteen, Diane saw her long-lost sister's photo in the paper and attended the Miss Escondido beauty pageant Denise was competing in. "It was a surreal moment. We were hugging and crying, including my grandma, who was there to support me too."
Denise went on to beat the odds to become a major player in the sports industry. Before that, she was a Miss USA contestant and winner of the Congeniality Award. She originally wanted to pursue her dream of becoming an entertainment reporter. She worked as a journalist before transitioning to be a personal assistant to entertainers and athletes. Noticing a gap in the market to service the public relations and crisis management needs of professional sports players Denise started her own company in 1997.
"One man that was on my team when I first got into the game was legendary sports agent Tom Condon. He has been a mentor to me throughout my career. He told me, stick to what you believe in and never give up. We all want to give in and give up when things get rough. There are going to be hurdles in anything you do. Just keep going until you get to the finish line."
Since starting her company, she has earned a notable reputation as "the Olivia Pope of the sports world," was inducted into the Boys & Girls Club Hall of Fame, and serves as a CNN sports contributor. As a woman in the male-dominated industry of sports for more than twenty years, she has encountered her fair share of sexism and misogyny that is still very much alive and well. "In 1996, when I first started a business to manage athletes and entertainers, I had a difficult time being accepted. I felt I needed to be tough. Somehow I couldn't be feminine. I have learned that once you become respected in your field, people are going to take you seriously. I built a reputation in the business because of my work, not because of my gender."
Denise has worked with most prominent names in the business. Tony Gonzalez, former Chiefs and Falcons tight end, was her first client and gave her the initiative to pursue her entrepreneurial venture. Today, Denise's company is one of the major player in the sports industry. EAG manages about thirty-five athletes, mostly in the NFL, on a full-time basis, with current clients like Mike Daniels, Jarvis Landry, Antonio Gates, Tyrann Mathieu, Patrick Peterson, DeSean Jackson and Joe Johnson.
After decades of trying to break into the "Boys' Club," Denise became a pioneer for women behind the scenes of the sports world, and for over twenty years she has employed an all-female staff. "Every time I turned around there was a man telling me I couldn't do something. They always thought that I didn't deserve a seat at the table. That it wasn't my place. So, throughout my career, I've always been trying to prove myself. It's my belief that everyone deserves a seat at the table, no matter their gender or ethnicity."
Denise is a tireless forger for her high-profile clients. Making a name for herself and finally being at the top of her career, Denise continued to work nonstop. "Everything that glitters is not gold. People have this idea that what we do is glamorous since we work with professional athletes. But when you decide to be an entrepreneur, it's not a nine to five. You'll work ten times more than you did when you worked for somebody else."
She worked fourteen hour days even throughout the pandemic. However, this relentless work ethic and determination would eventually take a toll on her health. In early 2021, Denise suffered a stroke that landed her in the ICU. Thankfully, she survived, but that was the wake-up call she needed. Lucky to be alive, Denise realized that she now needed to cherish living and change her life by putting herself and her health first. "I have an incredible sense of gratitude from going through this life-changing experience. It really puts things in perspective."
Denise remains at the top of her game today but now more importantly she wants to make a difference in other people's lives in any way she can. "What's important to me these days is the people that showed up for me in my most dire of times as well as things that will make a difference in this world. When I know I'm making a difference, that's what truly matters."

Breakaway Magazine
Breakaway Magazine is an international, independently published magazine and online platform for the mind, body and soul. Through diverse voices we feature inspirational people and their stories. Breakaway Magazine features global creative talents through the editorial content we publish; allowing this talent to be fostered, recognized and emerge. "The company reaches millions, connecting with an audience interested in more than just the trend, but the deeper meaning." - JB Livingston, Founder/Editor-In-Chief. Read more on our about page.