The Offspring by Bill Pinnell is a spine-tingling novel about a man's haunting family secrets that push him to the edge
Colorado Springs, Colorado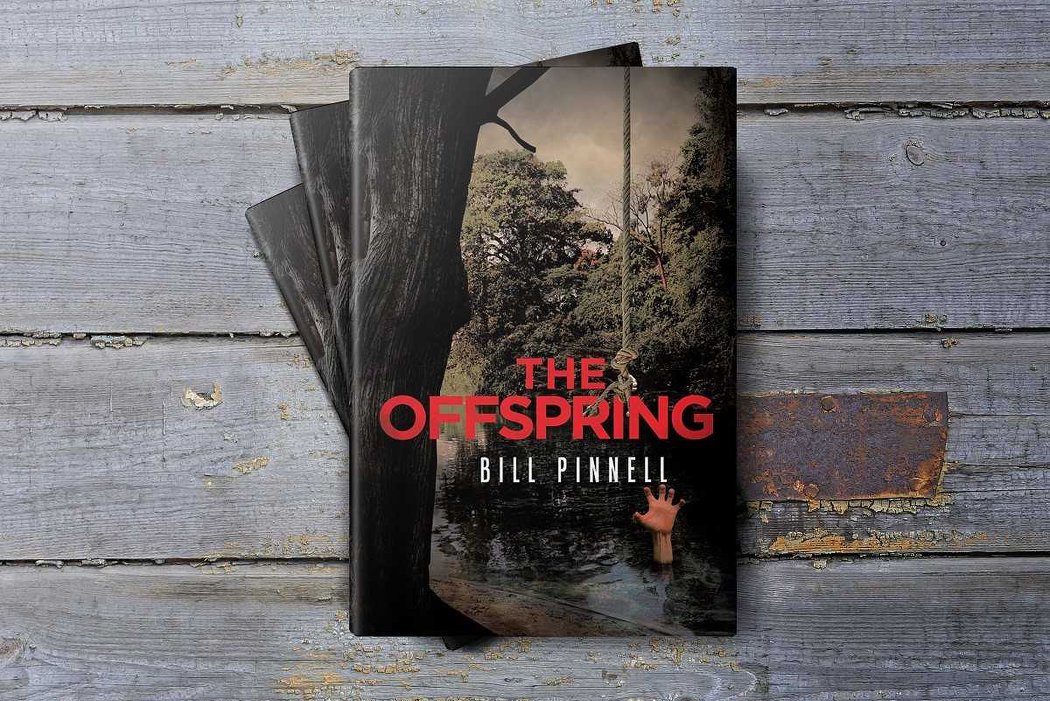 Author Bill Pinnell reminds us that secrets never stay hidden for long in his new novel The Offspring. It is a tale filled with horrifying secrets and a macabre, deadly consequence. The novel follows Hughie Decker, a man on the road to a striding career who, after an ominous circumstance, leaves him with no alternative but to confront a horrible truth ingrained in his family background. It is a gripping narrative filled with convoluted schemes and a secret that destroyed so many lives.
"I've been told writing is therapeutic. For me, it certainly has been."
You taught in theater school for forty-two years at the University of Windsor in Ontario where you directed, designed and served as a scenic artist for many productions. How did your theatre background influence your writing?
My theatre training sparked my interest in the dynamics of interpersonal relationships: hidden motives, personal frailties, deception, unrequited love, good versus evil, etc. I was bitten by the theatre bug while in high school, I went to undergrad school thinking I would become an actor. While there, I was inspired by the current Scenic Designer who opened a whole new discipline for me in the theatre. In spite of all of my performing experience, I went to grad school to study theatrical stage design and painting. This wonderful training eventually led to a university faculty appointment, where I designed and painted over one-hundred and fifty productions. I also began directing productions, all of which I also designed. I was captivated by play scripts and an interest in writing followed. First, I wrote a few textbooks and then a couple of plays. All the while, secretly hidden in a bottom drawer, was this novel I was working on. That novel eventually became The Offspring.
What inspired your story?
Having lost my brother in Vietnam and, like many others who have also suffered such a great loss, one may feel the need to right the tragedy, if only through fictional writing or some other form of expression. Of course, I changed what happens to Tommy Decker for he did return home, but there still remains the poignancy of loss. I've been told writing is therapeutic. For me, it certainly has been.
How would you explain the premise of your novel, The Offspring?
The dark side of human nature can be revealed via family relationships, loves won and lost, cowardice, secrets, despair, guilt, survival, racism and revenge. Is finding out the truth better than never knowing it? And what if your worst fear is realized?
You wrote a haunting tale that deals with family secrets. Why did you want to touch on these themes?
I've always been intrigued by closeted skeletons. Are they better left alone, with the door firmly locked? I'm not convinced secrets can ever be buried for eternity. I believe the keeping of the secret, particularly one of possible enormous consequences, cannot be achieved without radically altering the behaviors of those attempting to keep the truth hidden. The truly unfortunate (and meaty) dynamic is the personal prices innocent characters must pay, because they never knew about the secret.
Was any of it informed by your own experiences? If so, how difficult was it for you to write about those experiences?
Perhaps it's cliché, but I think one has to write about what they know unless, of course, that writer loves doing extensive research. None of the events in my book (aside from the parallel of my brother going to Vietnam) ever happened to me or anyone I know (thank God!) But, certainly, my writing was informed by a few circumstances; the strongest of which was the friendship between Hughie Decker and Kenny Lake. During high school, I lived out in the countryside of northern New Jersey, surrounded by farmland and foothills, relative isolation. My best buddy across the dirt road was a guy named Pete, who was African American. We were very close and that relationship informed my writing. I'll always count Pete as one of my dearest pals and I strongly needed in my story – and I don't really know why – to have Hughie's best friend be a person of color.
What came to you first? The idea of what you wanted the story to be about, or the character?
In the beginning I had no idea what I was doing. I began writing some stuff about a guy pulling his battered pick-up truck over to the side of the road. Perhaps this is why the "story" (for I really hadn't one) got stashed in that drawer. One day an ending came to me out of the blue. I then realized why that guy was in his truck. He was returning home to finally deal with a dark family secret, or secrets actually. So, my story's ending was the very first thing to crystallize: revenge at the expense of great personal loss. I then began to work on an outline, in essence writing my novel backwards.
Did you pre-plan your twists, or did they reveal themselves as you wrote the story?
I've never enjoyed straight narrative. I really enjoyed working on play scripts that kept jumping from past to present and back again. The thrill the audience has in putting it all together certainly inspires my writing structure. Despite my story outline, which I think should always be written in pencil and never indelible ink, I was not bound to a literal plot line. The joy I've found is through discovery. Sure, there's a story arc, but finding yourself joyously creating tangents that help enrich the story is pure creative joy. Quite often, as my characters began to develop, I found them leading me in a direction I had not imagined. Quite a thrill, that.
Have you always wanted to write?
Aside from drawing on rainy days when I was a kid, I also read a lot. No batteries involved, no computer games. If one is a voracious reader, the notion of one day trying to write is likely to have crossed one's mind. Reading inspires me and though I may have tried things that perhaps I'd been better to have left alone, I'm curious to see what I can achieve. I always encouraged my students to love what they do and give it their all, but never become just a one-trick pony.
What genre would you classify the book?
Technically it's a mystery with a bit of coming-of-age thrown in and perhaps a little historical fiction. Funny, when I was writing it, I never thought about a genre. Even now, in answering your question, I feel a bit pigeon-holed committing to a genre. I've never been attracted to labels but I suppose they're necessary. The matter of genre aside, I strongly believe in injecting humor into a story. I'm not preaching stand-up or punch lines, but sometimes humor can be found in the most trying of circumstances and even a slight venture into levity and absurdity can strengthen the depth of the moment. I really enjoy writing dialogue and prefer it to long-winded descriptions of what a character is thinking.
If there another genre you've considered writing?
Not really, no.
What are you working on next?
Another pseudo-mystery novel. While the prologue features two characters from The Offspring I'm not sure how much of the tale will involve them. Perhaps I'm simply reluctant to give them up. We shall see. My characters and I will find our way. And I look forward immensely to the journey.
Readers who wish to experience this terrific work can purchase The Offspring at bookstores everywhere, or online at the Apple iTunes store, Amazon, Google Play, or Barnes and Noble.

Breakaway Magazine
Breakaway Magazine is an international, independently published magazine and online platform featuring inspiring and empowering stories from around the world. Through diverse voices from all walks of life we feature inspirational people and their stories. Every story shines a light on barrier-breaking entrepreneurs, artists, creatives, visionaries, innovators, humanitarians and ordinary people who achieve the extraordinary. "The magazine reaches millions, connecting with an audience interested in more than just the trend, but the deeper meaning." - JB Livingston, Founder/Editor-In-Chief. Read more on our about page.