Bokyung Byun​ is pushing boundaries as a female guitarist
Photographed in Southern California by Choo Sangyeon & Lucy Bouman for Breakaway Magazine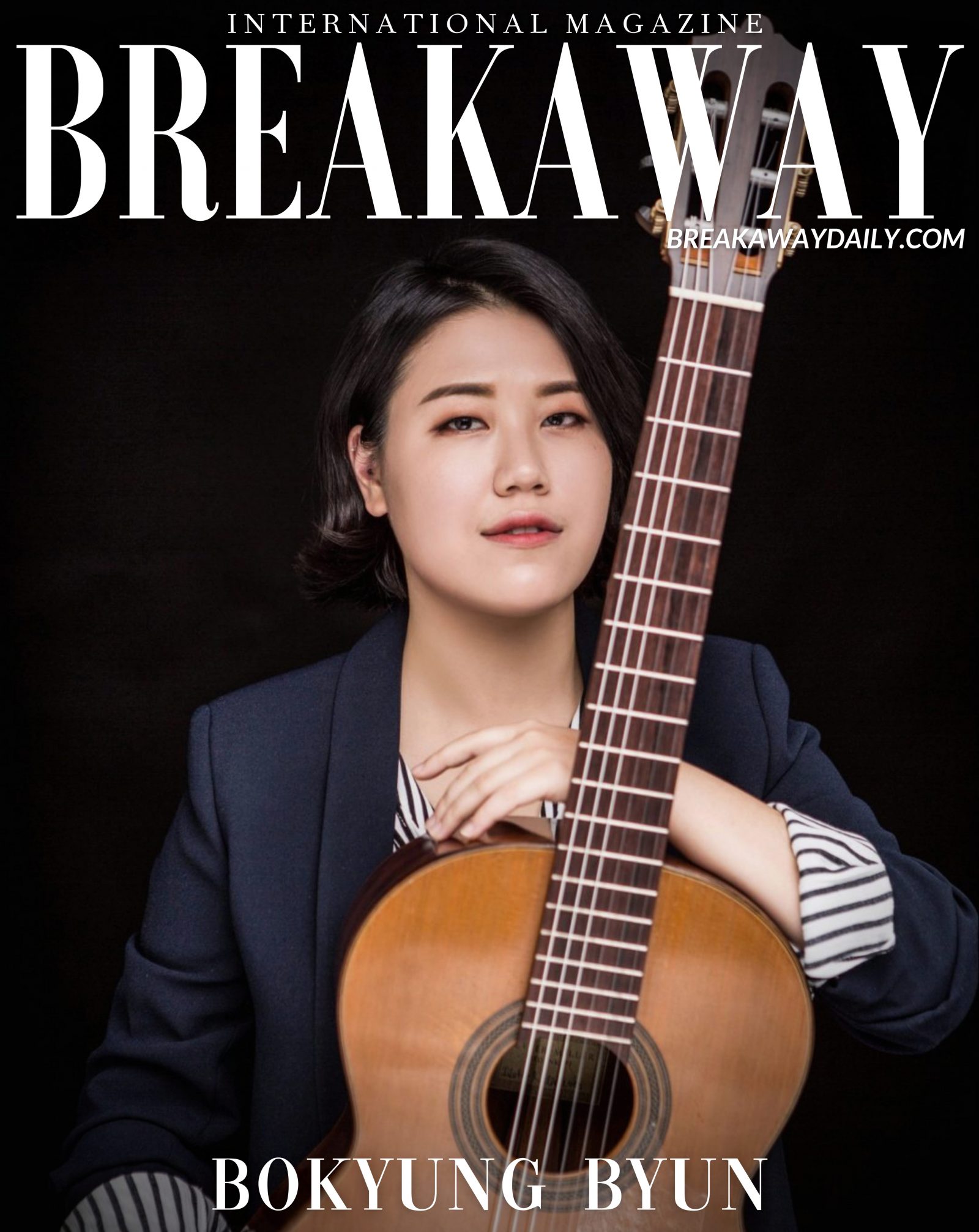 In an industry that is typically male-dominated and favors Western music sensibilities, many of today's finest instrumentalists are women of Asian descent. Artists like Bokyung Byun are changing the game and marching to her own beat.
Bokyung Byun​ is a classical guitarist who enjoys a reputation as one of the most sought-after guitarists of her generation. Born in Seoul, Korea, Bokyung began playing guitar at the age of six. At eleven, she took the stage for her first solo recital, leading to an early start in her teen years performing numerous concert tours around Korea, to enthusiastic response, including millions of views on YouTube. By her teen years, she had gained national attention for first-prize finishes in three renowned competitions: the Korea Guitar Association, the Music Association of Korea, and the Guitar Foundation of America International Youth Competition.
"I am the first musician in my family. None of my parents are musicians but there was always music playing in the house. My mother loved singing along to old pop songs and my dad brought us to music concerts every weekend hoping for his children to have more exposure to arts than he did as a child."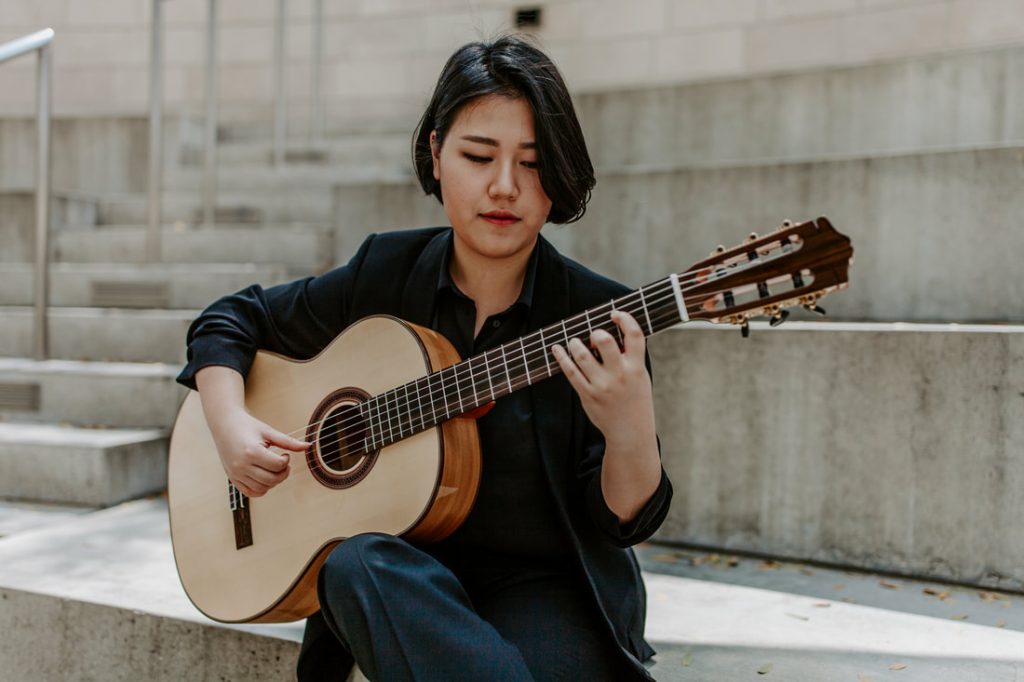 At the age of sixteen Bokyung moved to New York City where she entered the prestigious performing arts conservatory, The Juilliard School. By twenty-two she graduated with a Bachelor of Music and Master of Music degrees. She is now pursuing a fully-funded doctoral degree at the University of Southern California.
"As a student hoping to pursue a career in classical guitar, I struggled with not having enough female representation in the field. There was a constant concern with whether or not I would be able to "make it" in the industry as a female guitarist."
Bokyung is the winner of a number of first-place finishes in international competitions. She holds the distinction of being the first female winner of the prestigious JoAnn Falletta International Guitar Concerto Competition. Falletta herself described Bokyung's performance as "stunning, showcasing her gorgeous tone, immaculate technique and sophisticated musicianship. She is a winner in every sense of the word." This win is among many wherein Bokyung excelled in the competitive circuit, including first-prize finishes at the Frances Walton Competition, the Montreal International Classical Guitar Competition, and the Philadelphia Classical Guitar Competition. In 2016, she was named the recipient of the International Artist Fellowship awarded to outstanding artists by the University of Southern California.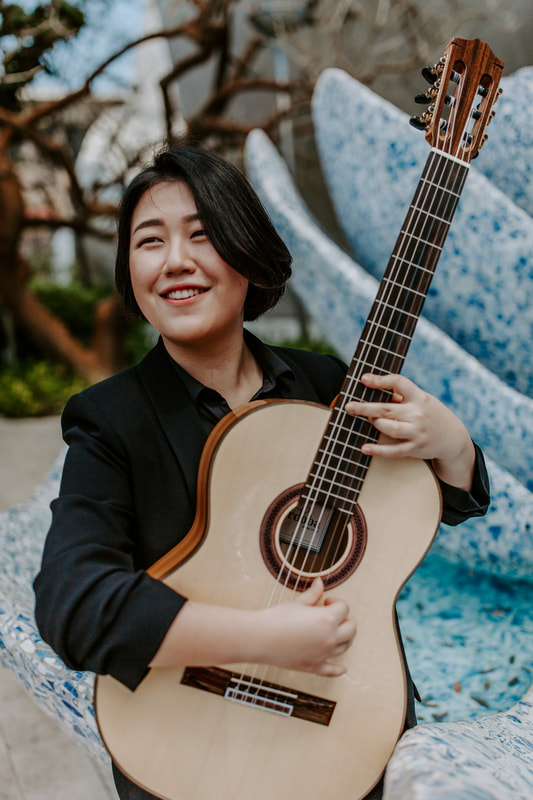 "As a guitarist, I often face the challenge of being judged based on my gender rather than my playing. It was mind-boggling for me to know that even before I walked into a concert hall, some people were already making negative judgments about me. What helped me overcome this challenge was knowing that as long as I did not let the prejudice affect my playing and did my best as a musician on stage, I could help reduce this negative connotation one performance at a time."
Bokyung has performed with a bevy of orchestras, festivals, workshops and guitar societies across Asia and North America. Bokyung has performed as a soloist with the Buffalo Philharmonic, the Utah Symphony, West Los Angeles Symphony, New Juilliard Ensemble, the Aspen Music Festival Orchestra, among others. Her solo recital highlights include performances at the Kumho Young Artist Series, Philadelphia Guitar Festival, Aspen-Salida Concert Series, Toronto Guitar Weekend, Guitar Montréal, Ellnora, The Guitar Festival and San Diego Guitar Festival.
"Recently, there have been more conversations happening in the guitar community about what it means to be a female guitarist in the field. Festivals and concert series now present more female guitarists."
Bokyung was acclaimed for performing "eloquently through a diverse and challenging program," by Michelle Fratus, president of the board of the Knoxville Guitar Society, and having "confidence, passion, excellent projection and great dynamic contrast" by Heather Morand Clark, president of the Guitar Society of Toronto.
Committed to expanding the role of a twenty-first century musician, Bokyung's concert program often features contemporary music alongside traditional repertoire. This skill at navigating both classic repertoire and fresh work has led her to co-found Sounding Board: The New Music Initiative for Guitarists and Composers. The project focuses on promoting collaborative relationships between composers and performers to create new works for guitar, and its inaugural festival in Besançon, France in 2019 has been praised as "extraordinary, in the strict sense of the word," by La Presse de Gray in France.
"It's vital and exciting to audiences for concerts to join the new with the old. For guitar music to continue to grow, I believe that new works must actively be cultivated in programming, and it is my hope that audiences leave my performances with new experiences. I owe it to the next generation of female guitarists to help keep this positive movement going just like the pioneering female guitarists did for my generation."
For more information visit Bokyung's official website.

Breakaway Magazine
Breakaway Magazine writes thought-provoking stories that transcend boundaries, providing transformative viewpoints on breaking barriers. Through an international readership of millions, every story empowers readers interested in gaining a wider outlook on life through diverse voices. "The magazine reaches millions, connecting with an audience interested in more than just the trend, but the deeper meaning." - Jamee Livingston, Founder/Editor-In-Chief. Read more on our about page.