Breakaway Daily Interview: Actor Adrian Voo Talks Robin Williams, Auditions & His New Web Series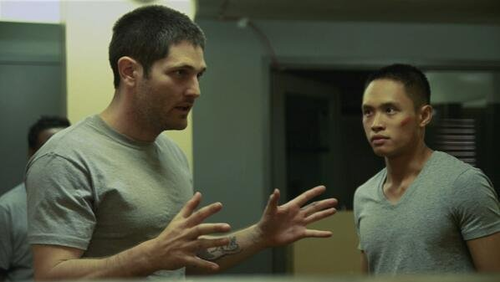 Adrian Voo with the late, great Robin Williams. Find out about Voo's meetings with the legendary actor in my exclusive interview with this up and coming actor you should know about.
Adrian Voo is best known for his starring role in the post-apocalyptic feature and film festival circuit favorite Infected, which was ranked #1 on IMDb: Future and Newly Released Horror Movies. He has also had high profile credits to his name including The Hangover III, She Wants Me (Hilary Duff, Josh Gad), and Showtime's House of Lies. His love of the craft has also taken him to the stage, most recently starring in Incentive, a modern ensemble produced by John Coppola. He can be seen this summer in the new web series Black Jacks, and in the psychological thriller Seventy-Nine.
Originally from Malaysia, but now residing in Los Angeles, Adrian Voo has been on the fast track to success since graduating at the prestigious New York Film Academy in 2012.  Adrian is not just a talented actor, but also a consummate academic, and this along with his work ethic makes him one to watch out for. 
Interview with actor Adrian Voo | Breakaway Daily
You have a BS degree in Operations Management from San Francisco State University, and are also an award winning graphic designer and programmer. What drove you to go to the New York Film Academy and pursue acting? 


I've always had a strong passion for film, even as a child. When I started considering pursuing a career in an industry I knew nothing about, I knew I wouldn't get far going in blind. I knew I needed formal training to learn as many 'tools of the trade' – it really is an extremely competitive industry.
Did you or do you find it difficult to get your foot in the door and get a break in the acting business when there is so much competition?
It's always hard to embark on any new career but I have always been a strong believer that if you want something bad enough and worked hard enough, the universe will provide…
[Adrian Voo in Seventy-Nine (2014). © ITN Distribution]
Do you get nervous before auditions? Do you find it a long and strenuous process to find out if you will be cast?
I'm pretty sure that even the seasoned stars get nervous during auditions. It's a strange situation – auditions. However, my acting coach always says that the best way to calm the nerves is to be over-prepared. Just like with most things in life, you give it your all and let it be.
How did you get to know Robin Williams?
I had the pleasure of knowing Robin Williams briefly when I lived in San Francisco. I would see him regularly around North Beach and had a neighbor who knew him personally. I remember thinking to myself, how humble he was when I first met him. He was a genuinely down-to-earth man. He always asked how I'd been doing at school, in passing – I was still in college at the time. He loved comedy, he loved going to shows at Bimbo's. I was always surprised that nobody would ever recognize him.
What is your favorite Robin Williams film? 
Hook will always be my favorite. Peter Pan, the boy who wouldn't grow up. R.I.P., Mr. Williams.
[Cast of Black Jacks (2014). © BlackJacks.tv]
What has been your most challenging role so far? What has been your most rewarding role so far? 


Not just a role per se but my most challenging project to date has to be Black Jacks because I was one of the producers as well as an actor on the series. It was definitely a new experience and a huge learning curve, wearing all the different hats on a set. When you're not on camera, you're running all over making sure that every aspect of the production machine is grinding smoothly (as best it can) and then having to drop into character as soon as the director is ready for camera rehearsals. But I can't explain how rewarding it feels at the end of every shoot day.
Tell us more about Black Jacks

…
Black Jacks is an action/drama series about a corrupt future in New York City. It's set in a time when a great divide has taken place: Above ground, the city is controlled by the military; Under ground, the drug world thrives. It's a grim reality where drug lords have full authority, girls are being trafficked around the world and life only exists under ground and under sight.
[Adrian Voo and Nicole Badaan in Black Jacks (2014). © BlackJacks.tv]
What kind of role would you love to play that you haven't yet? 
I would love to play more comedic roles on film. I've only played comedic characters on stage this far. While I enjoy dramatic pieces, I always had so much fun improving with The Groundlings.
What is up next for you? 

I am currently working on some very exciting projects with some very exciting people in the industry. Although I really can't give away much information at this time… Definitely stay tuned! Thank you.
Thank you Adrian Voo for taking the time to talk to Breakaway Daily, I know you have a promising career ahead! 
Catch Adrian in Black Jacks premiering late-Summer on BlackJacks.tv
Seventy-Nine ('Best Directing' winner, LASCIFI Film Festival) will be released on Blu-Ray and VOD this Fall by ITN Distribution.
Adrian Voo: @AdrianVoo | Official Website | IMDB

Breakaway Magazine
Breakaway Magazine is an international, independently published magazine and online platform featuring inspiring and empowering stories from around the world. Through diverse voices from all walks of life we feature inspirational people and their stories. Every story shines a light on barrier-breaking entrepreneurs, artists, creatives, visionaries, innovators, humanitarians and ordinary people who achieve the extraordinary. "The magazine reaches millions, connecting with an audience interested in more than just the trend, but the deeper meaning." - JB Livingston, Founder/Editor-In-Chief. Read more on our about page.