Breakaway Daily Interview with MM Beeman about his debut novel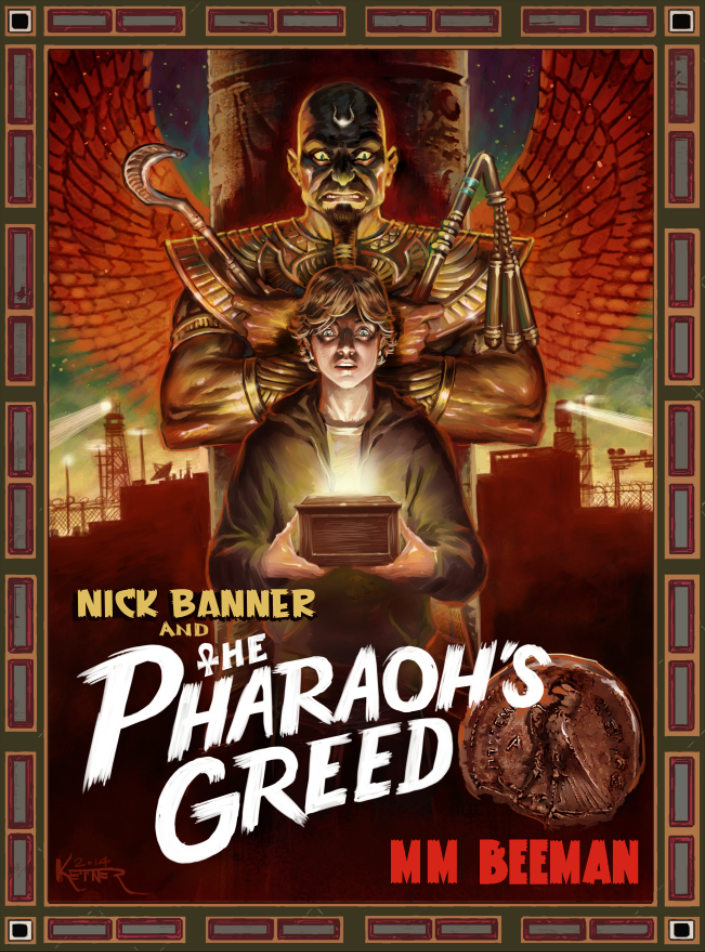 MM Beeman is a Christian fiction writer with a story to tell. Not his personal story, but the story of God and a kid named Nick Banner. He hopes to encourage young readers and adults to find wisdom in the word of God. He holds MA Degrees in both Special Education and Evangelism and Church Planting, as well as an undergraduate degree in History. Teaching for ten years in the field of Special Education, primarily with youth who are behaviorally challenged, has given him a strong desire to help kids better fall in love with reading and has helped formulate the structure, pacing and messages in his writing. With his debut novel he hopes to encourage young adults to read, while engaging the adult reader.
BREAKAWAY DAILY: Tell us about your debut novel, Nick Banner & The Pharaoh's Greed?

My story revolves around the main character Nick Banner. He's so much like many of the hurting kids that I have worked with over the past ten years. A little bit mad at the world, very much lost, and not sure where or if he even fits in. As a foster child for most of his life he has experienced more than his share of instability. As he approaches his fifteenth birthday, Nick's world collides with the forces of the supernatural when he gets caught up in a world of angels, demons and an evil corporation that will stop at nothing to capture the staff of Moses – something they think he can help them acquire.
BREAKAWAY DAILY:
What inspired you to write this?
MM BEEMAN: The heart for this book was in place long before I even knew I would write it. Having spent many years as a teacher of students with behavioral difficulties, I have seen the pain that kids who have lost their biological families go through. I wanted to capture some of the feeling of lostness that young people feel when their world goes upside down. I have also utilized reading aloud to my students on hundreds of occasions and am thrilled when I see kids who have very little positive escape in life lose themselves in stories. That was and remains my inspiration.
BREAKAWAY DAILY:
That's beautiful. How would you say that it differs from other young adult novels out there?
MM BEEMAN:
My unique experiences working with kids certainly plays a role. I have seen all sides of human behavior. I also strive to communicate as clearly and concisely as possible to a wide range of individuals. This book is written to immediately grab the attention and not let go. At times this means letting the reader form more of an opinion regarding the characters than me forcing an opinion on them. There is also an underlying message of spiritual hope that is noticeably absent from most current youth literature. Finally, as this book reflects my own thoughts and processes, I would dutifully hope that there is no one else out there just like me. The world would recoil at such a thought.
BREAKAWAY DAILY:
Why present day Portland and ancient Egypt?
MM BEEMAN:
Ancient Egypt is a fascinating place. I have seen typically disinterested kids focus intensely when talk of Pharaoh's, pyramids, and Egyptian gods come up. Egypt also tied in well with my desire to base the book on a Biblical storyline. As far as Portland being the modern setting, this was primarily a happenstance of geography. It was my home when I began the book, but also has enough character as a city that there are many strange avenues one can travel down.
BREAKAWAY DAILY: Your illustrations are remarkable, who did them?
MM BEEMAN:
Through a series of strange connections, we were able to bring Lukas Ketner on board. Lukas is an illustrator who has done work with Dark Horse Comics, The Walking Dead graphic novels, and Image Comics. He is amazing to work with, and to be honest, we were extremely lucky that he could squeeze us in. Lukas has also agreed to do the covers and mini illustrations for books 2 and 3 of the Nick Banner series. His art completely brought my characters to life, and for that I am extremely grateful.
BREAKAWAY DAILY:
This reads like a graphic novel and the illustrations lend to that; why not go full out and make it a graphic?
MM BEEMAN:
I have attempted to draw illustrations on the whiteboard in my classroom. My student's mocking laughter quickly dispelled any ideas of my artistic ability. I find great comfort in the written word and that is where my passion is.
BREAKAWAY DAILY:
You work between Christianity and Kemetic tradition (Egyptian paganism) for your story and characters.  What was it like combining the two for this story?
MM BEEMAN:
There is an intentionally minimalist approach when it comes to the theology behind either belief system. Human emotions such as greed, revenge, longing and envy are not exclusive to any one belief system. In light of that, I focused more on each individual and their motivation. In my experience, this is what connects us as humans and as readers.
Read more to see for yourself,
Nick Banner & the Pharaoh's Greed is available on Amazon. For more information on MM Beeman, visit his official website.
BOOK GIVEAWAY
Want to win a free E-book copy of Nick Banner and the Pharaoh's Greed? Simply enter our sweepstakes for your chance to win one of five free copies!

Breakaway Magazine
Breakaway Magazine is an international, independently published magazine and online platform for the mind, body and soul. Through diverse voices we feature inspirational people and their stories. Topics include wellness, mental health, social psychology, personal development, spiritual growth, mindfulness, mindset, self love, self care, the higher self, empowerment, nature-based healing and more. Breakaway Magazine features global creative talents through the editorial content we publish; allowing this talent to be fostered, recognized and emerge. "The company reaches millions, connecting with an audience interested in more than just the trend, but the deeper meaning." - JB Livingston, Founder/Editor-In-Chief. Read more on our about page.