Behind the scenes as Luka & Jenalyn bring Lukas Graham's "Love Someone" to life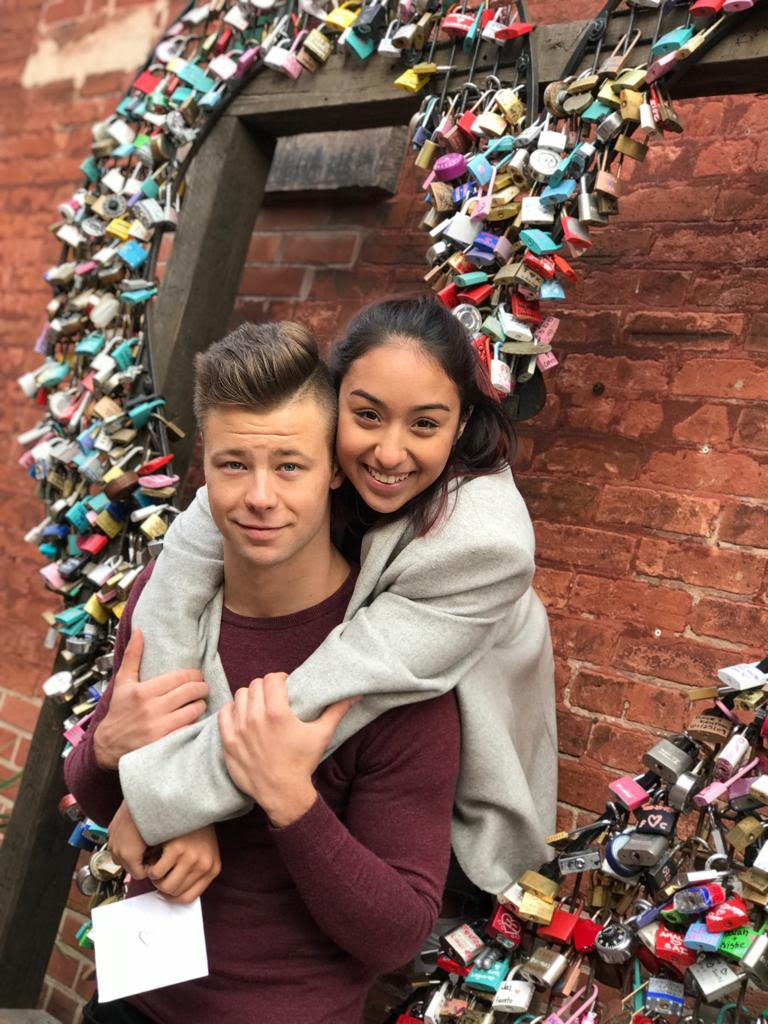 Lukas Graham takes listeners on emotional journeys through the medium of music. Luka & Jenalyn seek to do the same thing through the medium of dance. When they combine it makes a perfect pairing, showcasing the beauty of love that persists through all of life's struggles. Luka & Jenalyn bring songs to life with their dynamic choreography and expressive motion. Their latest piece is no exception, set to "Love Someone" by the equally dynamic and expressive pop-soul band from Denmark, Lukas Graham.
The Grammy-nominated band consists of frontman Lukas Graham Forchhammer, drummer Mark Falgren, bassist Magnus Larsson, and keyboardist Will Herrington. They've been big in Scandinavia since 2012, when their debut, self-titled album went quadruple-platinum in Denmark. Now, listeners around the world are catching on after their 2015 viral hit "7 Years."
Watch the official dance video:
"Love Someone," an inspirational song about different forms of love, is the band's first single off their third album 3 (The Purple Album). The official dance video collaboration between Luka & Jenalyn, World of Dance, Lukas Graham and Warner Bros. Records was a match made in heaven –  or at least a match made in show business! 
"I watched their moving performance of "Unsteady" at the World of Dance Championships in Los Angeles this past summer," recalls Warner Bros. Records executive Ramsey Kouri. "I immediately contacted the duo to see if they wanted to create a dance for a song by one of our artists, Lukas Graham."
"We are very thankful to the World of Dance Championships and the entire World of Dance team, especially David Gonzalez and Matthew Everitt," says Luka & Jenalyn. "They give young artists like us a stage to be able to work with music labels like Warner Music."
Luka & Jenalyn were excited by the opportunity to once again show the versatility in their style of dance and push themselves out of their comfort zone. Their dance routine for "Love Someone" tells the story of a young couple in love. Their signature style highlights the texture of the sparse musical arrangement, matching the guitar and vocals with their movements. With the aid of Aidan Carberry from Poreotics contributing to the choreography, along with Brittany Nguyen as the lead videographer, Luka & Jenalyn brought the song to life on a beautiful public walkway in Toronto's Distillery District. The rich colors of the brick proved to be the perfect backdrop for this love story.
The Distillery District is home to a communal love lock art installation that is featured at the end of the video. In Paris, couples can secure their eternal devotion with a love lock on the Pont des Arts bridge. If you're in Dublin it's the Ha'penny Bridge, in Florence the Ponte Vecchio, and in Korea the N Seoul Tower. This world-spanning tradition sees couples placing a lock on a bridges or other structures to symbolize their love. In Toronto, locks are repeatedly removed from the Humber Bridge, but now citizens and visitors have another place to hang a lock and celebrate their love. The thirty foot long by eight foot high fixture is made of steel and reclaimed lumber with a sign that encourages visitors to initial their love lock, attach it, kiss, and then throw away the key! This picturesque location was a perfect fit for Luka & Jenalyn's performance.
Lukas Graham took the time to surprise Luka & Jenalyn with a video message!
Like any endeavor, this project wasn't without its difficulties. Luke & Jenalyn ended up re-shooting the entire routine after first shooting the entire routine in a college library. "Reshooting and re-editing the footage was strenuous," explained Luka & Jenalyn talking about moving to the outdoor location. "Between weather, people in the public space, and 5AM call times, it made for a challenging project, but it was worth it because we are in love with the final piece!"
The beauty and grace of love is universal and comes in all forms. Love is something that can carry and support us during difficult times. In "Love Someone," Lukas Graham speaks about the fear of loss, and how love can't exist without that fear, but it's all worth it for the beautiful moments that come along with love –  in all its manifestations.
To learn more about Lukas Graham visit the band's official website.
Follow Luka & Jenalyn on Instagram, Facebook, Twitter, YouTube and Musical.ly.

Breakaway Magazine
Breakaway Magazine is an international, independently published magazine and online platform for the mind, body and soul. Through diverse voices we feature inspirational people and their stories. Breakaway Magazine features global creative talents through the editorial content we publish; allowing this talent to be fostered, recognized and emerge. "The company reaches millions, connecting with an audience interested in more than just the trend, but the deeper meaning." - JB Livingston, Founder/Editor-In-Chief. Read more on our about page.