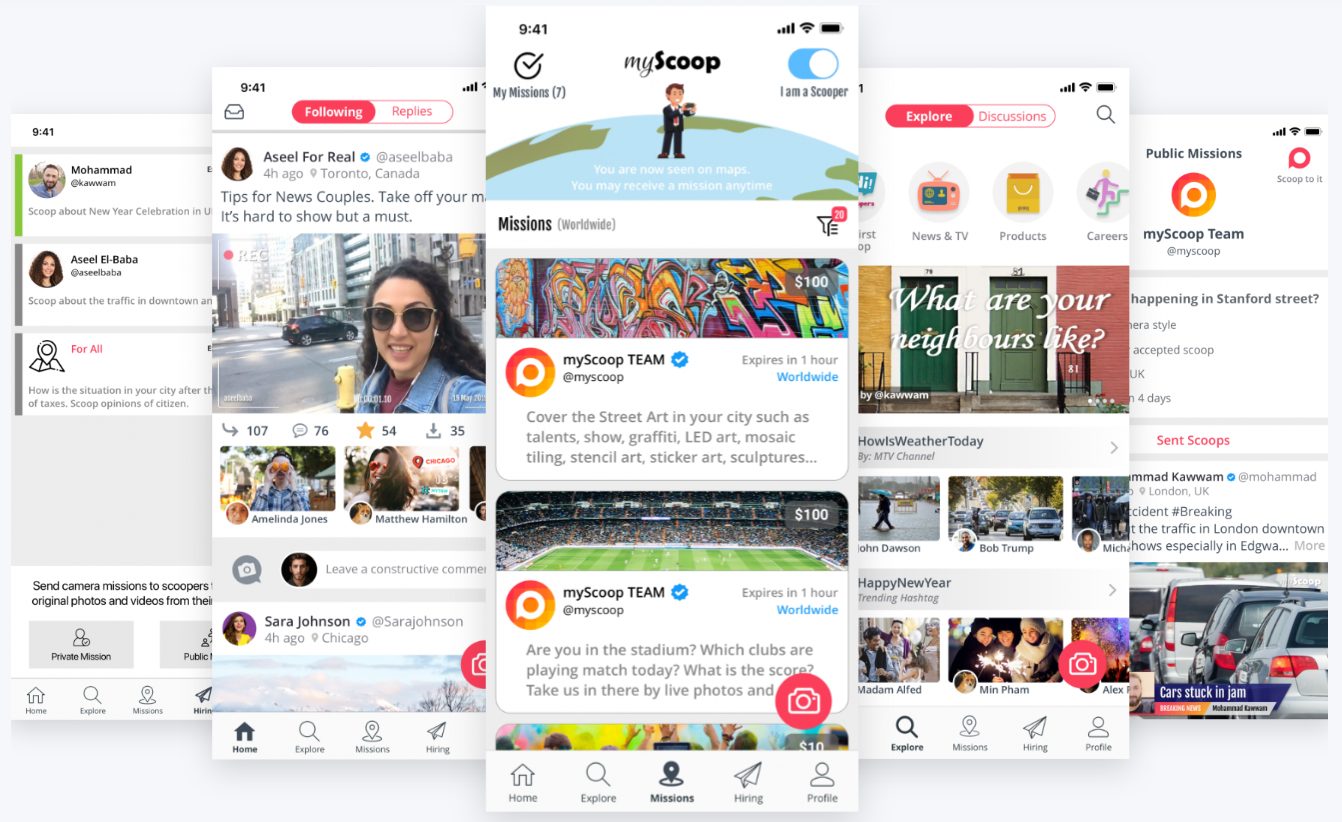 myScoop app (available for iOS and Android) empowers anyone with a smartphone to sell their original photos and videos to a paying audience. All user-generated content is automatically verified per time and location and watermarked to maintain users' copyrights. Content seekers can post camera missions on myScoop maps to grab location-based photos and videos with much more innovative features on-board. First launching in Asia, myScoop began trending in the Google Play store within four weeks. The entirety of the app including user interface and user experience was created and designed by Mohammad Kawwam, an entrepreneur living in London.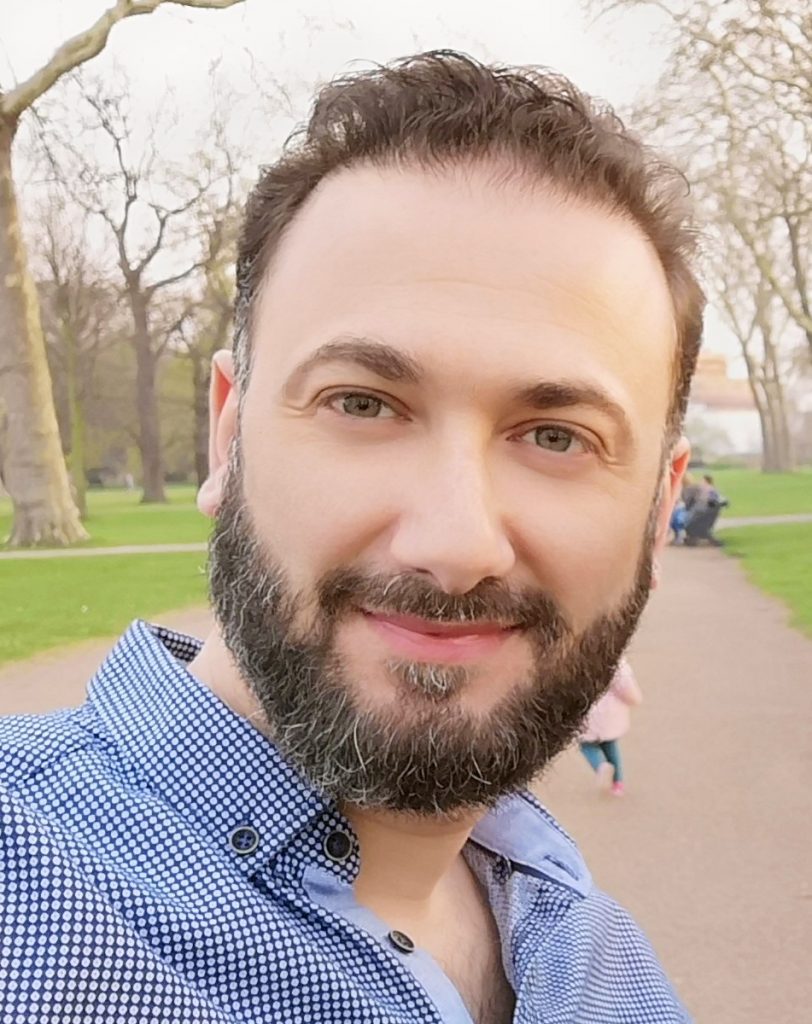 Mohammad is the founder of myScoop app and has been the director of myScoop Limited since incorporation in the UK. He is leading a team of developers located in Asia and the UK who have assisted in the design of the application and will continue to ensure its functionality and development with the continuing advancement in mobile technology. Mohammad holds a doctorate in Nanotechnology. In 2016, he had a career switch and became involved in a number of business ventures, developing skills and experience in mobile software technology. We spoke with Mohammad about myScoop.
Can you explain the core idea of myScoop?
The myScoop app aims to directly connect content creators with the content buyers allowing accurate media reporting. The creators or "scoopers," as we like to call them, are mainly the independent activists. They are the vloggers, citizen journalists or the local eyewitnesses to the stories happening around them. With the app, they now have the opportunity to have a paying audience. The buyers are publishers who are looking to hire camera freelancers and purchase original mobile shots through paying their sources for their original content.
What inspired you to develop this app?
When you're following the news you realize that many times the footage is not verified, and this will also cause doubts about how much of the story is being told. Not only this, but most of the footage they use is user-generated content that went viral on social media and was captured with smartphone cameras. Most of the time neither the copyright nor the credits go to the content-generators
Today's market is mobile, and so should journalism. This way, the myScoop app is the future of journalism, aiming to provide a trustworthy source of verified footage in order to complement the true story. Keeping an eye on the active role of the citizens in the process of collecting, analyzing, reporting and disseminating news and media information and turning it into a business model. Now the citizen journalists can keep their copyright and compensation safe for the content they publish.
Can you tell us a bit about the process of creating the app?
Our team spent three years together developing this project from scratch to a fully functional product. At the moment, we are the only app doing this on the market. We still have a lot of pending ideas to test and release. Our enthusiasm has no limits while we aim to reinvent citizen journalism and support freedom of speech.
Who will most benefit from this app?
We are targeting vloggers and citizen journalists who are looking to sell their well hunted scoops and well said stories and get compensation as camera freelancers when sharing location-based content on missions. On the other hand, media organizations and content seekers will benefit as well from myScoop by grabbing original videos and photos via the mobile cameras of our scoopers in their worldwide locations.
What is unique about the myScoop camera?
One of the main features of the myScoop app is the unique camera templates you get to use. The moment you rotate your device you can swipe and get access to the many templates available. These fully featured camera templates boost users' creativity to create professional video content without using any montage software. Examples include breaking news, reports, interviews, reactions, and much more! After the recording process comes the editing step. Here you can add overlays, music, stickers, text and more. After you post your scoop you can save it to your gallery or share it to other social media channels.
The myScoop camera also adds a real-time GPS verification with time and location, and a watermark that helps scoopers to maintain the copyright. Each scoop can be sold with a royalty-free license or even as exclusives. Setting up the price for every download before posting, scoopers can cash out in the payout method they choose.
Does myScoop offer a social network for the users?
Yes for sure, myScoop is also a social platform where scoopers will be able to create their own portfolio and have a timeline where they can check out the recent posted scoops and the corresponding comments and replies. Scoopers are able to follow each other and even chat through the message system! Similar to other social platforms, you can discover new hashtags, trends and categories while exploring myScoop, as well as get notifications for sales and interactions to make sure nothing passes you by.
Can you explain how it works for a vlogger to become a scooper on myScoop?
All you have to do is create a catchy myScoop portfolio where you can pin your best scoops to present your art of work, then allow the app to detect your location and show your profile on myScoop maps. Here you become an active scooper who is available to receive camera missions from people seeking trustworthy content in your location. You will get to know your audience and how valuable they will find your scoop, so you can price it reasonably so you can cash out easily through your myScoop wallet. Post scoops in public categories or send them as exclusives. Buyers can download your scoops, or repost them to their own profiles.
Can you explain how it works for a content seeker using myScoop missions?
Content seekers can grab original photos and videos from any location in the world using myScoop missions, it's free and very simple. Private missions can be used to hire a scooper to send exclusive content from their specific location. Mission senders will need to fill out a short form to submit specifications such as where, when and what to scoop about, then follow the progress. For a wider scope of sources verified publishers, such as well-known media organizations, can post myScoop public missions to invite all scoopers around the world to share content through specific hashtags. Targeted scoopers will receive a push notification about missions so they can instantaneously react to it.
What is next for the myScoop app?
Aside from fixing bugs and performance improvements, we are testing a list of cool features to be released soon. One of these new features will be an anonymous recording mode where users can post blurred videos with voice changer. This helps vloggers who want to talk about sensitive material without exposing their identity. We are also adding more cashout methods in order to give the user more options.
Download MyScoop for iOS and Android.
For more information visit MyScoop.co & follow them on Twitter and Facebook.

Breakaway Magazine
Breakaway Magazine is an international, independently published magazine and online platform for the mind, body and soul. Through diverse voices we feature inspirational people and their stories. Breakaway Magazine features global creative talents through the editorial content we publish; allowing this talent to be fostered, recognized and emerge. "The company reaches millions, connecting with an audience interested in more than just the trend, but the deeper meaning." - JB Livingston, Founder/Editor-In-Chief. Read more on our about page.