Uniting diversity through creativity is exactly what award-winning Haitian fashion designer Santia McKoy achieves through her designs. Santia grew up in Haiti, where her humble beginnings taught her to appreciate life and the beauty that surrounds her. Her passion as a fashion designer began during childhood when she spent countless hours at her family's shop. From an early age she loved designing her own clothes for herself, her friends and other children. Her ultimate goal was to have her own boutique. Instead of letting her hardships discourage her, she let them inspire her. Just like the characters of Black Panther, Santia learned to be her own hero and became a warrior amid the storms she faced. She decided to fight for her dreams and make them her reality after migrating to the United States to pursue her passion of fashion designing.
Afrofuturism, a movement that explores Black identity, culture and struggles through the lens of science fiction, are at the core of Black Panther. Afrofuturism frequently portrays a future in which Black people use technology to become leaders of their worlds. Much of the African American story is laced within their past and what they have gone through; just as the threads in Santia's designs tell a story. Black Panther speaks to their hardships and struggles, their endurance and their hunger to succeed and be their own hero's.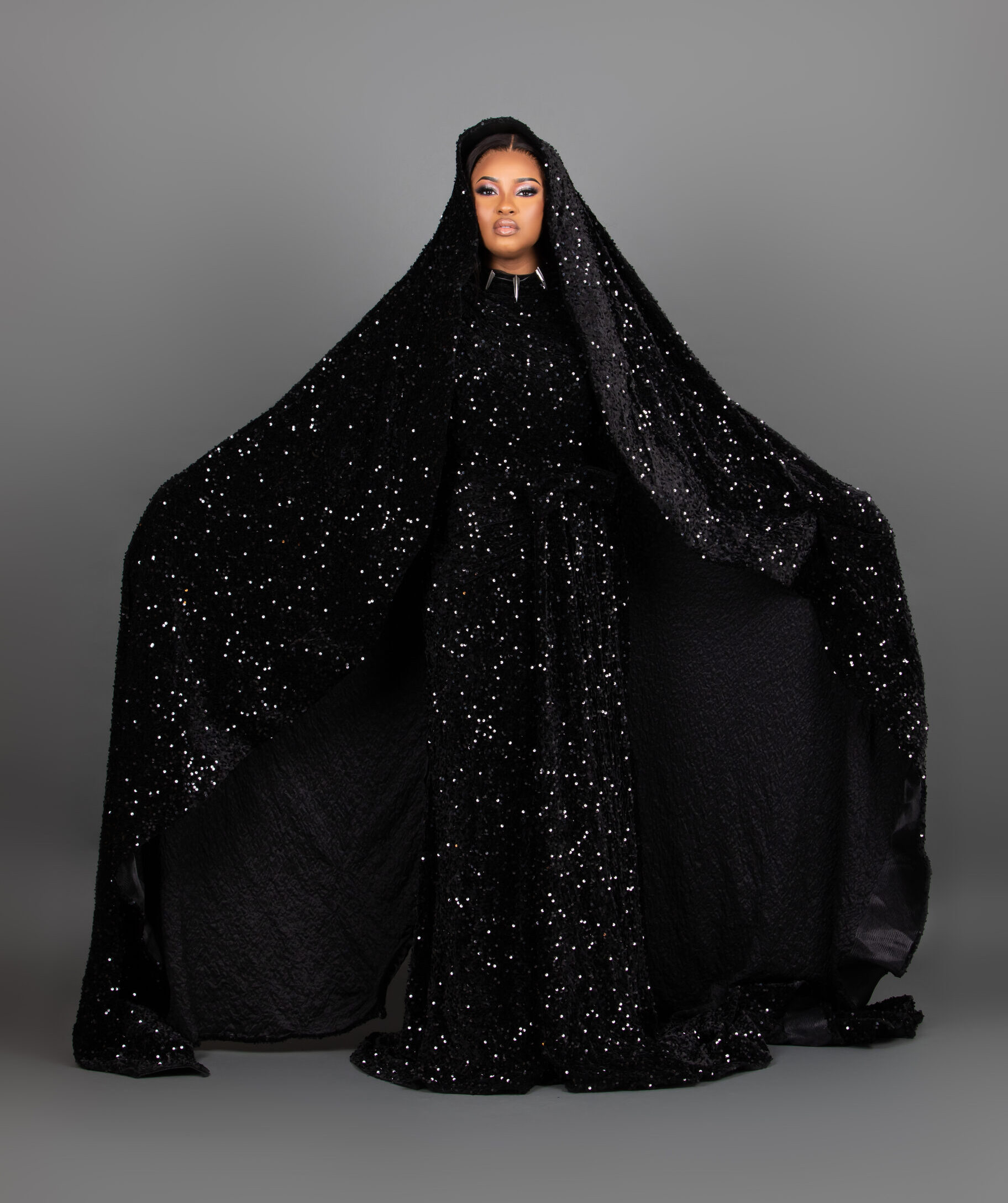 "I don't think we have many movies that can impact the African American community as a whole. It's good to have one we can all look to. Black Panther uses so much culture which I think is incredibly important nowadays for anyone who is unfamiliar. "
The film pays moving tribute to the passing of the character of King T'Challa in a manner that also mourns the real life loss of Chadwick Boseman. The film's ceremonial mourning of T'Challa, the prince-turned-king of Wakanda, is also a tribute to his extraordinary life and legacy. "It's hard to disassociate the character from the actor, and that's only because of how we saw him as a true king and super hero outside of the movie. His impact was truly inspiring. I felt the need to use my talents to honor him."
Santia created two dresses to pay homage to the film. Her tribute is part of her La Vie En Noir collection. Her majestic black dress design incorporates custom-made velvet fabric adorned with sequins, and the necklace of panther claws successfully replicates the one worn by the Black Panther. Her second piece is a white satin dress paying homage to the Wakandan tribe worn by her brand ambassador and actor Diana Otieno, who also appears in the film. At the beginning of the Wakanda Forever, all the tribes wear white as a symbol of peace and unity to pay their last respect to the main fallen hero.
"Being part of the Wakanda Forever is the most honorable opportunity so far in my career," explains Diana. "I humbly enjoyed every second of that memorable moment on set. Wearing the white dress from Santia put me right back in the film. The simplicity, yet Royal look of the dress is beyond what I was envisioning wearing. It's more than a dress, it's a statement."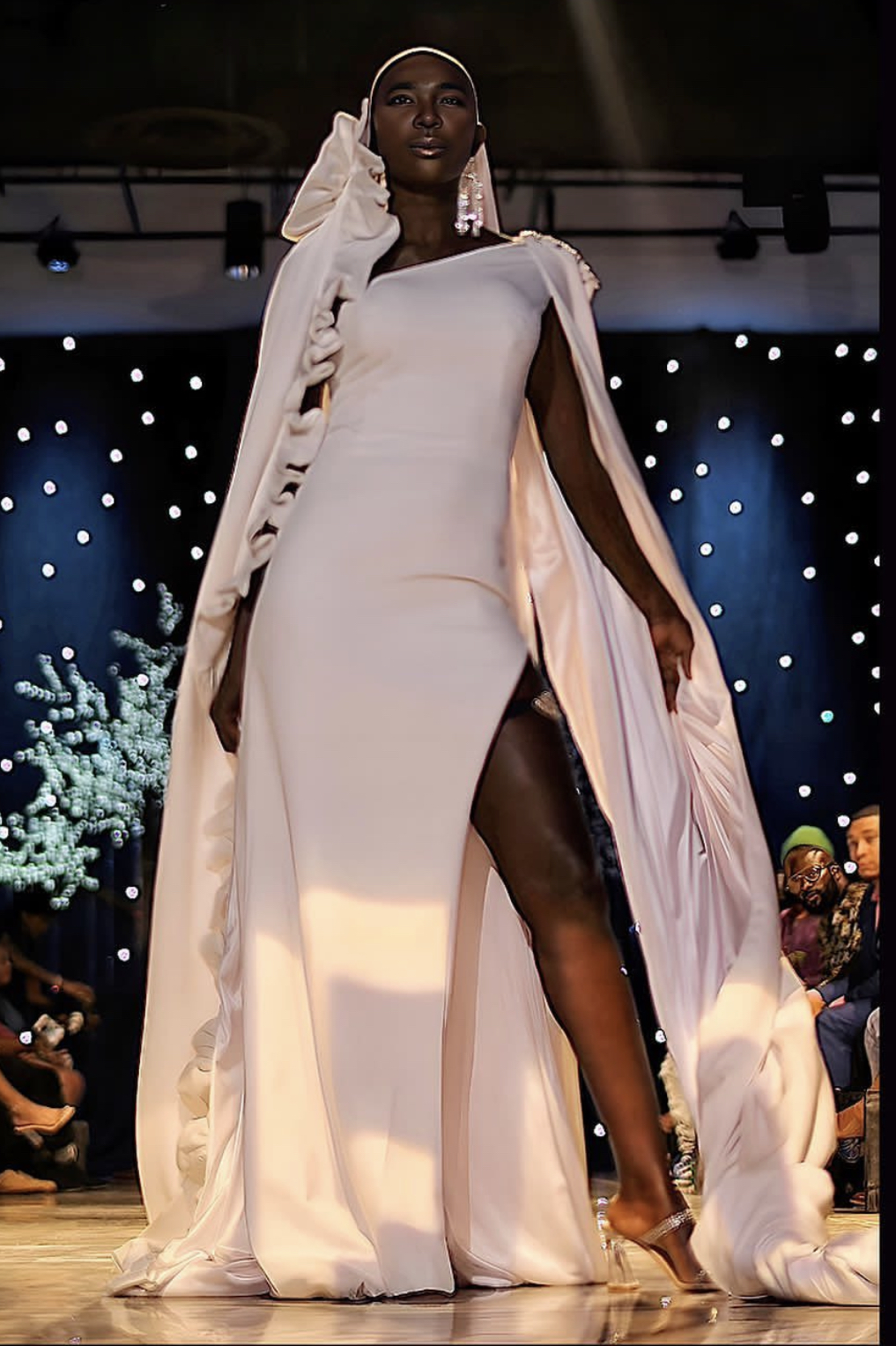 Haiti, where Santia grew up, has a special place in her heart and in the film. We never truly forget where we come from and the journey we have taken. Step by step, moving closer to our dreams. "I was pleasantly surprised seeing my country playing a vital role in such a meaningful movie that we can all look up to. It really makes me nostalgic and makes me reminisce of all my memories back home."
The movie honored Haiti by including significant details and tributes, such as the reference to the name Toussaint, T'Challla's secret son, that holds significant meaning. Toussaint shares the name of the most prominent figure in Haitian history. François-Dominique Toussaint Louverture is revered in Haiti due to his heroism. He was a Haitian general and the most prominent leader of the Haitian Revolution. He was born into slavery and remained enslaved for half of his life. He played a significant role in the downfall of colonialism, leading one of the most successful slave revolts in history, breaking the bonds of slavery.
Wakanda Forever has touched all Haitians, including Claude Joseph, Haiti's former Prime Minister, "Very emotional to watch Wakanda Forever. Interesting to see how Haiti is at the center of that movie. Wakanda is that Haiti we dream of, the one built at the dimension of its glorious history."
Through the art of film and fashion design, the story of triumph is woven throughout each creation. The film manages to unite us all despite our differences, leading us down the path to a brighter future. There is nothing we can overcome without determination, strength and compassion for all people. Black Panther is an inspiration to the Black community that has affected an entire generation so positively. It is so much more than a superhero movie. Its impact on the Black culture is profound. Wakanda Forever!