Pride and Punishment by Vera Spiller is a thriller that combines Russian history, conspiracies and intrigue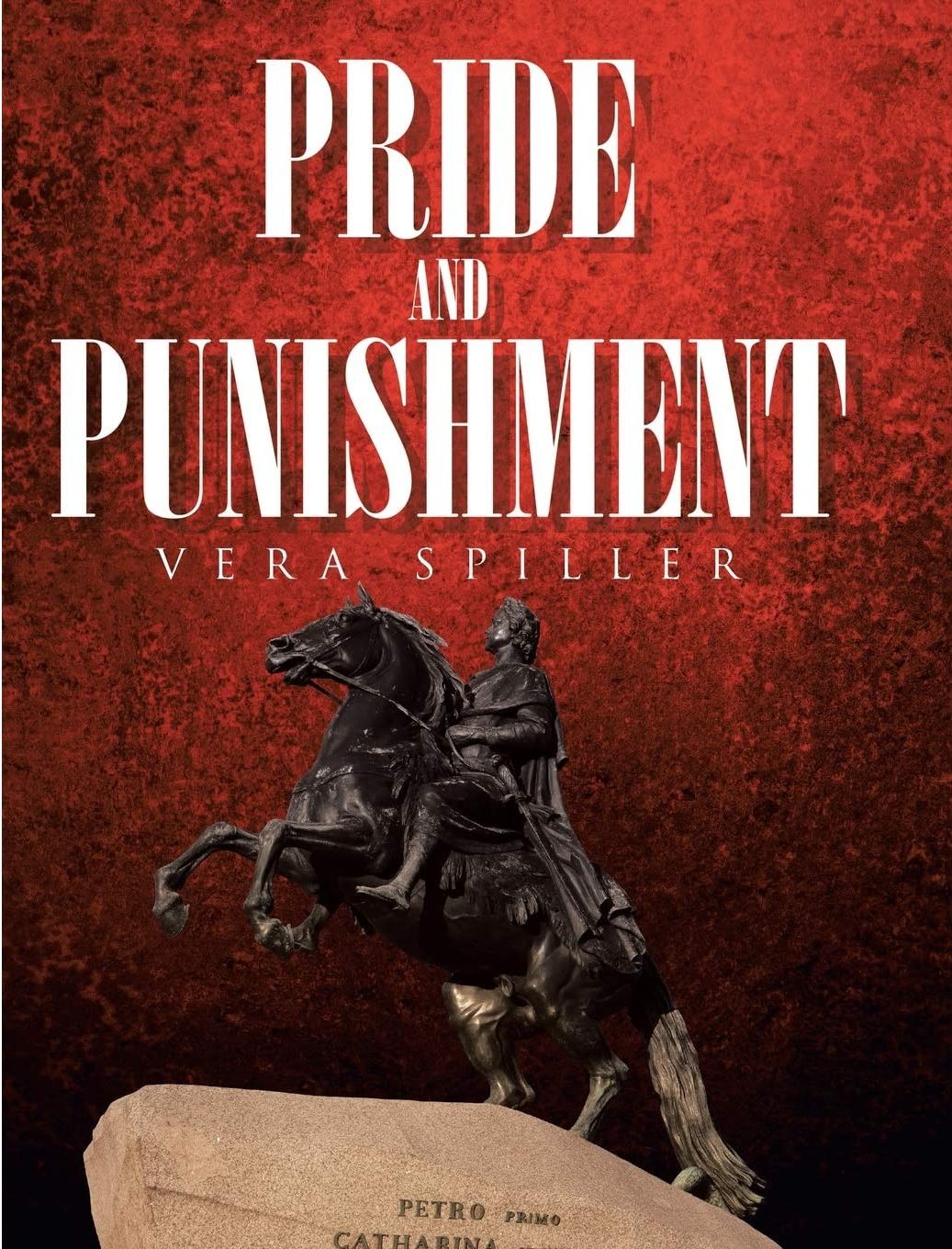 Growing up in Russia, Vera' Spiller's earliest influences were that of classic Russian literature. Her debut novel, Pride and Punishment, is an impassioned look at the revolutionary deeds of the famous men and women in Russian literary history, the violent conspiracies they hatched and their successes and failures in the process of creating what they believed would be an improved Russia. Vera has taken classic Russian authors and combined them into a fictitious story of history and rebellion. With twists and turns, she speaks of a revolution that left society stunned and the people behind the unrest to face the consequences of their actions.
"Life offers the most intriguing and unexpected twists in a person's destiny, more than any fantasy could."
What first drew your interest to Russian literature and this period?
I was fascinated with this period in Russia. They call it Alexander's or Pushkin's epoch. It was during the Regency period in Great Britain. I believe it was a less cruel time in Europe, as opposed to the twentieth century with its mass atrocities and world wars. There were wars at that time too, of course, but the enemies could talk and respect each other. They did try to follow some "chivalrous" rules. Leo Tolstoy tried twice to write a novel about them. In the end, he went to their origins and wrote War and Peace.
How long did it take you to write the book?
If I say decades, I have to explain. I tried several times to publish the book in Russia. I'd been working on for years straight after college. In 1987 I received a short letter from the publishing company Sovremenik. In their words, they "regretfully" rejected it due to the shortage of paper. Paper was reserved for printing important documents. I never got feedback to know if it was good or bad. There was never a critique in the rejection. I still have the letter. When I moved to the United States, I was busy adapting to my new life, the language and everything that came with it. I didn't think about publishing for a long while. Several years ago, I finally decided to do it. I had seen online many debates about that time period in Russia. It triggered my interest again. Fortunately, I had kept my old material. I added to it over time with more research.
Did you always want to write on this topic?
Yes, I did want to write on this topic, if not always, certainly for a long time.
Where did your love of reading come from?
I got my love of reading from an early age. It was mostly Russian literature, because I lived in Russia. With time I learned to appreciate its depth, humanism, search for the truth, and so on. Classic Russian literature is for the mind and soul. Things changed as the nation took shape. I saw a big difference between classic Russian literature and Soviet literature. They say it's supposed to take its roots from classical Russian, but that gave you nothing, except propaganda.
What do you love most about books?
I just love books. I love feeling the weight of a book in my hand, even the way they smell. I love the anticipation that I will learn something new and unexpected.
What books inspired your novel?
There were many books. As for the topic of interest of my book, it started with the book Polar Lights by Maria Marich. It was about the rich, powerful people of the past that sacrificed everything in order to realize their ideas. I also read Memoir and Correspondence by Ivan Yakushkin, two big volumes of Pushkin In Memoirs of His Contemporaries, and Griboyedov in Memoirs of His Contemporaries. There was also a thick book Decembrists in Memoirs of Their Contemporaries and many volumes of Cases of Investigative Committee for serious scholars. I got hooked. I understood that I was learning about people as we all are, with merits and shortcomings, not just literary or historical legends.
You were inspired by real words, yet then turned them into a thriller. How did the idea come to you?
I followed the stories about these people by reading their letters, memoirs, even their depositions to the Investigative Committee. I tried to get as close to their thoughts, their inner world, as I could.
During your research for the book, what interesting things did you discover?
Life offers the most intriguing and unexpected twists in a person's destiny, more than any fantasy could. As for the topic of my book, I once came across a real find. It was a thin book with the title The Journal of Alexander Chicherin. The author of this journal-diary was a nineteen years old officer of Semyonovsky regiment. He wrote it in 1812 and 1813, till the last day of his young life. He was killed in the battle that he fought beside his friends, who became main characters in my book. Chicherin had died long before the action in my book took place, but he gave me a deeper understanding of the personalities I wrote about. For example, he mentioned "insurmountable shyness of both my Trubetskoy." This short phrase indicated his close friendship with two brothers and also why the choice of Prince Trubetskoy as a leader of the rebellion turned out to be a disastrous one; insurmountable shyness grew into indecisiveness.
You also delved into the love story into your book. Can you talk about that?
I put some of Chicherin's remarks about Yakushkin as the words of Yakushkin's love interest in my book. I wrote about people, a legend and not, that in real life knew each other and were well connected with each other. It was a small group, a lucky thousand, they called it. Pushkin described Natalia Fonvizina as Tatiana in Evgeni Onegin. But they had never met and there was no proof of it. However, there was a great probability, that Pushkin's close friend had told him about his love for this married woman. Another example. There was no mentioning that Volkonsky and L. Tolstoy ever met, but the possibility of it looked great, due to the circumstances and the fact that they both were relatives. Pushkin was acquainted with almost everyone from that "thousand." I tried find possible intriguing and unexpected connections among those people.
What are you working on currently? Is it the same genre, or something completely different?
I'm working right now on another book that revolves around the same topic. There's still much more to say on this subject. I haven't thought of writing in other styles or genres, but maybe when I complete my second book, I'll revisit the thought.
What would you like to let other writers know about not giving up on their work?
Don't give up. I wouldn't change a thing about the writing and publishing process of my book. Yes, it took long, but I don't regret it. Daring to try a new experience was worth it. If I succeeded in publishing my book in Russia, my life would have gone a different way. I would certainly have missed the experience, that I had. You are capable of more than you think you are.
Pride and Punishment is available via Amazon and Barnes & Noble.

Breakaway Magazine
Breakaway Magazine is an international, independently published magazine and online platform for the mind, body and soul. Through diverse voices we feature inspirational people and their stories. Breakaway Magazine features global creative talents through the editorial content we publish; allowing this talent to be fostered, recognized and emerge. "The company reaches millions, connecting with an audience interested in more than just the trend, but the deeper meaning." - JB Livingston, Founder/Editor-In-Chief. Read more on our about page.