Movement in the wild: Inspired by nature with dancer Billy Mustapha
Photography by Ernest von Rosen
Videography by Meaghan Gipps
Filmed in Vancouver, British Columbia at Stanley Park & Third Beach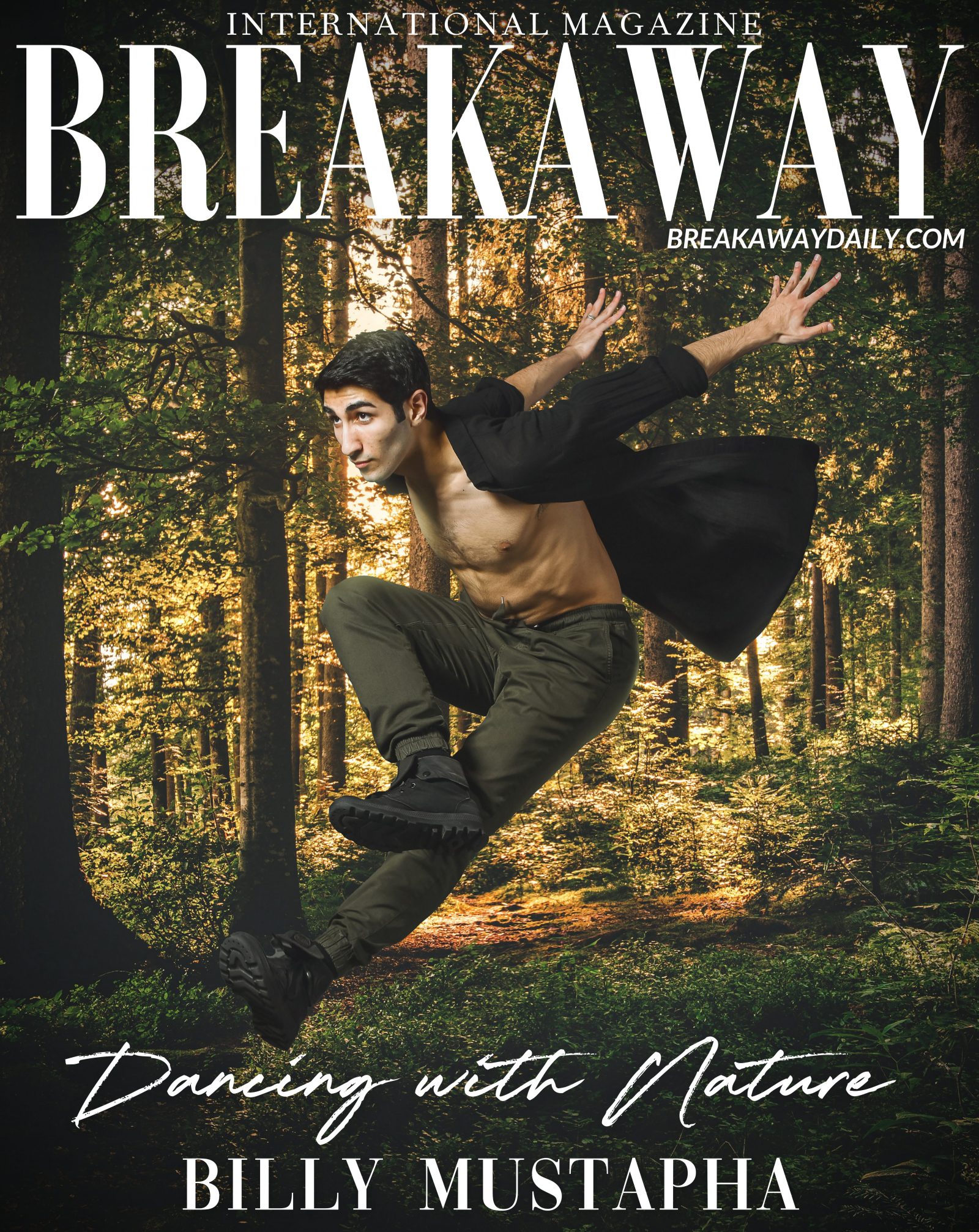 Influenced by the nature-rich resources of his Canadian hometown of Calgary, Billy Mustapha has a passion for storytelling in the wild through movement. Using nature and fluid choreography, he creates a poetic fusion. Commanding his body and his mind, he connects emotionally to nature through dance.
Billy is has trained extensively in hip-hop, tap, ballet and jazz. While living in Vancouver, he worked as a dancer and skeleton crew on several prestigious projects including ABC's Once Upon A Time, Disney's Freaky Friday, Star Struck: A Cinderella Story, Christmas Chronicles Two with choreographer Christopher Scott and on Disney's Descendants 3, under the direction of Kenny Ortega and Jamal Sims. He has also worked as the assistant choreographer on Apple's national TV commercial The Stuntman alongside choreographer Jillian Meyers. Most recently, Billy has been working as a series regular on Zoey's Extraordinary Playlist with Emmy award winning choreographer Mandy Moore. Billy is currently living between Canada and the United States, while he continues to pursue his love of the art form.
Through our in-depth conversation we gain insight into Billy's love of nature, how we can all reconnect with Mother Earth through the practice "grounding," pursuing dance as a first-generation immigrant and finding freedom in a time of isolation.
What are some of the things you love about dancing in nature?
Dancing in nature is one of my favourite ways to spend my time. I find so much joy when I see the elements dancing with me. Feeling the wind blowing and the earth beneath my feet is so grounding for me. Being in nature makes me feel more present and relaxed. This helps me move freely and express how I am feeling or the emotion I am trying to emulate when I am improvising.
How does your surroundings inspire your organic movement?
It is interesting for myself to notice how I move differently depending on where I am or what is surrounding me. I find that when I am dancing in the forest, the deep rooted trees that have been planted for years, influence me to stay grounded, resulting in me moving with patience and strength. Sometimes the wind blows a leaf on a specific piece of musicality or the waves crash on a big build in the music. I have even noticed the sun dancing with the clouds to create different lighting and moods throughout one video.
When I performed to "When I Go" I remain planted on one leg for the first two minutes. I think my body felt influenced to stay stationary and stable because of the sturdy tree stump I was dancing behind. When I dance by the ocean, I find my movement to be more fluid and wavy as a result of the constant flowing water.
Do you find a lot of value in the unpredictability of the atmospheres?
Definitely. Sometimes the soil or grass is uneven resulting in my weight being sent in directions or speeds that I wasn't expecting. Sometimes I think a boulder is stable, until I start to dance on it and quickly discover it is not. When my atmosphere influences where my body must go, it forces me to react immediately making my movement become a surprise to even myself. These spontaneous moments of recovery are sometimes my favourite moments of my improv because they feel genuine and honest since they are my human response to what I just experienced. Treating my improvisation as a response or conversation to what is happening to me and around me is a great tool for when my improv is feeling repetitive or if my body isn't inspiring itself to move on its own. Dancing in the forest is the closest I'll ever get to being able to "talk to the trees."
Do you prefer creating in nature?
I love that there is no limit to where I can travel when I am dancing in nature. The whole space becomes my playground leading to endless possibilities. Moving without boundaries can influence me to move larger and take up more space. I enjoy thinking of my surroundings as an obstacle course sometimes. Figuring out how I can creatively travel from a pile of boulders to another element and creating a movement in a way I have never done before. Or seeing a log blocking where I intended to travel and figuring out how to fly myself over it.
I also appreciate the cushioning that nature provides. When dancing in nature, there are usually some slips and trips so I am always grateful when some soft sand or grass breaks my fall rather than a studio floor.
Nature is healing and dancing is healing, so it only makes sense that bringing the two together would be therapeutic. How do you suggest people get back to nature and connect with Mother Earth?
I highly recommend you take yourself or a few friends to a forest, field, mountain, beach or even your backyard. I usually make a playlist or ask everyone to bring a few songs that they love and want to share. From there, all you have to do is listen to your body and the environment around you and move however feels intuitively good to you. No need to worry what it looks like, just make it feel good.
I like to start by planting my feet in the earth and feeling as if there are roots growing from the soles of my feet into the ground while I take a few deep breaths. Then I test the roots by seeing how far I can lean in each direction. This provides a fun and playful way for me to get into my body to start to feel the sensations within and around me as well as to begin generating some movement.
Remember to treat the space you choose to move in with respect. Don't forget to take care of the nature you surround yourself with and be sure to leave the space as pure as it was when you entered it.
Can you talk about your creative process?
My creative process varies between each creation. It usually starts with the music which will sometimes bring up an emotion or even a specific situation that I have experienced before. The music creates a story or intention that I can then build off of and collaborate with. It can feel like a daunting task to create something from nothing. I find this gives me a place to start choreographing or improvising without putting the pressure on myself. Instead, I can listen to what the music is calling for creatively. From there, it can become a game of problem solving of how I can smoothly make escape routes that lead into the next picture or visual without knowing where it's going to end.
What do you enjoy most about dance?
The thing that I enjoy most about dance is that it is always there for me like a good friend. Whether I come to dance to work through my problems or distract myself from them I always feel better after moving. Dancing has always felt like therapy to me. Expressing myself through movement feels like the most honest way for me to communicate. I am a believer that the movement that comes out of my body is usually coming from something I am feeling within my life. I like to use improv as a movement meditation to understand emotions I am feeling that words have difficulty describing.
Can you describe dancing through a character?
I love to approach my improv from the perspective of a character sometimes. Putting on a character allows me to move differently than I normally would or to be extremely dramatic without feeling like I am being crazy. This can take away that worry of looking stupid because in my brain its not me. I am just being a vessel for a character that I created in my head to move and express themselves. This idea of creating a character can make my storyline or intention clearer because I am already aware of what this character is feeling and what they are going to feel, rather than identifying how I am feeling and what I am trying to portray. This can make me feel less vulnerable when sharing art that I am personally connected to because I am showcasing it from a perspective of someone else.
Was there some hesitation when you told your family your wanted to pursue a career in the arts?
There has always been a large expectation in my household to attend post-secondary school. My mom didn't have the opportunity to go to university after high school; however, she saw the importance in education. As a superhuman she went back to school while raising me and my siblings. My parents worked tirelessly so I could have the opportunity to go to university. When I made the decision not to, this came as a shock to them. There was lots of uncertainty about me moving to a new city to do something they had minimal information about. Once I made it clear to them that I had a plan and that I had people guiding and supporting me, they were much more open to me pursuing my dreams. Since then, my family has provided me more support than I could ever imagine as I continue to work towards my goals.
What are your goals for the future?
I have many goals because there are so many avenues and possibilities within the dance industry. I would love to go on tour with a music artist one day. Music is such a large part of why I love to dance and I think it would be very fulfilling to dance while the music is happening live on stage, right beside me. A specific goal that I have had for many years is to dance on stage with the music artist Banks. I have been dancing and creating to Banks' music since I was a kid and her songs have influenced how I move to all music. I would also love to venture more into the choreographic side of the industry. It has been so inspiring watching my mentors create epic dance numbers from nothing but an idea.
How do you deal with rejection?
The thing I remind myself most when I'm dealing with rejection is that it's usually not about me or my dance ability. There are very few dance jobs that are purely based on talent alone. Often they are trying to cast a specific look, height, age, style or whatever it may be. This makes it feel less personal or hurtful when facing rejection. I like to think of auditions as a training or learning experience because then no matter what, I leave the audition with something gained even if I do not book the job. I like to keep in mind that not all auditions are made for me but when I persevere, I know that more auditions are coming and there will be a role that is meant for me. I like to take part in something that I love to do when I face rejection. Whether that means I spend some time with my friends and family, go to the beach or take a dance class, this usually makes me feel balanced. It also helps me deal with any emotions that are brought up.
One of my mentors told me that when she deals with rejection she gets a tub of ice cream and allows herself to feel bummed for two hours; after that it's back to preparing herself for the next one. What I love about this advice is that she showed me that whatever emotions that come up are totally fine and it is important to feel them. It is how we choose to recover and move forward from these feelings that is in our control.
Can you talk about how art is healing and a potential for growth?
Feeling anything is a reminder that I'm alive and it usually causes some form of introspection which inevitably helps me grow. That's what art does, it makes us feel, causing us to heal. It is so interesting to me how much we can feel just by watching someone else move. We are all having similar human experiences so we are often able to find a piece of ourselves in someone else's art. This can make art feel relatable and cause a large impact on an audience.
What does freedom mean to you?
Freedom to me is the ability to express myself openly and being able to share that expression with others in the time and place of my choosing. It is the autonomy to make decisions and have choices about my actions. I have always felt freedom when I dance and especially when improvising. It is the most freeing for me to turn on a song and move flexibly without having an outcome or expectation in mind.
How do you find freedom in a time of isolation?
This pandemic has granted me more free time than I am used to and has shown me the freedom that comes with decision making. Being able to choose what I do with my time is a practice of freedom in itself. I have been practicing yoga at home. This has provided more liberty in my physical body as well as the opportunity of choosing what my yoga flow will look like. I also started running on the paths of Stanley Park in Vancouver, Canada which allows me another opportunity to enjoy nature.
Describe art as a vessel?
There's a theory in the book Big Magic by Elizabeth Gilbert where she states that ideas are disembodied, energetic life-forms. These life-forms are constantly floating around us and as humans and artists, we are vessels that find these ideas and birth them into art. This helps me dissociate myself and my ego as it takes some ownership out of what I am creating and allows me to look at it as an observer. It also helps me when I am feeling repetitive or stuck because it reminds me that creativity is always flowing around me. I just need to remain present within my surroundings to fully take in whatever creative ideas that float by.
What are some of the biggest reasons you create and share art?
I know that when I see my friends and other artists creating and releasing art into the world, it inspires me to create and share. I hope the same happens for others and it results in a domino effect bringing more and more creations to life. I hope to inspire young dancers to pursue a career in dance if they want to! I want to be used as a tool to provide information about possible ways to build a career in the industry or even just to discuss their goals and help them find ways to achieve them.
Follow Billy Mustapha on Instagram.
Love our content? Subscribe yearly to help support the magazine. You can also support us on Patreon.
Contact hello@breakawaydaily.com for feature opportunities.

Breakaway Magazine
Breakaway Magazine is an international, independently published magazine and online platform featuring inspiring and empowering stories from around the world. Through diverse voices from all walks of life we feature inspirational people and their stories. Every story shines a light on barrier-breaking entrepreneurs, artists, creatives, visionaries, innovators, humanitarians and ordinary people who achieve the extraordinary. "The magazine reaches millions, connecting with an audience interested in more than just the trend, but the deeper meaning." - JB Livingston, Founder/Editor-In-Chief. Read more on our about page.