Breakaway Daily Interview with "Dumb and Dumber To" Star Steve Tom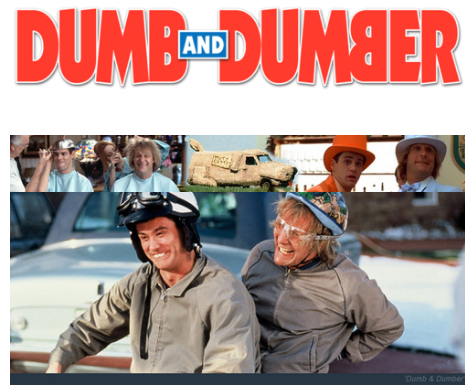 Steve Tom is enjoyed a thriving career as a television and film actor. Steve Tom has had recurring and guest starring roles in such television hits as Prison Break, Weeds, ER, Commander in Chief, Parks & Recreation, and Two and a Half Men.In 2012, he appeared as Senator Chris Dodd in the Emmy-award winning HBO drama, Too Big to Fail, opposite William Hurt, Paul Giamatti, James Woods and John Heard. His most recent television work includes a recurring role as Judge Craig Richwood on TNT's Major Crimes, and playing General Maddoxton in the IFC mini-series The Spoils of Babylon (starring Tobey McGuire and Kristen Wiig.) For two seasons, Steve was the critically acclaimed host of Will Ferrell's Funny or Die Presents on HBO. Well known for his versatility, Steve was also cast in Paramount's comedy The Guilt Trip, starring Barbra Streisand and Seth Rogen. 
Now Steve can be seen in a prime supporting lead role in one of 2014's most highly anticipated sequels, Dumb and Dumber To, alongside Jim Carrey, Jeff Daniels and Kathleen Turner.
"What really excites me about Dumb and Dumber To is that we have one of the best supporting casts we've ever had.  When you mix Jim Carrey and Jeff Daniels with pros like Steve Tom, Don Lake, Laurie Holden and Rob Riggle—not to mention Kathleen Turner and Rachel Melvin—magical things start to happen.  Steve Tom, not surprisingly, was particularly outstanding as the reclusive Dr. Bernard Pichelow."  – Pete Farrelly | Director of Dumb and Dumber To.
Thank you for taking the time to chat with me today Mr. Tom.
Absolutely my pleasure!
You have been in such a variety of films and television shows.  What have been some of your most memorable roles?
Well, there is no question that being asked to play Dr. Bernard Pinchelow in "Dumb and Dumber To", and then spending a month in Atlanta actually working with the likes of Jim Carrey, Jeff Daniels, Kathleen Turner, Laurie Holden, Rachel Melvin and Rob Riggle is my most incredible experience so far.  But that's what I love so much about what I do.  Every day is a new day, filled with amazing new possibilities.  But since you asked, my relationship with Will Ferrell that started with "Funny or Die Presents" on HBO has been something I treasure a lot.  There have been so many fun projects over the years…choosing my favorites is almost like choosing a favorite child. I don't actually have any children but I kinda think that's what it would be like!
Congratulations on your role in the highly anticipated sequel Dumb and Dumber To!  Were you like me and a massive fan of the original?
Oh, of course!  Who isn't?  I think there's a reason that Harry and Lloyd have become such iconic American characters and it's because they are so likeable, even through all of the dopey things they think and do and say. You just have to love them. And maybe even identify with them a bit, too!
Can you tell us about the character you play? It is cited on your IMDB that you play Dr. Pichlow, but I also heard that is just a clever diversion…
Yes, now that the film has been released I can say that the actual family name is Pinchelow. And, of course, there is a joke associated with the name that sets off a set of misadventures at a scientific conference where Harry and Lloyd have come to search for who they believe to be Harry's long lost daughter who was given up for adoption by her mother 22 years earlier.
Much of the plot of Dumb and Dumber To is top secret, is there anything you can tell us about what to expect from this movie and your role?
For those who haven't seen it yet, I think it's important to know that "Dumb and Dumber To" is NOT the original. It's 20 years later.  Lloyd and Harry are 20 years older.  They're middle-aged men now.  But the wonderful thing for us is that neither of them has aged a single minute emotional or mentally.  And that's where the magic comes from.  Even 20 years later.  As far as my role goes, I'm the patriarch of a wealthy family made up of myself, my much younger trophy wife, Adele (played by Laurie Holden) and my adopted daughter, Penny (played by Rachel Melvin). Dr. Pinchelow is eccentric and brilliant. In fact, something he has discovered plays a crucial role in the plot. 
How did your role in Dumb and Dumber To come about?
I had heard rumors about the project but it was sort of an on-again-off-again deal for a few years.  In the Spring of 2013 the casting director, Rick Montgomery, called me to say that Pete and Bobby Farrelly were planning a sequel to "Dumb and Dumber" and because they were big fans of my work on "Funny or Die Presents", they wondered if I would be interested in participating.  I nearly came out of my skin as I casually and calmly told Rick I was open to the idea.  But about a week later, Warner Brothers announced that they were dropping the project for a variety of reasons.  So we were back to square-one and the project was, once again, dead.  Soon after that, though, Universal picked up the film and we were back on.  In August I was called in to audition for Pete and Bobby.  I didn't think it went well but, lo and behold, about three weeks later my agent told me I was the directors' first choice.  After getting producer and studio approval, I was off to Atlanta in October to begin shooting.
With all your acting experience, do you still get nervous when it comes to auditioning and performing?
Oh, God, yes.  But only for film and television projects.  I don't have nerves AT ALL in commercial auditions.  I have no idea why that is.  Pretty sure that's destined to remain a mystery to me.
You shot Dumb and Dumber To in Atlanta. Can you describe the first day on set and what the tone was for the rest of shooting?
My first day on set was devoted to wardrobe fittings and meeting with key crew people and, of course, the directors.  My first day of actual shooting, I spent popping in and out of a broom closet with Kathleen Turner. And that was one of the best experiences of my life.  What a magnificent woman.  Regal.  Earthy.  Down-to-earth.  A thoroughbred in every sense.  We spoke of many things in that closet that day.  Perhaps I'll write a memoir.
What was it like working with Jim Carey and Jeff Daniels?
Jim and Jeff are the perfect Yin to the other's Yang.  Jeff is always creating, always thinking. He's always in the moment but, at the same time, about 10 steps ahead, thinking of what's next.  Jeff Daniels is much more laid back.  During setups between scenes, he would usually find a quiet corner somewhere on the set where he would plug his earbuds into a travel guitar…and just play.  He's an incredible guitarist, which I appreciate.  We're both huge fans of Joe Bonamassa, which was the first thing we found in common.
Do Jim and Jeff like to make jokes on set, or do they save most of their comedy for when the cameras are rolling?
The guys both have wonderfully wicked senses of humor, and there was a lot of laughter on set.  And I mean A LOT.  And adding a guy like Rob Riggle to the mix is a recipe for continuous stomach aches from laughing too much.  Yeah.  We laughed quite a bit.  On and off camera.
What kind of mindset do you always try to have while shooting?
Well, even though I always have a terrific time on every project I'm involved with, I have to remember that making TV and films is a business and at the end of the day, we have to have something to show for being there.  When it's time to be professional, that's what we do. 
There is an old saying you have mentioned – "you cannot feel your own handshake." Which in other words means one cannot evaluate how others will see them.  As an actor, where you are trying to be aware of how you are being portrayed on screen, how do you overcome this?
There are certain technical tricks that you learn as an actor that help your on-camera persona but, essentially everything that isn't performance-related is out of my hands. Lighting, photography, sound, things like that.  I do what I can do from a performance standpoint to bring my character to life and realize the director's vision.  But I like to surrender much of that responsibility to the crew, which is a vast army of wonderfully trained people who are paid to make me look good. 
You appeared in the fourth season of one of my favorite shows, Prison Break, portraying Scylla cardholder Stuart Tuxhorn. Can you talk about this experience?
I absolutely loved my time working on 7 episodes of "Prison Break" – most of it in scenes with the amazing Leon Russom, who played Johnathan Krantz, "The General".  As you said, I appeared in the show's final season.  And, although some feel the show had jumped the shark in terms of plot feasibility by that time, I thought the season was complexly interesting. And being directed by Bobby Roth and Kevin Hooks is something I'd wish for every actor.
What is it like playing a judge on Major Crimes? Did you do any special research in preparation for that role?
My recurring role as Judge Craig Richwood on "Major Crimes" is my current happy place.  I've never worked on a television set that was as welcoming and family-like as it is.  Everyone from Mary McDonnell to G.W. Bailey to Tony Dennison to Kathe Mazur, and every other regular and guest cast member on the show, has been a delight.  No special research, really.  I've sat in the gallery through a few court proceedings in my life and I've always been fascinated at the detachment of the judge.  That single quality is what I try to bring to Judge Richwood's bench – always knowing that how he "feels" about a case is never the master that must be served.
I would love to know what you are working on next.
Well, I have a wonderful commercial client that I'm about to begin my third year with.  It's an off-camera voice role.  Incredibly fun and often challenging.  And I'm very excited to announce that I will be returning in the second mini-series produced by Will Ferrell for the Independent Film Channel.  Our first was called "The Spoils of Babylon" – a fictitious novel written by a pompous, self-important sot of a wino named Eric Johnrosh (Ferrell).  Val Kilmer and I played a pair of murderous army generals among a virtuoso cast that included Kristen Wiig, Toby McGuire, Tim Robbins and Haley Joel Osment.  "The Spoils Before Dying" begins shooting in March of 2015.
Looking forward to that Steve! Thank you!
If you would like to keep afloat of all of Steve Tom's work follow his Facebook and Twitter, or check out his official website. 
Dumb and Dumber To is in theaters now!
Have you seen Dumb and Dumber To? What did you think?

Breakaway Magazine
Breakaway Magazine is an international, independently published magazine and online platform for the mind, body and soul. Through diverse voices we feature inspirational people and their stories. Breakaway Magazine features global creative talents through the editorial content we publish; allowing this talent to be fostered, recognized and emerge. "The company reaches millions, connecting with an audience interested in more than just the trend, but the deeper meaning." - JB Livingston, Founder/Editor-In-Chief. Read more on our about page.