Santia McKoy is using her artistry to show her support of the Haitian revolution and the protection of its people. Her gesture of solidarity has been directed at a cause close to her heart and home that reaches beyond borders. Santia has designed this symbolic homage to her homeland in distress, which speaks of the unity between the everyday men and women who are fighting for their freedom from oppression. "As a Haitian designer who is constantly inspired by my country, I felt compelled to take the initiative to make something powerful out of this horrific situation."
Haiti is currently living in fear due to the increasing number of violent acts and kidnappings, and it's time to put a permanent end to it. The streets of Port-Au-Prince in Haiti's capital have been plagued with violence for years, with residents growing tired of the oppressive gang control. The limited resources and inadequate judicial and security systems have caused a rise in vigilantism. This has created an ideal environment for vigilante groups to become involved in this and other illegal activities.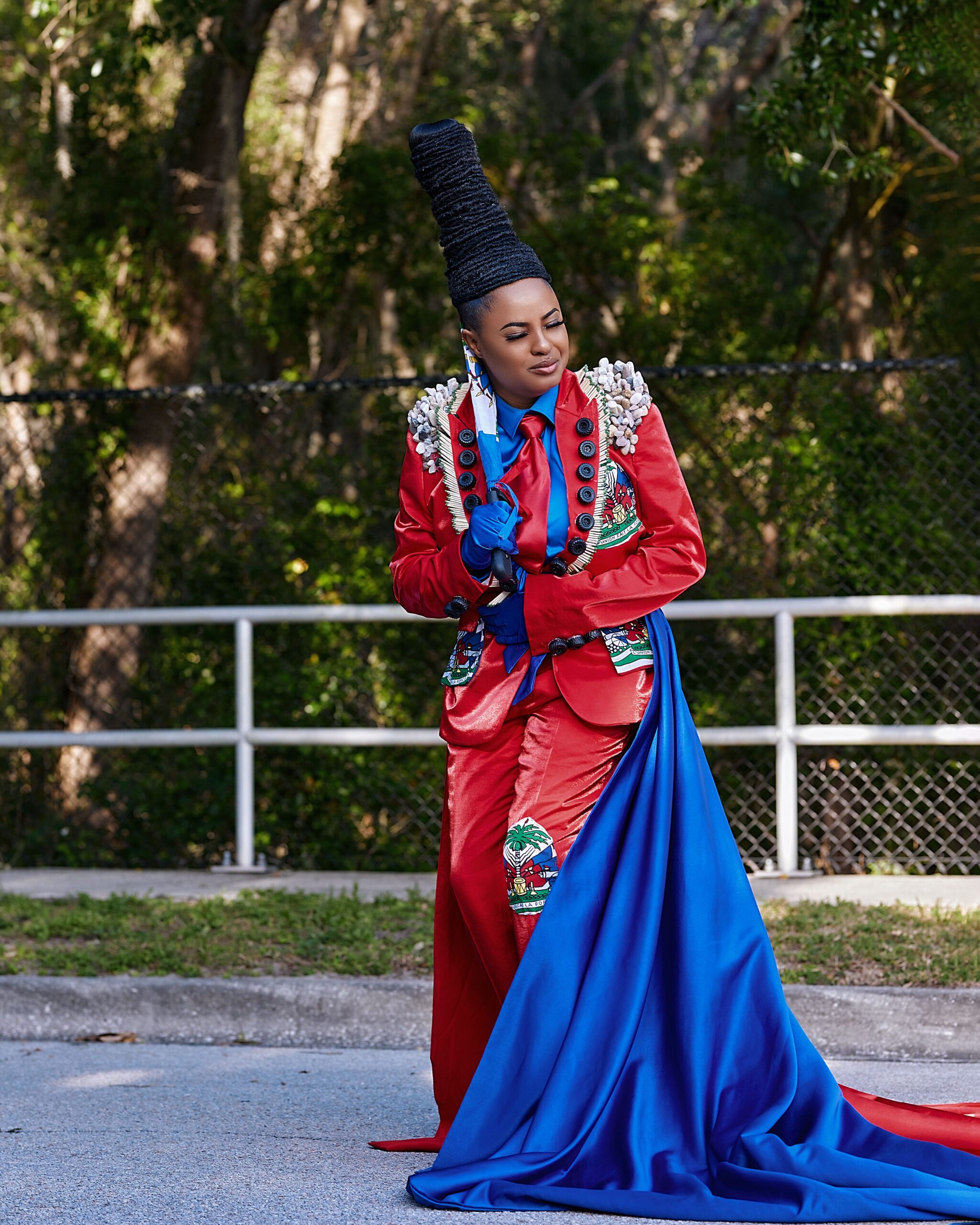 "Bwa Kale" is a vigilante movement that has taken over the country. "BWA Kale" is the Haitian Creole expression for "peeled wood," a representation of speedy retribution. The citizens of Haiti are taking matters into their own hands regarding gang violence, hunting down and sometimes killing suspected gang members. Even though the government has requested international assistance, no country wants to get involved. The people are suffering. Children are suffering. Haitians are calling on the world to be their allies in their quest for security and a better life for their people, so they can eventually reside in their homeland, as all people deserve to do.
Santia's symbolic use of matches, rocks, pebbles, tires and a machete to signify different parts of the gang violence that is going on. These are the items that are being used to torture and murder people. A reference to the hideous practices of the oppressors, filling tires with petrol and lighting them around trapped members of the public who dare to speak out.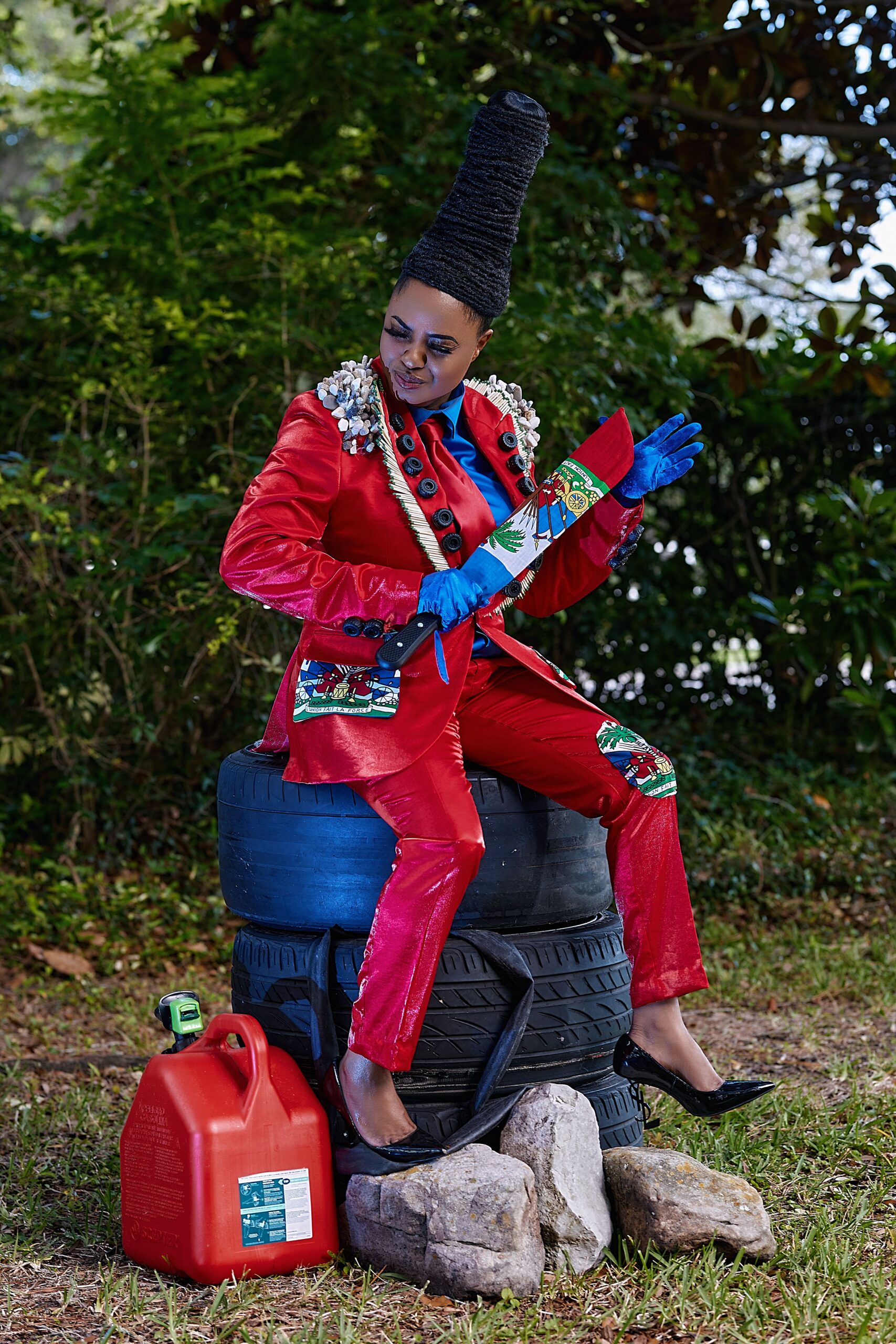 The people of Haiti are a courageous group of proud individuals who should have the right to life, love and liberty. Three values that this piece not only speaks of, but shouts out to the world. The dual colors on the piece are reflective of the Haitian national flag of red and blue. The words "L'union fait la force" are embellished which are the words on the Haitian flag meaning "unity makes strength." This is a message that she has instilled in her three daughters as a proud mother, and now wishes to pass on to the rest of her nation. "Haiti's culture to me is unity. No matter what my country or its people goes through, unity is the root of everything."
Like its creator, this piece is bold and a glowing light against the darkness of oppression. Brave voices must continue to speak out in words and actions fighting against such atrocities. They will not be silenced, and these are the voices that will change the fate of Haiti. "My heart just feels heavy. My dream is to go back to my country and feel safe and not fear for my life. I will continue to support my country with this fight to reach peace and unity." Standing up for her country, Santia's outcry for her people is a stunning representation of the beating heart of Haiti that is pleading for help.
On Haitian Flag Day, May 18th, Haitians will march in protest of the dangerous and often deadly gang violence plaguing their homeland amidst political unrest, rising kidnappings and killings. Haitians from Florida, New York, New Jersey and additional states will be marching in the streets of New York. The Family Action Network Movement in Miami has organized "A day of solidarity with Haiti" which will be taking place at 10 a.m.