Breakaway Daily interview with New York fashion designer Vena Dehal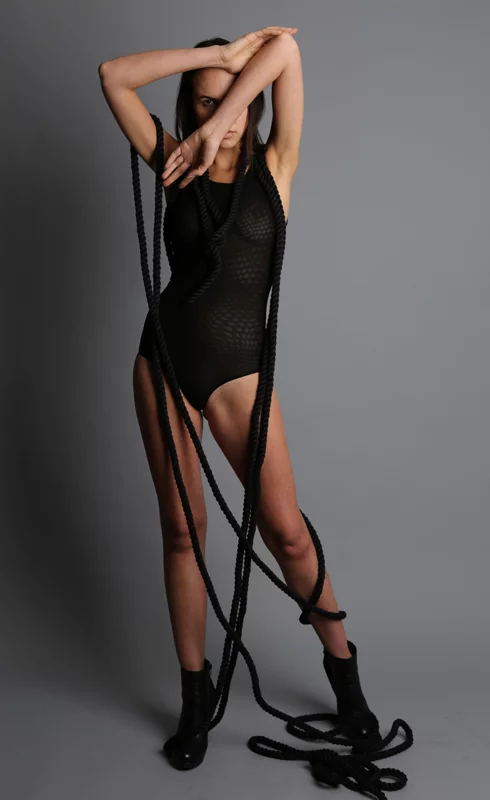 Vena held a well established career in finance in New York City. Zealous and hungry for self fulfilment, Vena armed herself with new training in fashion design and spent time evolving as a designer. Working under different niches and commercial labels alike she found her very own aesthetic. In late 2016 her eponymous line Vena Dehal was born. It is a mercurial label. Rather than ascribing itself to a box, Vena believes that artistic intonations adapt with life and occurrences around us. The variability in this expressive sphere is what makes living and breathing through it all the more riveting.
BREAKAWAY DAILY: Tell us about the minimalist and whimsical theme that your clothing line is about.
VENA DEHAL: Well, it might sound somewhat divergent as a concept having the perimeters of minimalism yoked with the offbeat, but then again that's where the art and exploration lies. I spend a great amount of time analysing and developing ideas to join them where one doesn't expect. I can't help it, it comes from my background in numbers I guess. Meticulous, often times to a fault, because my mind was geared towards always achieving a perfect bottom line… I will even go to say that it was the hardest impediment I faced when I switched to the creative field. It requires of you a re-learning of experiencing things around you and life as a whole. Schooling helped with that. I learned to make myself aware that a work of art is never an end in itself. I eventually figured that constant exploration is in essence the creative process. And this is where working with other designers and labels in New York became an invaluable learning curve that I could never trade in for.
BREAKAWAY DAILY: How does your inspiration to creation process come about?
VENA DEHAL: I have never been one to fit to the box. I wish I could stick to a
rundown process every time, but by virtue of creativity, this doesn't happen enough. Thank
goodness for deadlines! But my own life, my close interests and even things that I learn through travels or just by living life in general usually inspire me. For example, I explored for a little bit the concept of wabi-sabi in my last collection. The idea of finding beauty in imperfect things. More broadly, the acceptance of transience and imperfection. It led me to a whole different direction from what I had in mind when I first started. So, the collection evolved intrinsically. At other times, I work backwards. Sometimes I see the lines or shape I would like and start draping my idea organically from there. A collection can come out from so many different starting points – drapes, vision, fabrics, texture, colors, presentation. Every collection at the end of the day is very personal to me. How the wearer feels when putting on the finished product is my ultimate key answer to be found throughout my entire creation exercise.
BREAKAWAY DAILY: Do you adopt your own aesthetic in your everyday life?
VENA DEHAL: I try to. I would love to. Unfortunately, the market does not cater much to petites like myself. At my height, one either has to get clothes made to measure or stick to the few brands that do offer sizes cut for petite frames. This makes it very limiting in terms of choices, quality and expressing your aesthetic through your outfits of the day. However, I am looking to offer my line in the petite range. Like other 'special' sizes, petites do need more pampering in the market.
BREAKAWAY DAILY: Would your line be adequately described as avant-garde then?
VENA DEHAL: You know, even I initially started off with that notion. But then this invariably brings to mind some known avant-garde pioneer brands, and then the aesthetic expectations that arise from that. While I will say that it somewhat touches on the avant-garde, I would also not limit myself to ascribing my designs to just that. My garments are a nice confluence of clean lines and unexpected silhouettes. Usually to the naked eye, this combination looks somewhat avant-gardist. My motto is if my design makes my customer turn around and want to look again to examine, then I've achieved my intent. Yet, I stay clear on the approach that design, like everything else, is always evolving.
BREAKAWAY DAILY: It's a big change to embrace the world of fashion with your
background. Who is Vena?
VENA DEHAL: Perhaps. Looking back at my life, I find that it's been all about big changes.
And I absolutely love it this way! I'm probably from the pool that lives for the new, and the
'there's got to be more to it' sentiment. I don't think I would be too happy if I lived in a known comfort zone for too long. I grew up on the beautiful Island of Mauritius – its white sandy beaches, colors, customs were my first steps towards understanding what's around me. Then, I spent almost a decade in Singapore where I studied and worked, and that opened my eyes to a whole new world of cultures, even more customs and colors but ever so very different, and so beautifully fascinating in that difference. Now my journey has brought me to New York, another highly contrasting change in my expanding exposure to this marvellous world of experiences we live in. From a colorful island girl to a classic New York all-black clad, it's been such an enchanting adventure and I can't wait to find out what's next. In fact, it is this openness to change and possibilities that makes working as a designer all the more stimulating.
BREAKAWAY DAILY: And your introduction collection Antipole is a sneak peak? Do you struggle with wearability and artistic expression?
VENA DEHAL: Antipole is a creation that came out of a moment of extremes. It is indeed a concordance of raging waves and the quietness you hear when at a standstill. I allow life experiences to guide me, often times it's the best way I know that inspires me to create. In times of diversity, one is forced to look for serenity in the hardest to find places. But the growth from that place of obscurity is unparalleled. Hence, you see hints of the slightly demure standing up to the boldly assuming avant-garde creations in the same collection. It's basically an honest portrayal of duality, transience and to a fair extent, wabi-sabi. While Antipole is a project very dear to my heart, it is more likely suited for a specific niche. I think wearability is about personal comfort. What might seem outrageous to me may be just what suits another person. Design allows us to continue pushing those barriers of experimentation.
BREAKAWAY DAILY: Is this the direction you're taking with your branding?
VENA DEHAL: Very much so. My label is about feeling good in your skin. It will appeal to an audience that knows very well what looks good on them, what parts are good to accentuate, what silhouettes are perhaps best avoided, etc. In more mainstream terms, it's like a niche fashion insider camp. As I take great care in considering body shapes and frames, you are bound to find garments in my collections that are made to fit body types better. To me, this is my idea of sustainability. Once you find what looks good on you, there is almost no need to always wait for the newest trends. You already have hanging in your closet some of the most flattering pieces and it's just about updating them once in a while.
BREAKAWAY DAILY: What's the next step for Vena Dehal?
VENA DEHAL: I am working on my next collection which will be offered commercially. I'm so excited about it. Watch out for the release!
BREAKAWAY DAILY: And you've won an award too!
VENA DEHAL: Oh yes, that was such a welcome surprise. To be recognised for hard manual labor [laughs.] I'm grateful for IDA Design Awards to have given my project the honor. It's humbling really.
BREAKAWAY DAILY: And a final word on what moves you as a designer?
VENA DEHAL: A beautifully crafted classic blazer with the right 90 degree angle shoulder placement. Or, in the spirit of duality, also an oversized throw-on sweater that's so out of place that it looks just right. Fit like a glove is one thing, but also head-turning is the baggy look. It's an expansive realm, everything has a place here.
For more information on Vena Dehal's line visit VenaDehal.co

Breakaway Magazine
Breakaway Magazine is an international, independently published magazine and online platform for the mind, body and soul. Through diverse voices we feature inspirational people and their stories. Topics include wellness, mental health, social psychology, personal development, spiritual growth, mindfulness, mindset, self love, self care, the higher self, empowerment, nature-based healing and more. Breakaway Magazine features global creative talents through the editorial content we publish; allowing this talent to be fostered, recognized and emerge. "The company reaches millions, connecting with an audience interested in more than just the trend, but the deeper meaning." - JB Livingston, Founder/Editor-In-Chief. Read more on our about page.