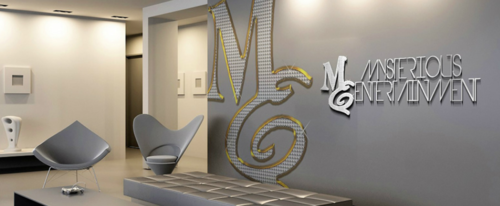 Breakaway Daily Interview with Dino, CEO of Mysterious Entertainment
Dino is a multidimensional rapper that is skilled in writing, artist development, mixing, engineering and mastering. He is also founder of the major independent record label "Mysterious Entertainment." Combining his years of military and music making experience he has created a new standard for independent artists.  Being the great-nephew of the famous Blues singer Fats Domino, Dino has been around music his entire life; so it is no coincidence that he found his way to the music industry.  
What was it like growing up being the great-nephew of the famous Blues singer Fats Domino?
Honestly I as a child I really did not know who he was.  I would see him at family gatherings and just thought he was some "old man" like the rest of the adults.  It wasn't until I became an adult that I understood who he was and what he had accomplished. .
 How do you think that shaped your musical path today?
It definitely explains why I was so fascinated with creating music at an early age and even receiving punishment form my parents and grandparents for "making beats" on the church pew during Sunday Service.  To me it is obvious that music was embedded in my DNA.  And, I have been involved in music since 1991 when my great uncle surprised me and let me tag along with him into the recording studio. 
Do you have a personal favorite song of his?
My personal favorites are "Valley of Tears" and "Blueberry Hill."
What made you want to start Mysterious Entertainment, your indie record label?
Initially, I just wanted to be an artist, make music and get signed to a major record deal.  It wasn't until I mailed over 100 Press Kits to every record label contact I could get my hands on and was rejected by all that I decided to start my own company.  At the time, it seemed as if the successful people in the industry were not interested in sharing any of their success with anyone "beneath" them.  So I decided to put together a label that would actually help the "starving artist" to gain some level of success in the industry. 
Can you briefly describe everything Mysterious Entertainment does for an indie artist?
Mysterious Entertainment is literally a "one-stop-shop" for the independent artist.  We have a team of producers (Boss Beatz Productions) that provides industry standard instrumentals, certified recording, mixing and mastering.  We have a web based platform where all artists have access to all instrumentals and the ability to collaborate with each other regardless of their location.   We provide venue and event booking via one of my sub-companies LimeLight Booking throughout the Southern Region.  We also provide artist development to assist the artist in being competitive with mainstream artists.  In addition, we have a marketing and promotion team that generates promotion items (ie flyers, banners, graphics, etc) at little or no cost to the artist depending on the event.  We also have two recording studios where the artist can record for free; ultimately we assist the artist in setting up a small home studio where they can record their vocals and send back to the engineers for mixing therefore maximizing their time and creativity. 
Why did you want to go the indie route versus mainstream?
After conducting extensive research, it was clear to me that the independent route would produce greater benefits from having complete control over your material to maximizing your financial profit margin.   However, it is the most difficult route to take because success or failure rests solely on the independent artist.  It's a lot of hard work, but to me it is worth it. 
Why did you think it was important to set yourself apart from other rappers and be proficient in all these musical avenues such as mixing, engineering, and writing lyrics? As well as the business side of things?
As an independent artist and label, you must be able to compete and level the playing field with mainstream artists and major labels; just being an artist is not good enough.   Having the ability and expertise on writing, performing, recording, mixing and mastering your own music is a huge advantage because you can get more done with your available time and more importantly reduce your overhead.   Knowing the business aspect of the creating, releasing and marketing your music is a plus and just enhances the previous stated reasons.  Reducing the level in which you have to rely on or pay and outside entity is very important as an independent artist or label. 
Can you describe what a typical day is like for you when you are working on your own music plus running Mysterious Entertainment?
Well, as some may know I am a full time Soldier in the United States Army and have been for 16 years.  So I typically get up around 4:30am and conduct Physical Training.  I usually do not have a set time to get off so sometimes I get home as late as 8:00pm.   During my work day, I am constantly receiving phone calls and texts regarding Mysterious Ent.  So I am juggling my Soldier's issues, my military obligation and my company all day long.  After I get home, I will cook (if it is my night to do so), then hit the studio to either mix one of my artist's songs, write lyrics to one of my own songs, compose an instrumental or engage in a studio session with an artist.  If I am done by a certain time, (somewhere between 11:00pm and 12:00am) I will work on graphics for cd covers, flyers, etc. Then I normally go to bed around 1:00am or 2:00am. Then back up at 4:30am to start it all over again.  
What are you working on next?
We are currently working on the next installment of the Southern Riot mixtape series; it promises to be the best one from the collection. We also are putting together the debut EP release of Rah Talynt entitled "Rah Diamond" and the debut EP's from Kaysha and Marquee; not to mention my own EP entitled "PURE". We also have a few upcoming performances worth mentioning: we will be performing with Swisha House during the South by Southwest (SXSW) music conference in Austin, TX as well as Spring Break down in Padre Island.
Management: MYSTERIOUS ENTERTAINMENT LLC 832-304-3466

Booking: LIMELIGHT BOOKING – 210-685-0110

Media – URBAN STARZ MEDIA & P.R Lashaun Turner 951-665-8365