The Monster Within: "Hemlock Grove" TV Review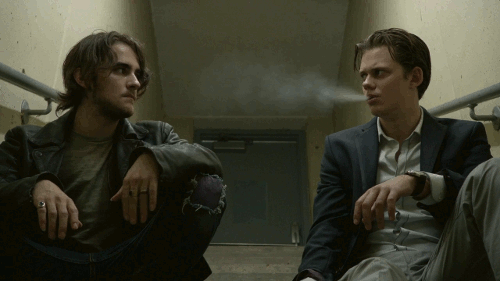 Why you should be watching Netflix's hour-long horror series Hemlock Grove that is bloody, weird, and awesome!
Hemlock Grove is one of my favorite shows and it has been renewed for a third and final season! It is a supernatural show that has elements in it you might be sick of (vampires, werewolves) but it uses them beautifully for further character development, interesting storytelling, and metaphorically.
Hemlock Grove is an American Gothic horror television series that is a mix between American Horror Story, Supernatural and Bates Motel. Definitely check it out if you love supernatural, mystery, horror, unique and campy television shows! It is based on a novel by Brian McGreevy and was brought to Netflix by executive producer Eli Roth (Hostel).
Hemlock Grove premiered April 19, 2013, with all 13 episodes made available for online viewing. The show takes place in Hemlock Grove, a fictional town in Pennsylvania (but that is actually shot in Toronto, Canada). When a teenage girl is brutally murdered in this small town, its sparks a hunt for her killer. But in a town where everyone hides a secret, will they find the monster among them? It's creepy and weird and beautiful.
The two male leads are captivating and have great chemistry, similar to Supernatural's Sam & Dean Winchester. True Blood's Alexander Skarsgård 's little brother Bill plays Roman, and is equal parts sympathetic and sociopathic. I had not seen Bill Skarsgard in anything before Hemlock Grove, but he has made me a fan. Fellow Canadian Landon Liboiron has perfected playing a werewolf, that he previously played in The Howling Reborn. Hemlock Grove also includes one of the more awesome werewolf transformations. No Twilight silliness!
I also enjoyed the very sweet relationship between Roman and his "Frankenstein" sister Shelley. He is so kind to her and doesn't see her deformity, he only sees her heart. He sticks up for her countless times during the show and she is always his priority.
There is so much original writing through the show, that it is a breath of fresh air, even for a horror fan like me that thinks she has seen everything!
Season two continues with the town coming to grips with the shocking massacre incurred by one of its deadliest creatures. Roman and Peter are now faced with new responsibilities and the realities that come with adulthood. Roman's relationship with his mother (Famke Janssen) is all but dead as he struggles with his unwanted birthright and the disappearance of his sister, Shelley. In search of a new life, newcomer Miranda Cates (Madeline Brewer), embarks on Hemlock Grove with an unknowingly profound effect on Peter and Roman. Click here to take a look behind the scenes with the cast and crew of season two.
A lot of scary things go bump in the night in Hemlock Grove and I am so glad it will be back for a third season!
Executive producer Eli Roth says the worldwide fan response to the show has been "phenomenal." "Netflix members loved the potent combination of sexy monsters, mystery, and the dark family soap opera that ended with a huge twist, leaving audiences worldwide totally shocked," Roth said in a statement.
"Netflix has been an incredible partner, and whenever we wanted to take the story in a dangerous direction, they encouraged us to go even further – into a scarier, darker and sexier place. We guarantee you won't see anything like this anywhere else on television."
Get everything you need to know about Hemlock Grove from Eli Roth by watching this great season one recap here.
So don't torture youself any longer, go devour this amazing show, because you won't be able to stop! Catch up on Hemlock Grove now on Netflix or order from Amazon.
Have you seen it? Let me know what you think!

Breakaway Magazine
Breakaway Magazine is an international magazine & online platform. We specialize in shining a light on independent artists, creatives, visionaries and innovators from around the world through diverse storytelling and immersive original content. Breakaway Magazine features global creative talents through the editorial content we publish; allowing this talent to be fostered, recognized and emerge. "The company reaches millions, connecting with an audience interested in more than just the trend, but the deeper meaning." - JB Livingston, Founder/Editor-In-Chief. Read more on our about page.